Quietly tucked behind the Central Library lies Tai Hang. Famed for the Tai Hang Fire Dragon Dance, this sleepy cul-de-sac where traditional and modern Hong Kong blend was once hailed as an up-and-coming hang-out spot. Over the years, it hasn't lost its charm as a destination for friends and neighbours to meet, eat, and relax. Here are just a few recommendations for things to do in Tai Hang:
Do it for the 'Gram | Where to Eat | Where to Drink
---
---
Do it for the Gram
There are quite a few Insta-worthy spots in Tai Hang, but if you're feeling especially touristy, we've highlighted a few snap-happy locations for the curious traveller to explore on foot.

Fire Dragon Dance
Tai Hang is famed for its Fire Dragon Dance, which takes places around Mid-Autumn Festival every year and involves an impressive 67-metre dragon made up of 24,000 incense sticks. The impressive performance requires 300 performers to carry the 32 sections of the dragon (the head alone weights 70kg!) in and out of the streets of Tai Hang. This spectacle can be witnessed for three nights of the year.
Originally, this event was started in the 19th century by the Tai Hang villagers to halt a run of bad luck afflicting their village. Now it is a popular, must-see attraction for tourists near and far. Catch the show this this year between 8:15–10:30pm on 12–13 September, and 8:15–10pm on 14 September. Top tip: the best vantage point for the show is at Wun Sha Street.
Fire Dragon Dance | (+852) 2577 2649
---
Lin Fa Kung Temple
Also known as "Palace of Lotus Flower", this Buddhist temple was originally built in the Qing Dynasty around 1863. It is situated at the end of Lin Fa Kung Street. This beautiful monument, in a sleepy corner of Tai Hang, was built to worship the goddess of mercy, Guanyin, and is a declared monument.
Lin Fa Kung Temple, Lin Fa Kung Street
---
Papabubble
Check out the edible artworks created by the caramel artisans at Papabubble, or join one of their workshops to make some of your own delectable desserts. Their kid's summer workshops cover various aspects of candy-making, from how to create your very own patterned lollipop and cotton candy to personalised rock candy.
Papabubble, 34 Tung Lo Wan Road | (+852) 2367 4807
---
Photo courtesy of Tak Shing Tea Stall
Tak Shing Tea Stall
Visit the Tak Shing Tea Stall for a classic example of the Hong Kong cha chaan teng experience. Order a glass bottle of Hong Kong-style milk tea, a pineapple bun sandwiching a chunky wedge of ice cold butter, or your good ol' classic Hong Kong-style French toast for a typical local afternoon tea.
Tak Shing Tea Stall, Shop A–B, G/F, Ming Sun Building, 96 Tung Lo Wan Road | (+852) 2259 9055
---
Where to Eat
Tai Hang has something for every type of eater. Whether you like your more fancy fares in a lavish setting, or prefer a good old traditional slap-up meal by the roadside, this place has it all. One thing's for sure—they're all tasty!
Dough Kitchen
Experience Italian cuisine like you're meant to at Dough Kitchen. Their pastas, pizzas, and breads are all handmade, ensuring the freshest quality. All this TLC that goes into their food doesn't come cheap, however, and you can expect to pay upwards of $200 for a meal, and that is only if you order a main. But let's face it; when a place offers an antipasti called Bomb ($158) with buffalo cheese, passion fruit, and avocado, and a to-die-for Warm Potato ($138) starter made with potato, slow-cooked egg, and parma ham, you would be foolish to just order one dish.
Dough Kitchen, 21B Brown Street | (+852) 2688 7008
---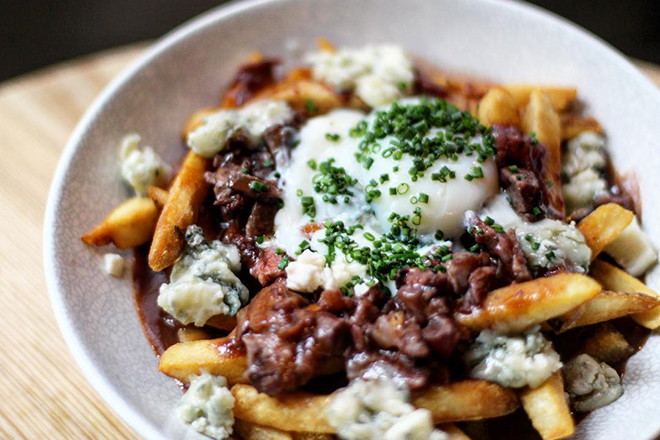 Elementary
Another popular spot for snap-happy customers where your cameras eat before you do, this modern, contemporary eatery blends flavours from the East and West to bring you meals that will delight your palette and your followers on social media. With a menu made for sharing, the dishes are categorised as either light, medium, or heavy, and aim to bring Hong Kong a whole new dining experience. Try the Duck Heart Kebabs ($88), Chicken Liver Mousse ($138) or Fancy Poutine ($158), with oxtail gravy, blue cheese, and runny egg.
Elementary, 15–16 School Street, Tai Hang, HK | (+852) 2362 2812
---
New York Club
Come for the flavours, not the décor. Hidden amongst the rows of garages on School Street, this modest diner will blow you away with their unique blend of Thai and Shanghainese flavours. Whether you're after a light snack or a full meal, the dishes here are like no other. Try their Thai-Style Pork Neck, any of their curries with a side order of garlic bread, dumplings, or whatever your stomach desires. We promise you won't regret it.
New York Club, 24 School Street | (+852) 6530 0288
---

Shun Hing
A good example of traditional and modern, Shun Hing whips up old-school canteen classics, creating delicious food without the frills nor damage to your wallet. Their signature dishes are any of their scrambled egg and rice sets, but most opt for the Char Siu Egg Rice, which comes with their homemade soy sauce and shallots. They are also available on Foodpanda, if you would rather stay in to enjoy.
Shun Hing, 24 Ormsby Street
---
Read more! Check out our guide on how to dine at a Hong Kong cha chaan teng.
---

Photo courtesy of @kk2lai
Tai Hang Bar & Grill
A good spot for weekend brunch, where you can bring along your dogs to catch up with your friends, while sipping on the most delicious virgin mojitos (or non-virgin mojitos—no one's judging, it's your holiday). This local favourite is also known to offer specials depending on the day of the week. Get a buy-one-get-one deal on all pastas, pizzas, and salads on Mondays, or a whole roasted chicken on Wednesdays for a meal to last you the rest of the week.
Tai Hang Bar & Grill, 38 Tung Lo Wan Road | (+852) 2525 1439
---
Where to Drink
There are no shortages of watering holes to wet your whistle in Tai Hang, whether you're after coffee or something a little stronger for the evening…
Fineprint
This newly-opened branch has quickly become a popular hang-out spot for neighbours and visitors for a relaxing coffee break. But don't be fooled; that's not all these guys offer. If you check the fine print of their logo (see what they did there?), they also provide wines and liquors, occasionally hosting wine tasting evenings at their Peel Street location.
Fineprint, 1 Lily Street | (+852) 5331 5205
---

UNAR Coffee Company
Recommended by many as the best coffee in the neighbourhood, this pet-friendly hole-in-the-wall is open from 12pm–7pm on Tuesdays to Sundays. They may be short on seats, but this place is on our must-visit list if you are looking for an excellent joe to go. Pop in for a look at their quirky interiors before heading off.
UNAR Coffee Company, 15 Sun Chun Street | (+852) 2838 5231
---
Classified
Classified doesn't really need much of an introduction, but this one located in Tai Hang is one of the go-to spots amongst neighbourhood locals for great happy hour deals or pre-drinks before hitting the town. This summer month, Classified are celebrating the 100th anniversary of the Aperol Spritz and are offering the refreshing summer cocktail at just $75 from 11:30am onwards, or at a wallet-friendly $38 during happy hour from 5pm–8pm. Although this deal is only offered until August 31, it gives you a good rough idea of their typical happy hour prices.
Classified, 1–9 Lin Fa Kung Street West | (+852) 2857 3454
---
Read more! Take a break and sip on these fantastic summer cocktails.
---
Second Draft
Coming in fourth place for "Best Beer Bar" in Hong Kong & Macau's Bar Awards this year, this addition to Tai Hang offers unique cocktails and some fancy gastropub bar bites to accompany a variety of craft beers available on tap.
Second Draft, 98 Tung Lo Wan Road | (+852) 2656 0232
---
Tipsy Restaurant & Bar
Located on the first floor of swanky hotel and serviced apartments Little Tai Hang, this upmarket restaurant and bar lets you enjoy a more substantial meal with your drink (should you so desire). And we don't mean just a bit of food to help settle your stomach—we're talking an extensive menu ranging from Crispy Cajun Prawns ($118) to Truffle Toast with Parma Ham and Mozzarella ($88) or Sea Urchin Pasta with Flying Fish Roe and Fennel Foam ($288).
Tipsy Restaurant & Bar, 1/F, Little Tai Hang, 98 Tung Lo Wan Road | (+852) 2818 8807
---
---
Read more! Check out our guide to Tin Hau or explore the Travel section on Localiiz.