Everyone knows about the Happy Valley Racecourse and their Happy Wednesday beer gardens, but what about the rest of the area? Nestled between Causeway Bay and Wan Chai in its own secluded corner, Happy Valley has a lot more to offer than just betting and horseracing. A quiet residential area popular amongst expats, Happy Valley is filled with neighbourhood restaurants and stores (and pet shops!), and though there's no MTR station, it is easily accessible by minibus, bus, taxi, and trams. Follow our guide to Happy Valley for the best things to do, eat, and drink!
---
---
What to do

Ten Feet Tall
Is it any wonder that Happy Valley, as a tranquil, sleepy neighbourhood, has an abundance of massage shops? Amongst them, Ten Feet Tall is the place to be for a full-on spa day. Not only do they offer a variety of body massages, but they also have nail treatments services available in your private room. If you're looking to go the extra mile to treat yourself, opt for the party package, where you'll get to relax with a side of booze. Sounds like a perfect lazy Sunday to us!
Ten Feet Tall, 1/F, Lai Sing Building, 13–19 Sing Woo Road | (+852) 2415 1010
---

Dogotel & Spa
This luxury boutique shop for dogs takes pet pampering to a whole new dimension! Dogotel & Spa's multi-purpose space functions as a shop, grooming space, spa, and a hotel for dogs. Their signature Mud Treatment is made using refreshing herbs that soak into the dog's skin and fur, rejuvenating their coat for a glorious shine. Dog owners, time to up your game!
Dogotel & Spa, G/F, 21 Yik Yam Street | (+852) 2836 5001
---

Bark Department
Here's a place for you and your four-legged friend to laze away the afternoon. Bark Department was established in order to provide the best shopping experience for both owners and pets, since pets are entitled to their own opinions too! The spacious retail shop allows for ample space, so animals can walk alongside owners while browsing. If you're looking for a place to relax, there is a separate storefront for customers to enjoy a cup of coffee. There's even a backyard for the pets to roam and for everyone to make new friends!
Bark Department, G/F, 29 Sing Woo Road | (+852) 2467 6000
---
Read more! If you're looking to adopt a pet, this is why you should adopt a senior rescue dog.
---
Where to eat

Photo courtesy of Locanda Dell' Angelo
Locanda Dell' Angelo
A secret Italian restaurant hidden in a quiet corner of Happy Valley, Locanda dell' Angelo brings the flavours of the Sicilian coastline to Hong Kong. If you're hankering to try their signature dishes, keep in mind that their Boston Lobster Linguini needs to be reserved in advance, and not to forget their Uni Risotto, with freshly-grated wasabi pushing flavours to the next level. This is the place to go for a bit of decadence and to treat yourself to a lovely night out.
Locanda Dell'Angelo, 10–12 Yuen Yuen Street | (+852) 3709 2788
---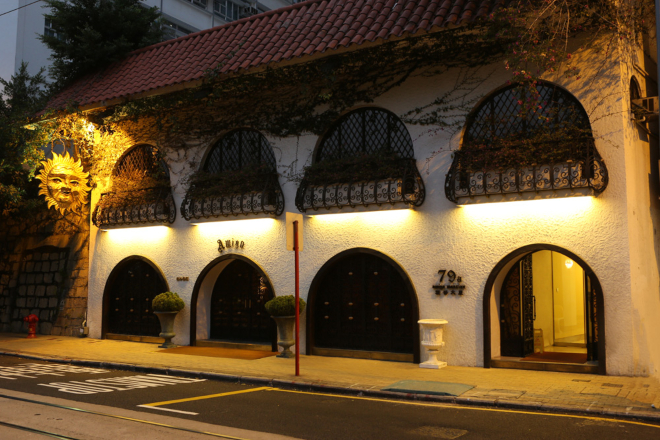 Photo courtesy of Amigo
Amigo
Opened for nearly 40 years in Hong Kong, Amigo is both a landmark as well as a restaurant serving authentic French delicacies and wine. Located on the first two floors of Amigo Mansion, the restaurant spans over 5,000 square feet with a romantic, wooden spiral staircase to take you to their main dining area. Imagine dark oval windows, overhead beams, and decadent high chairs that make you feel like a noble from the Medieval Era. Bookmart Amigo for your birthday, as their live band that will play you any songs of your choice to celebrate!
Amigo, 79A Wong Nai Chung Road | (+852) 2577 2202
---
Photo courtesy of Feather and Bone
Feather & Bone
Blend butcher, deli, and restaurant together and you'll get Feather & Bone, an all-in-one gourmet food shop near the Happy Valley tram terminus. They provide a modernised, mid-century neighbourhood shopping experience, with professional butchers on hand to give you expert advice for your groceries. Walk all the way to the back of the shop for their in-house restaurant, which offers breakfast, brunch, lunch, and dinner. If you're ordering a meat dish, head straight to the butcher's counter to hand-pick your own cut and cooking preference; talk about customisation! We're quite partial to their Croque Monsieur ($108), a toastie of smoked ham, aged Gruyère, and Dijon béchamel sauce, and their signature steaks.
Feather & Bone, Winner Building, Shop A&C, 11 Wong Nai Chung Road | (+852) 2836 3789
---
Read more! Check out the best steakhouses in Hong Kong.
---
Photo courtesy of Classified
Classified
Well-known local favourite Classified is located in the upper parts of Happy Valley. This European-styled café is half indoors, half outdoors, making it the perfect spot for a slow brunch, where you can choose from their homemade artisanal foods, including a wide range of boutique wines, gourmet cheeses, and handmade breads. We like to go for the Eggs Royale ($118), with Norwegian smoked salmon, Hollandaise sauce, rocket, and cherry tomato on an English muffin, and the Spicy Thai Beef Salad ($125). Classified also has a selection of vegetarian dishes and Impossible meat items on their menu for plant-based diners.
Classified, 13 Yuk Sau Street | (+852) 2891 3454
---
Photo courtesy of Saint Germain
Saint Germain
Just a few steps away from the Happy Valley tram terminus is Saint Germain, a French bistro that faces the Happy Valley Recreation Ground. With its bar stools perched on the pavement outside the restaurant and their dark green interior décor, this bistro is sure to make you reminisce of your last holiday in beautiful small-town France. Add a charcuterie board or cheese plate to the mix, along with glass of wine, and you're one step closer to Paris. A popular spot for dog owners, too!
Saint Germain, G/F, 1A Wong Nai Chung Road | (+852) 2836 6131
---
Photo courtesy of Golden Valley
Golden Valley
If you're looking for spicy Sichuan dishes, this is the place to go for some tongue-numbing delights. Located on the edge of Happy Valley and Wan Chai, Michelin-starred Golden Valley can be found inside The Emperor Hotel. They serve a la carte dishes from Sichuan and Guangdong, hot pot, as well as dim sum. Their highlights include the Sichuan Boiled Fish ($438), which comes in a massive bowl of chilli oil, chilli seeds, stir-fried chillies, and peppers. You can also add an extra order of Tender Beef Slices ($188) to the generous portions of fish. Another favourite is the Shrimp in Stir-Fried Peppercorn ($428), served in a clay pot with jumbo shrimps laid out on a bed of peppercorns. Can you handle this heat?
Golden Valley, 373 Queen's Road East, Wan Chai | (+852) 2961 3330
---
Read more! Check out the best places for sour and spicy noodles.
---
Photo courtesy of Zagin Soba
Zagin Soba
Undoubtedly our go-to spot for when we're craving a rich and creamy soup, Zagin Soba's signature Chicken Tsukemen ($138) is a bowl that never disappoints. The tsukemen features cold noodles with thin slices of char siu pork and shredded onion, paired with a steaming bowl of hot chicken broth with slices of chicken breast tucked inside. The noodles are a bit thicker than normal ramen, but they provide the perfect body to soak up the rich dipping sauce. We also appreciate the owner's attention to detail, like a washroom equipped with a bidet, as well as mouthwash, toothbrushes, and hair ties for customers to freshen up after their meal.
Zagin Soba, 13 King Kwong Street | (+852) 2818 0322
---
Photo courtesy of Japanese Restaurant Suzuki
Japanese Restaurant Suzuki
Tucked away in a corner of Happy Valley, Japanese Restaurant Suzuki is a semi-hidden kaiseki spot serving up one of the best bargains to be found for quality Japanese food. Cooking since 1998, Chef Suzuki's style is to constantly challenge himself to create unique new dishes. Using the best seasonal ingredients, he combines traditional Japanese techniques with contemporary culinary sense. Their lunch sets are a real steal, with their Flavouring Wagyu Beef with Hot Udon ($260), piled high with vegetables, udon, pieces of wagyu that melt in your mouth, and an irresistible sukiyaki sauce, is not to be missed.
Japanese Restaurant Suzuki, 1–5 Shing Ping Street | (+852) 2668 2566
---

Photo courtesy of Tasty Congee and Noodle
Tasty Congee and Noodle
If you're looking for wonton noodles and congee for a heartwarming meal, this local family-run eatery is the place to be. Though they now boast a multitude of locations across Hong Kong, Tasty Congee and Noodle was actually founded in Happy Valley. This original branch is slightly more expensive than your average congee or noodle spot, but their recipes hold up and the food is worth a try. We're talking refined authentic flavours, like the classic Congee with Century Egg and Boiled Pork ($72), or their wontons with paper-thin skins and generous fillings. Hungry yet?
Tasty Congee and Noodle, 21 King Kwong Street | (+852) 2838 3922
---
Read more! Check out our guide on how to dine at a Hong Kong cha chaan teng.
---
Photo courtesy of Proof
Proof
An artisan bakery in Happy Valley, Proof handcraft their bread on-site every day, with no preservatives, no additives, and no funny business. Their fragrant aromas will lure you in from streets away. Nothing beats the feeling of biting into a warm, crunchy baguette or cradling a buttery croissant on your way to work, ready to be consumed, so Proof gets their freshly-baked goods ready bright and early in the morning. They also donate any surplus products to charity—now here's a bakery with a cause to support!
Proof, G/F, 14 Tsun Yuen Street | (+852) 6542 9788
---
Photo courtesy of M Patisserie
M Patisserie
For those with a sweet tooth, M Patisserie is a sugary paradise. They deliver homemade baked goods that are combinations of "art and cake", so their creations look good and taste even better. They offer everything from celebration cakes and pastries to dessert table designs, so get ready to treat your eyes and tongue to a lovely feast! Custom-order sweet treats are also available for order from M Patisserie if a special occasion is around the corner.
M Patisserie, Fung Woo Building, 65 Sing Woo Road | (+852) 5720 0813
---
Where to drink
Photo courtesy of REACTION Coffee Roasters
REACTION Coffee Roasters
Resting just up the hill on Sing Woo Road, REACTION Coffee Roasters looks out onto Happy Valley's main thoroughfare, serving speciality coffee and an all-day breakfast menu. They endeavour to source the best green beans from around the world to provide distinctive coffees to their customers. Their Avocado & Baked Mushroom Toast ($63) consists of a mountain of stir-fried mushrooms and fresh avocado on sourdough with a variety of greens on the side. This café is best for a quiet read or a lovely dog-petting spot away from the hustle and bustle of Hong Kong.
REACTION Coffee Roaster, Shop 67 B & C, G/F, 67 Sing Woo Road | (+852) 2674 7388
---

Photo courtesy of Happy Alley Coffee Bar
Happy Alley Coffee Bar
If you wander up the slope next to Market Place from the tram terminus, you will notice a quaint little coffee bar just around the corner. This ordinary-looking shop is one of the only places in Hong Kong that serves Austria's famous Julius Meinl coffee, with beans ground to order to guarantee that each brew is deliciously fresh. If the weather permits, Happy Valley Coffee Bar is a great spot to chill and relax for happy hour, as they serve beer and other drinks too!
Happy Alley Coffee Bar, 38–42 Yik Yam Street | (+852) 22576 9996
---
---
Read more! Check out our neighbourhood guide to Tin Hau or explore the Travel section on Localiiz.