We've all had char siu bao, dim sum, and fish balls – they're great, we love them. But although snacks and meals like these are ubiquitous across the SAR, Hong Kong is a city synonymous with food, so as you would expect, it's dining heritage is as rich as any other facet of its history. Unfortunately, many recipes and dishes that were once mainstays are in danger of disappearing forever. Before they join the dinosaurs and dodos in extinction land, Sam the Local resident tour guide Gray C. shares his list of the six dishes on the verge of being lost in time.
Hong Kong's diverse and competitive culinary landscape is great for eaters, but restaurants often change their menus to survive, and even well-established heritage foods can dwindle to extinction as a result. Because of modern technology, changing economic times, or altering palettes of diners, these beloved gems are becoming increasingly hard to find in the 852.
---
1. Gold Coin Chicken (金錢雞)
Once a common food among the impoverished working class, this dish has now become a sought-after delicacy that only a handful of restaurants in Hong Kong still serve. Pork fat, pork liver, and barbecued pork are thinly sliced, then stacked into "coins" and finished with a honey glaze.
---
2. Wrapped Duck Feet (鴨腳包)
Only one restaurant still carries a torch for this forgotten roast meat shop specialty. Barbecued pork, pork liver, pork fat, taro, and a bone-in duck's foot are rolled up in a sheet of barbecued duck intestines and sliced into rounds.
---
3. Black Pepper Skillet Ham Hock (黑椒鐵板豬手)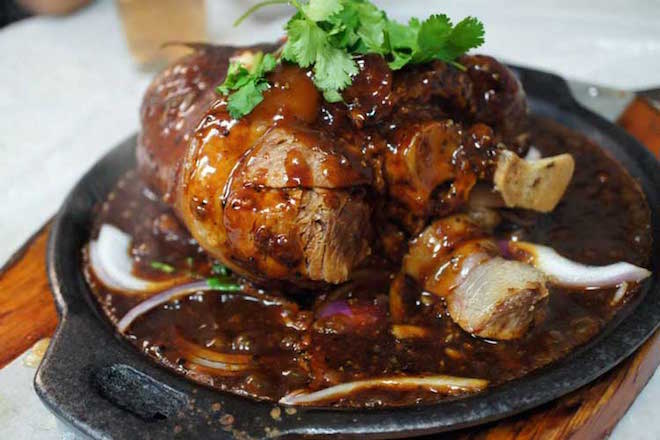 Heads turn when this previously-prevalent sizzling plate is carried into the room wafting aromas that arouse even the most stingy of appetites. It's a braised ham hock bathed in black pepper sauce, absorbing the flavor, and topped with red onions and cilantro.
---
4. Wooden Bucket Tofu Pudding (木桶豆腐花)
Sweet with a little tart zing, this desserty snack isn't itself nearly-extinct, but the way it's being sold in this particular shop is. The owner makes his tofu pudding the traditional way in an unusual venue he's occupied since the 1980s.
---
5. Bamboo Pole Noodles (竹昇麵)
Hong Kong is overflowing with shops which serve noodles similar to these, but nearly all are machine-made. The original labor-intensive process requires a skilled artisan who kneads the dough by riding a large bamboo pole across it, bouncing up and down repeatedly until the desired texture is achieved. There are perhaps only two restaurants still using this technique.
---
6. Oil Leftover Noodles (油渣麵)
Resources were scarce in Hong Kong's formative years and this dish was invented to utilize the leftover skin, meat, and fat that remain after lard is rendered from pig parts. In this incarnation, which has been served since the 1970s, the leftovers join reconstituted shiitake mushrooms, scallions, pickled cabbage (冬菜), and chewy noodles in a sumptuous broth that you'll want to drink dry.
Want to find out where you can sample these forgotten dishes? Well so do we, but unfortunately their location is being kept under strict lock and key by our friends at Sam the Local. Guess we'll just have to book a tour with Gray C. himself to find out – but do let us know if you manage to track them down!

---
Still hungry? Check out our Vegetarian's Guide to Local Hong Kong Restaurants , or explore Hong Kong's Ultimate Healthy Eating Guide.