Whether it's an immersive cultural experience in the heart of a city, or the most glamorous holiday you're looking for, Airbnb has become a treasure trove and the ultimate go-to for hip travellers. From the oh-so cosy to the downright edgy, we've sifted through Hong Kong's huge catalogue of Airbnbs to find you some of the most beautiful and unique places to stay in. Whether you're heading to Hong Kong for a holiday or planning a sweet staycation, we still suggest you skip the hotel sites and follow this list instead. 
---
---
"Cage Home" Hostel
$220 per night

 

1,000 sqft

 

1 guest / bed
Amenities: Kitchen, Wifi, Laptop-friendly Workspace, Iron, Air-conditioning, Hairdryer, etc.

 
Cleverly named "Wontonmeen" – Wonton noodles in Cantonese, this funky hostel offers budget-conscious millennial travellers a taste of the real Hong Kong with these rigid caged sleeping bunks. Located in the heart of one of Hong Kong's most dynamic districts, Sham Shui Po, the hostel features a quirky communal living space that's styled with vintage furniture, hammocks, and neon signs. The building is part-hostel, part-residential, and boasts 11 storeys home to creative individuals such as artists, journalists, musicians, comedians, and even Wing Chun disciples, who regularly hang out in the hostel and café downstairs.
Contact: Wontonmeen 
---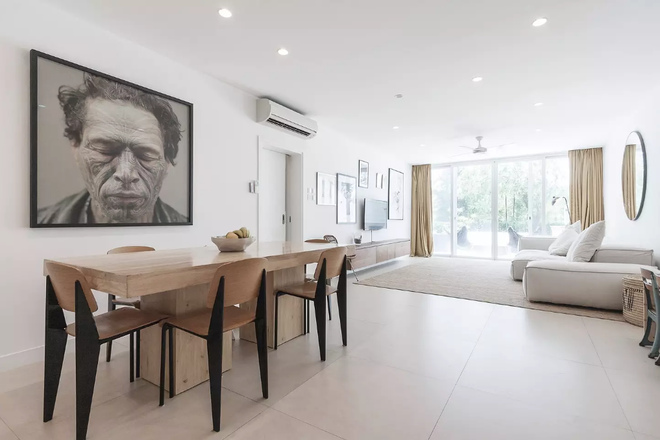 Beachfront Home 
$3,800 per night
6 guests
Amenities: Free Parking, Wifi, Dryer, Heating, Laptop-friendly workspace, Children's Books and Toys, High-chairs, Travel Cribs, Hairdryer, etc.

 
Japanese minimalism meets Scandinavian chic in this stunning beachfront escape, located in the peaceful suburbs of Discovery Bay. The light interiors and floor-to-ceiling glass sliding doors make the bright, spacious flat blend almost seamlessly into its beachy surroundings. With three bedrooms, two highchairs, and a bicycle with a baby seat, this is the perfect place for families. Head to the supermarket just five minutes away to shop for some groceries and throw on a relaxing Sunday barbecue on the garden terrace. 
Contact: Beachfront Home in Discovery Bay
---
French Cottage Style Flat
$1,500 per night

 

700 sqft
3 guests
Amenities: Free Parking, Wifi, Dryer, Heater, Iron, Washing Machine, etc.

 
This cosy two bedroom flat in Sai Kung has the feel of a French cottage, but with the addition of stylish Scandinavian influences. The main bedroom is carved out of the open living area, with French-style glass folding doors. Its private terrace opens to panoramic views of Sai Kung and allows an abundance of natural light to pour in. With inverted air-conditioning and full insulation, this apartment is guaranteed to remain nice and warm, evening during the cold winter months.
Contact: French Cottage Style Flat in Sai Kung 
---
Harbour View
  Flat
$899 per night

 

260 sqft

 

3 guests
Amenities: Swimming Pool, Lift, Wifi, Dryer, Gym, Washing Machine, TV, Laptop-friendly Workspace, Heating, Air Conditioning, Hair Dryer, etc.

 
If you prefer cityscapes, this luxurious monochromatic home decked out in Italian furnishings is a must-stay. With a stunning, uninterrupted view of Victoria Harbour, you can settle in on the comfy sofa with a glass of wine, put on Netflix, and admire the glowing sunset against the city's striking skyline. You can even avoid the harbourfront crowds and watch the Symphony of Lights laser show from your bedroom window! Located just five minutes away from the Olympic MTR station, there are plenty of restaurants, bars, cafés, and supermarkets within walking distance. 
Contact: Harbour View Flat 
---
Aberdeen Marina Houseboat
$2,195 per night

 

200 sqm
5 guests
Amenities: Wifi, Dryer, Washing Machine, TV, Laptop Friendly Workspace, Heating, Air Conditioning, Hair Dryer, etc.

 
There's no better place to be than on a boat – that Lonely Island told us so. This three-deck beauty comes with a top deck lounge complete with a barbecue and dining area, along with comfy sofa chairs. Not only will you be able to wake up to gentle waves on this stylishly furnished houseboat in Aberdeen, its sophisticated touches like the open style kitchen, spacious alcove bathtubs, and an array of houseplants scattered throughout also contribute to a soothing ambience. Since this boat is permanently moored, it can't be moved or taken out to sea, but hey, it's not every day you get to sleep on water. 
Contact: Aberdeen Marina Houseboat 
---
Tai Po Farm Stay 
$250 per night

 

1 guest
Amenities: Free Parking, Wifi, Washing Machine, TV,  Hair Dryer, etc.

 
Farm life and Hong Kong may sound like oxymorons, but if you're looking for an atypical experience, this country getaway in Lam Tsuen (just 15 minutes away from the famous Lam Tsuen Wishing Trees) promises you a Hong Kong experience unlike any other. Guests can enjoy a delicious breakfast surrounded by verdant trees and green fields, and raid the veggie garden for organic vegetables and inspiration for lunch or dinner. 
Contact: Tai Po Farm Stay
---
Read more! Check out these Island Getaways around Hong Kong, and explore the rest of our Property section.