Five days before Christmas 2018, I heard my phone go off. I had just received an email titled, "CONGRATULATIONS! You've won a stay at Samujana!", and I scoffed at it, thinking to myself that it was a spam message. Five months later, I was lounging with a cocktail in hand at my own luxury villa in Koh Samui, courtesy of a giveaway hosted by Localiiz.
---
---
The stunning, unobstructed views
Located in the Choeng Mon area of northern Koh Samui, Samujana Villas is a luxury hillside complex consisting of 26 opulent villas, all overlooking a coral cove, in addition to private beach access. It was the perfect place to get away from the Hong Kong grind and coincidentally celebrate my birthday.
---
Incredible hospitality
My friends and I were thankful for the complimentary private airport transfers, though Samujana was only a 10 minute drive away. Our villa manager Tong welcomed us with cold towels and calamansi sodas outside Villa 1. We were greeted with an open-plan dining and lounge area looking out at the stunning infinity pool. Tong gave us a tour of the five bedrooms, complete with king beds and en-suite bathrooms, as well as the private gym, home theatre with projector cinema and all-round sound system, and countless other features for an extravagant getaway. Parents, be sure to stay alert if you decide to bring the tots along, as the pool is deceptively deep.
---
Complimentary amenities and activities
The villa is surrounded by lush greenery and had unparalleled views of the Koh Samui coastline, no matter which room we were in, being one of the highest-situated villas in the complex. Breakfast of our choice was hot and ready upon the sound of our morning alarms, and we particularly enjoyed the authentic Thai brekkie of congee, soft boiled eggs, and toast with locally-made coconut jam. Amenities were comprehensive—for example, Samujana runs free shuttles to island hot spots like Choeng Mon Beach at different times of the day. When we wanted to relax and refocus, yoga mats would be laid out on the hidden deck almost magically.
If you are looking for a true getaway experience, Samujana has a whole host of activities on the books for those who want to make the most of their villa stay. Thai cooking lessons led by a local chef, Muay Thai boxing workshops, massage and beauty treatments, as well as private yoga courses can be booked and held at the villa. If you're saving your holiday cash for bigger adventures outside of the villa, we still found plenty to do even without hired entertainment, such as the badminton court, games room, and—of course—swimming laps around the pool.
---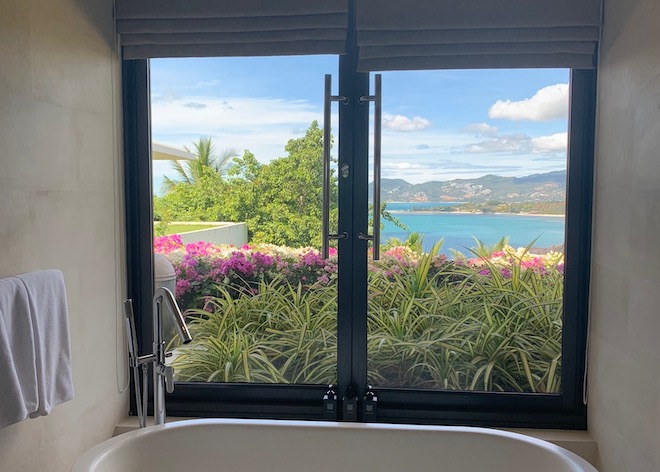 Of course, we couldn't stay cooped up in the splendid Samjuana estate forever. Koh Samui is Thailand's second largest island, famed for its gorgeous beaches and coconut groves. There are hotels for budget of every size and activities for every mood. We could easily go around the whole island in one day on a rented motorbike or Jeep, though we wouldn't recommend inexperienced drivers to take the roads. 
---
We decided to venture out to sea what the Gulf had to offer and booked a day trip out to Angthong Islands National Marine Park. The journey included hotel transfers, breakfast, buffet lunch, snorkelling, kayaking, and two easy mountain climbs. Apart from visitor centres and the buzz of speedboat motors, the islands that make up the protected park are untouched by humans. Fish teemed amongst the coral reefs where we snorkelled, unphased by our presence. The highlight, though, was definitely seeing the exotic wildlife. We spotted wild boar families while kayaking, and baby monkeys up on the mountain of Wua Ta Lap (Sleeping Cow Island).
---
Though Samujana offers in-villa spa treatments, we opted to try out one of the numerous spas on the island. Travellers looking to unwind and pamper themselves are spoiled for choice. For those with a little more cash to splurge, check out Tamarind Springs, a gorgeous forest spa complete with cave pools—the perfect spot for an after-sun facial or body wrap made with soothing aloe vera. Need a quick fix? Zense Spa has all the luxury makings, but is located conveniently down the road from Central Festival Mall—just the place for a hot stone massage to relieve your sore muscles as you explore the island.
---
Read more! Explore the rest of out Travel section on Localiiz.