We've cycled around Cheung Chau, temple-hopped in Peng Chau, hiked across Lantau and Lamma. Now we're taking The Island Series one step further and exploring the little guys who are so often forgotten about – the four tiny islands in the Sai Kung/Clearwater Bay area; Salt Island, Tung Lung Chau, Grass Island, and Sharp Island.
---
---
1.  Salt Island / Yim Tin Tsai
With just a handful of residents and an intriguing local history featuring desertion and lots of salt (surprise surprise), Salt Island is an Instagrammable pit stop which is only a 15-minute boat ride from Sai Kung.
Good for: A day out with your friends and your camera / catching some atmospheric shots / exploring Hong Kong's history.
How To Get There … 
Catch the MTR to Hang Hau (on the purple line), pop out of Exit B1 into the transport interchange, and you'll spy Green Minibus 101M. There's no need for forward planning – these buses run every few minutes between 5.30am and midnight, every day of the year. In half an hour, hop off the bus in Sai Kung town.
To the right of the public ferry pier on Sai Kung waterfront, you'll see a booth selling $45 round trip tickets to Yim Tin Tsai. Though they don't run so regularly on the weekends, there is plenty to keep you busy on the waterfront whilst you wait.

St. Joseph's Chapel
If you're longing to feast your eyes on a Grade III Historic Building, then you're in luck, because this teeny, tiny island has one to call its own. Founded in the 1880s by missionary and Catholic saint Joseph Freinademetz, the chapel is the first thing you see as you ride into the harbour. Make sure you check out the circular stain glass window which features St. Joseph himself.
Salt Pans
Owing to its nickname, it doesn't come as a surprise that the original settlers on Salt Island made their living from salt-making. Our own Localiiz explorer managed to pick a time of year when salt was not abundant, which was a shame, however, the surrounding signs were still quite interesting.
What is slightly confusing was the decision to fill in one of the pans with concrete, fixing a sign in the middle to announce the Salt Pan's UNESCO Asia Pacific Cultural Heritage Conservation 2015 status. Irony at its absolute finest.
Walk
The circular island walk clocks in at 2.3km, making for an easy weekend stroll which will take you no longer than an hour to complete. En-route, you'll stumble upon both the chapel and salt pans detailed above, as well as St. Joseph Freinademetz's path of enlightenment, a pavilion, the Gideon Youth Military School, and the Christian Cemetery. Deserted houses dating back to the island's salt-fuelled success pepper the route, with weathered belongings giving a rather spooky feel. After this enjoyable (and rather leafy) wander, you'll find yourself back at the ferry pier. Now's the perfect time to grab some noodles while you wait for the ferry ride home.
---
Read more! Check out the rest of our Island Series
---
2. Tung Lung Chau
Hanging off the tip of the Clearwater Bay peninsula and boasting some of our most exciting rock climbing spots, the island of Tung Lung Chau is also home to two of Hong Kong's Declared Monuments. Quite the dark horse.
Good for: A surprisingly active getaway, Tung Lung Chau is all about climbing, camping, and cool dips in the ocean.

How To Get There …
Luckily you don't need to go all the way to Sai Kung to get to Tung Lung Chau; one ferry service sets sail from Sam Ka Tsuen Ferry Pier, just 10 minutes walk from Yau Tong MTR station, the other chugs out of Shau Kei Wan Typhoon Shelter, Pier 10 (closest MTR Sai Wan Ho).
Vessels run on weekends and bank holidays only, with four to six outbound sailings each day. The earliest sailing on a Sunday is at 8.30am from Sam Ka Tsuen, and the latest return is to Shau Kei Wan at 5.30pm. Don't panic if you miss the boat, you won't be the star of Cast Away: Part Two, as privately-hired vessels are available.
Click here (Sam Ka Tsuen) and here (Shau Kei Wan) for the full ferry schedules.
Camping
Just a 20-minute wander from the ferry pier is Tung Lung Chau Campsite. Accommodating up to 10 tents at a time, this picturesque sleeping spot is the perfect place to escape from the city and enjoy some quality time with your nearest and dearest. Feeling peckish? Bring supplies, fire up the on-site BBQ pits, and tuck into your island feast at the tables and benches provided.
 Hike
Circling the island, with a slight inward detour to reach the summit, is the best way to see all of the sights and make the most of your day trip. Heading anti-clockwise from the ferry pier, you'll come across an ancient stone carving, beautiful views over the ocean and the Ninepin Islands, and water spots so clear it's impossible not to take a cheeky dip. Depending on how long your water-based fun lasts, this 7 to 8km trail may take three hours – or it might take you all day.
Sights
When pitching your tent for the night, make sure you check out Tung Lung Fort – a 300-year-old, rocky construction said to have been built to fend off pirates. It's reassuring to have a plan should Blackbeard decide to swing by, we guess. The tiny island of Tung Lung Chau also boasts Hong Kong's largest rock carving, thought to depict a dragon. If embarking on the round-island wander, this ancient artwork is a fascinating pit stop.
Rock Climbing
Rock climbers unite! Technical Wall and Sea Gully Wall are said to be Hong Kong's hottest rock climbing spots – both located on Tung Lung Chau. In the absence of a rock-climbing expert in the Localiiz office, or any sort of clambering experience, we are passing you onto the pros.
---
3. Grass Island / Tap Mun
It won't come as a huge shock that Grass Island is a green, grassy place. What's perhaps less expected is the sizeable, and rather friendly, cow population. How amoosing.
Good for: Rolling around in the grass and spending some time with the moos. A real country-style escape.
How To Get There …
This grassy escape is reached by kaito (small ferry) from Wong Shek Pier in Sai Kung. Catch Bus 94 from Sai Kung Bus Terminal, and you'll arrive at the ferry pier in just over half an hour. The kaito schedule is fairly regular, running at roughly two hour intervals throughout the week, and hourly at the weekends. Just make sure you catch the last ferry home, which leaves Wong Shek Pier at around 6.30pm if you don't fancy a spontaneous, supply-less camping trip.
Click here to see the full ferry schedule (scroll down to Tap Mun – Wong Shek Pier)
Activities
When you're given a grassy expanse to play with, you've got to do just that. Fly a kite, rustle up a picnic, recline with a book, pet a cow, whip out the travel Scrabble – come on people, just use your imagination and embrace the liberation of open space and fresh air.
Sights
As is the trend with many of Hong Kong's outlying islands, there is a temple dedicated to the goddess of the sea, Tin Hau. However, in our opinion, the cows really steal the show. Our Localiiz explorer spent most of his day photographing the moos and coo-ing at their welcoming nature. Then it's over to the pavilion and viewing benches near Tap Mun Playground on the southern half of the island, for a quiet moment of reflection whilst soaking up the calming views over the ocean. This is our favourite spot, and definitely one to hunt down.
Walk
There's a paved route around the island which makes for a gentle wander. Along your way, you'll come across a rocky beach, a noodle shop or two, dried fish, the Tin Hau temple, and a small village. Oh, and the cows. Don't forget about the cows.
---
4. Sharp Island / Kiu Tsui Chau
Potentially the slimmest member of the Hong Kong island family, Sharp Island boasts crystal waters, lush green woodland, and sandy relaxation spots. Named by CNN as number 5 in 'Asia's Most Underrated Attractions 2016', it's about time we made the most of this precious escape.
Good for: A summer BBQ with friends and family as the sun sets, after a day on the beach. There are also a selection of rocks and fossils to study, including some that resemble pineapple buns, should they take your fancy.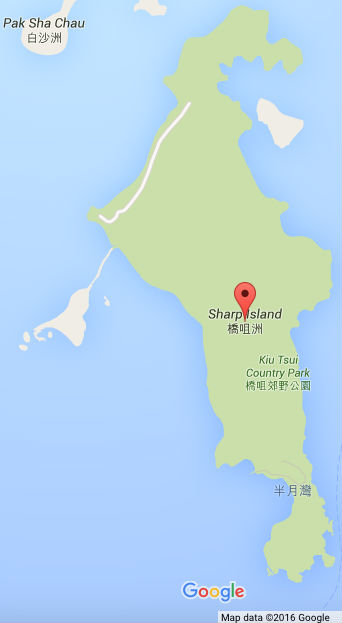 How To Get There …
Make your way to Sai Kung Ferry Pier (check out the instructions further up this article, under Salt Island, if you're not sure how), and find Kitty's boat kiosk. For around $30 return, you can get to Sharp Island or enjoy a tour of multiple islands if you'd prefer. These vessels set sail at around 9am, and run throughout the day.
Beaches
Life's a beach on Sharp Island. Well, beaches are the main attraction. For a sandy weekend, grab your towel and make your way over to the popular clear-water spot of Ha Man Beach (pictured above) down on the Southern tip. Bordered by lush green grassland, this sandy spot also goes by the rather romantic name of Half Moon Beach. With a BBQ area, campsite, changing rooms, showers, and kiosk, it's an easy place to while away the summer months.
Kiu Tsui Beach on the North of the island is also an LCSD-run spot, which is popular with swimmers. Just a two-minute walk from Kiu Tsui port, it's no wonder this is a popular BBQ spot. In addition to BBQ pits, Kiu Tsui beach has a functioning refreshment kiosk, changing rooms, and bathroom facilities during the summer.
Kiu Tau
Do your tidal research before you set off on your island adventure, and you'll be able to trot across a sand levee, which reveals itself at low tide to the neighbouring islet of Kiu Tau. We'll be honest, there's not much to do out there so after a quick scan of the surrounding views, your best bet is to trot right back.
---
Read more! Check out the rest of our Island Series – cycle in Cheung Chau, temple-hop in Peng Chau, or hike in Lantau or Lamma.