After five years of careful renovation, a former textile factory in Tsuen Wan has finally reopened as The Mills. Built during the 1950s and 1960s, the three buildings (known as Mills 4, 5, and 6) once housed the King of Hong Kong's cotton yarn business – Nan Fung Textiles – during the city's manufacturing boom. Today, the defunct mills have been recast into an innovative art and culture destination. We step inside the stunning building complex to see what it has in store for visitors.
---
---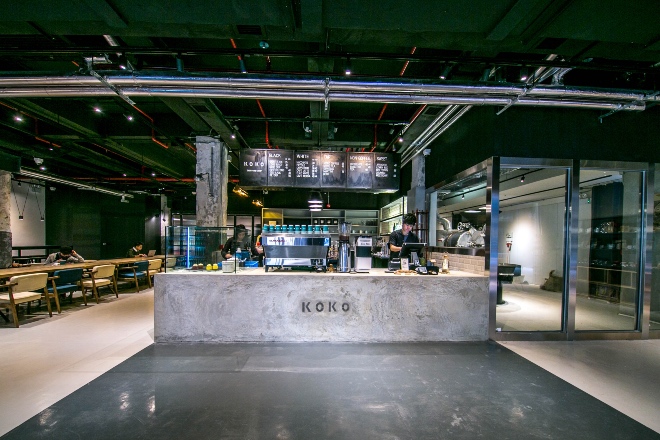 Food and Drinks
Hongkongers are increasingly health and environmentally-conscious, and The Mills is embracing these trends with multiple eco-friendly and healthy restaurants. Bee B. Farm offers a selection of teas and tea-infused drinks, hydroponic vegetables, fruits, and juices, while Joie Plant Based Bistro serves delicious vegan and vegetarian dishes made with fresh ingredients.
If a more local experience is what you're after, Cha Duk Chang is a restaurant you cannot miss. Not only does it offer delicious Hong Kong-style meatballs, light meals, and desserts, but it also doubles up as a classroom for children's Cantonese opera courses.
For a well-brewed cuppa, head over to beloved local coffee brand Coco Espresso's new café and roastery, KOKO Coffee Roasters, where you can also buy coffee beans, drip bags and canned cold brews to take home. Other options include coffee shop Retold, popular Taiwanese bubble tea store Europa Tea Foundry, and Mou 1 Mou, which offers Chinese-style beverages prepared with healthy, raw ingredients. 
---
Explore Heritage Details
The five years spent revamping the disused cotton mills aren't immediately apparent, but that's intentional. The architects left several remnants of the complex's past, from the chipped paint to the old-fashioned "no smoking" stencilling on the wall and exposed beams, untouched to pay homage to the buildings' industrial past.
Items such as the metal gate to the previous Mill 4 remain adorned with imagery from one of Nan Fung Textiles' champion brands, the Golden Cup. Other historical features, such as the iconic NF5 gate, original green staircases, and old-school sand buckets have also been retained as a reminder of the factory workers whose hard work built the Nan Fung fortune.
---
Art and Culture
Managed by the non-profit MILL6 Foundation, the Centre for Heritage, Arts and Textile (CHAT) is a unique exhibition and studio space at The Mills which houses seasonal and permanent exhibitions. Visitors can explore The Mills' textile history through its three galleries that combine contemporary art, design, science, heritage, community, and craftsmanship. Not only do the galleries showcase the work of artists, designers, and local talents, but they also give shoppers the opportunity to interact with the creators behind art, listen to talks by the artists, and attend immersive co-learning workshops.
---

Shop at Up-and-Coming Brands
Hong Kong is known for being a retail mecca, so it's no surprise that this new complex houses a shop or two. At Shopfloor, you can engage and explore a world of lifestyle, artisan dining, and maker culture through independent boutiques that offer a wide range of well-designed goods. Shop for innovative products from around the world at Techstyle X, which helps promising startups launch their products and bridge the gap between traditional long-term leases and the ever-popular pop-ups. The Mills is also home to a number of stylish homeware and lifestyle brands such as Commune, Concept to Go, The sample, and more, that sell unique and thoughtfully designed items for the home and for daily life.
One store, in particular, that's definitely worth checking out is alt:, which repurposes old garments into new clothes in just four hours! Take your old clothes into the store and experience the process of how it's given a new life through the alt:'s Garment-to-Garment (G2G) Recycle System.
---

Business Space for Techstyle Startups
The Mills pays tribute to its garment-making past by dedicating an entire business space, The Mills Fabrica, to innovative startups at the intersection of fashion, textiles, and technology. Fabrica is a business incubator and springboard, providing facilities such as studio spaces, a fabrication lab, and photo and media studio, where startups can build their businesses. It also features a common area for startups to build relationships with each other. Startups in Fabrica are offered mentorship programmes, marketing, sales, and promotion support, as well as supplier and investor connections.
The Mills, 4/F, The Mills, 45 Pak Tin Par Street, Tsuen Wan, (+852) 3979 2300
---
Read More! Check out What's Inside Tai Kwun Centre for Heritage and Arts, or explore the rest of the Culture section on Localiiz.
Subscribe to receive our weekly newsletter
---