As much as we love the incredible rooftop bars in Central, it's sometimes nice to escape the hustle and bustle of the district and enjoy drinks with a view on Kowloon side. Well, that's exactly what you get at HYC Bar & Lounge, the latest cocktail venue to open on the not-so-dark side.
---
---
HYC, which stands for 'Have Your Choice', is every gin-lover's dream – an ambient, laid-back lounge bar that isn't afraid to get experimental with its gin-based creations, and even invites you to create your own – as the name suggests. It also offers guests a high-end shisha experience with a diverse range of flavours, if that's your bag.
Located atop Nathan Hill Entertainment Complex, Tsim Sha Tsui's newest shopping and dining landmark off Nathan Road, the venue whips up specially crafted cocktails that draw upon the connection between gin and the botanical world, which is reflected in its herb garden-inspired bar and mellow golden/green hues that feature throughout the interior.
Full of beautifully fragrant and flavoursome ingredients, the signature drinks strive to offer something out of the ordinary, such as the HYC Bang ($130) which infuses Beefeater gin with Yakult (yes, Yakult) for a refreshingly light, creamy texture, and the Earl Grey Marteani ($120) which blends together Tanqueray with Earl Grey tea, and a hint of lemon for a zesty finish.
The real appeal of HYC, however, is its mix and match offering, whereby guests get to custom make their very own concoction, selecting from a range of five high-end gins such as Hendricks ($160) or Monkey 47 ($270), and a variety of tonic flavors from Fever Tree and East Imperial. To add another sensory dimension to the drinking experience, each cocktail is concealed in a dome filled with one of six flavoured smokes, giving it a whole new depth of flavour that puts this bar way ahead of the game.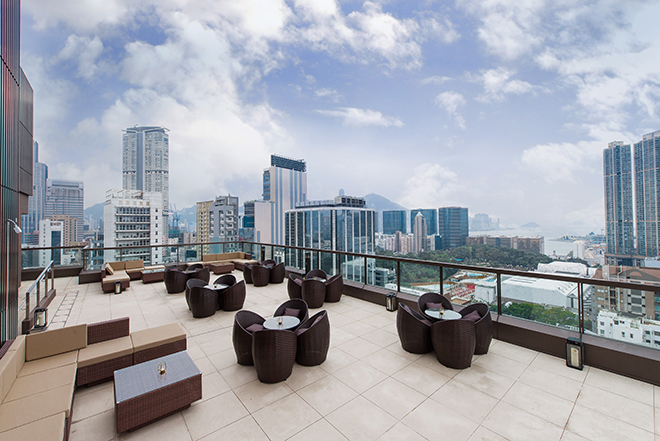 Aside from the spacious lounge, which features a free pool table, six large seating booths, and bar stools, HYC boasts an impressive 1,900 square-foot roof terrace, which offers comfy seating, live music, and stunning panoramic views of Victoria Harbour and Kowloon Park. This alone makes it worth venturing to if you live on Hong Kong Island, and want to catch the sunset or cosy up on date night with a delicious gin cocktail that won't fail to impress.
HYC Bar & Lounge, 22/F, Nathan Hill, 38 Hillwood Road, Tsim Sha Tsui, Kowloon, (+852) 2572 6388
Open until 3am on Friday and Saturday

---
Read more! Discover more amazing bars in Hong Kong.