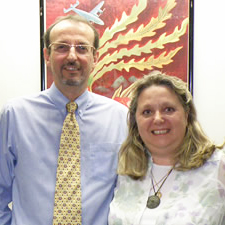 Learning a new language can be an incredible asset to acquire, but at the end of the day – what does it actually take to do so? Suzannah Van Rooy sat down with Dominique and Christian Chasset, founders of Hong Kong Institute of Languages, to find out.
---
We follow a strong belief that language should not be treated as a subject, but as a means of communication between people. Therefore at our language school, we put a greater emphasis on active class participation and interaction between the teacher and classmates. Here are some helpful tips to help you begin your journey to learning another language.
6 Tips for Learning a New Language
Start young, but don't sweat your age either
The sooner you start learning a language, the better. Experts say your brain starts to calcify against the sounds of other languages as early as seven years old. After that, your ability to speak like a local diminishes. Since you are reading this on a computer or cell phone, chances are you're way past that. However, despite what some say, your brain does not shrivel up and die with age. In fact, it's the total opposite if you remain mentally active. Just as you would accumulate more physical strength with more visits to the gym, you have the capacity to expand your mental functions, and create new neurological connections. No matter how old you are, you absolutely can learn a language! It just might take a bit more effort, which brings me to my next point…
Go to more than one lesson a week
The more frequently you engage in language lessons, the more you are going to learn and remember. Your schedule is busy and the probability of practicing alone is low. Only having one big lesson a week results in forgetting the material and spending more time than necessary reviewing material covered in the past week. If you have a set time and place to attend classes with others, it is more likely that your learning will accelerate and optimise. Also, try to join classes with smaller groups. You will benefit from more personal instruction and learning from other people's mistakes.
Get as much exposure to the language as possible
The best way to do this is to visit the country the language is spoken in – full immersion. If your schedule or monetary situation can't manage it, consume as much media in that language as possible. Listening to podcasts and radio can be really good for more advanced listeners. Watching TV or movies can also be really effective. When choosing subtitles, choose the ones in that language. If you choose your native tongue, chances are higher that you'll just read the text and zone everything else out. This way you can see what is being said and how it is delivered.
Keep the language fresh in your mind
When you are not in formal lessons, it's good to keep the language constantly in your thoughts. Think of a language as you would a love. As you progress in your language, start naming everything you see, when you see it, to yourself. To have a constant reminder of what objects names are in the other language, try labeling everything in your house.
Try teaching someone else
As we teach, we learn. This, "the protégé effect," has been attributed as to why older siblings often have a higher IQ, since they are showing their younger siblings the ropes. Teaching someone the bits of language you've already learned in class not only improves your skills, but it will probably help in strengthening a bond as well. Or learn a language with someone else so you can test and quiz each other.
Practise, practise, practise, practise, and repeat
The golden rule to learning a language is to practise as much as possible. Write down new vocabulary words ten times each, repeat trouble sentences until you get them, quiz yourself daily, and teach anyone that will listen different words. Learning a language is committing something to memory, and to memorise something it must be done over and over and over. Never forget, practice makes perfect!
---
More Tips! Find out HOW TO: Lose Weight in 6 Steps from IMI, HOW TO: Manage Stress from Shakti Healing Circle, or HOW TO: Become a Healthier Hong Konger.