When it comes to hiking, Hong Kong certainly has no shortage of adventurous and challenging trails, but if you're after a more gentle and relaxing hike with the family, then look no further than Hong Pak Country Trail. With a moderate difficulty level, this hiking trail encircles the valley at the north-western slope of Mount Parker, with unpaved roads that boast some of our city's most picturesque views of luscious green hills, as well as Quarry Bay and Kornhill down below. Here to guide us along this family-friendly trail are bloggers Seth and Julia from For Something More.
---
---
Getting There
Getting to the trailhead of Hong Pak Country Trail is easy. Simply take the MTR to Quarry Bay station, take Exit A, then follow either the pictured guide below, our Google Map route, or both! 
Note: Once the map has been loaded in your Google Maps app, don't forget to click on the menu icon to see the map legends.
---
Distance and Elevation Gain
Start: Quarry Bay MTR Station → Mount Parker Road → End: Kornhill 
Distance: 6.9 km 
Elevation Gain: 311m 
The Hong Pak Country trail starts with a gentle uphill climb, then flattens out towards the middle, before ending with a gentle downhill decent. If you walk at a relaxed pace, the hike will probably take around 2 hours and 10 minutes to complete. 
---
What To Bring
You won't need a lot of gear to enjoy yourself on Hong Pak Country Trail, but some water, raincoats, a camera, and a power bank are what we consider essential hiking gear. Also, don't forget to bring some light snacks in case you get hungry on the trail – especially if you're hiking with kids! 
Water – For this mellow route, 1 litre per person should be plenty of water. Use an insulated flask so you can fill it with ice water during the hot summer, and warm water in the winter.
Raincoats

 – 

Try not to leave without a rain jacket, not only are they great for sun protection in the summer (though they do get a bit hot), they are also perfect for protecting you from the wind during the cold months. And if you get on an air-conditioned train or bus after you've finished the hike, a jacket can prevent you and your little ones from catching a nasty cold.
Camera

 – 

You'll want to bring a camera that's light, high quality, weatherproof, and very durable so you can capture your favourite moments from your family outing.

 

Power Bank

 – 

If you are going to be using your phones to navigate the Hong Pak Country Trail, be sure to bring a power bank so you won't have to worry about getting lost if your phone battery dies.

 
---
The Route
Take Exit A at Quarry Bay MTR station and turn right on King's Road
Turn right at Mount Parker Road
Continue up Mount Parker Road
Be on the lookout for the Hong Pak Country Trail turnoff
You will walk for about 30 to 40 minutes without having to take any turns. Then you'll get to this fork. Take the trail to the left.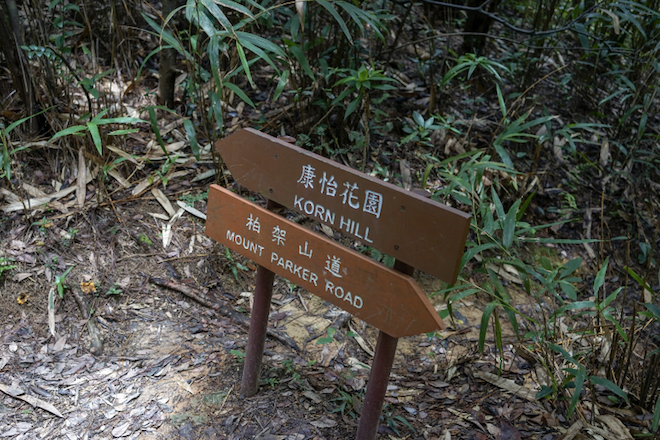 When you see signs to Korn Hill, take that route
Follow the trail to the left
Head left again
Head left once more
Head towards the Korn Hill sign
Now, follow the trail to the right
Follow the catch water and soon you will see residential buildings on your right
You will come to this sign at the end of the path
---
Read more! Check out the Razor's Edge Ridge Hiking Trail, and explore the rest of our Outdoors section.