The name of a restaurant is the first and, arguably, most important impression made on new customers. A funny name puts a smile on new faces and leaves them with a witty takeaway. Although some say puns are the lowest form of humour, there's no denying their staying power. We've found the restaurants and bars in Hong Kong that wear their puns, and play on words, with pride…
---
---
1.   65 Peel 何蘭正
While 65 Peel may sound innocent enough in English, its playful Cantonese name that phoneticises to 'Ho Lan Jeng' – a Cantonese swear word meaning 'so f***ing good' – will have you smirking at its cheekiness. The bar boasts a bright neon sign with the Chinese characters 鬼佬涼茶, or 'Gweilo Herbal Tea', which is how locals refer to beer. This tells you what 65 Peel is all about – beer that really is so f***ing good. With a selection of 12 locally brewed craft beers on tap, 65 Peel is sure to impress and quench any beers lover's thirst.
65 Peel, G/F, 65 Peel St, Central, (+852) 2342 2224
---
2.   Ho Lee Fook 口利福
This modern Chinese restaurant's distinctiveness is clear from its name alone. We don't need to explain what Ho Lee Fook's English name sounds like, but its Chinese name is also a tongue-in-cheek translation of 'good fortune in your mouth'. The unorthodox but delicious menu takes an intriguing Asian-fusion approach to Chinese cuisine. The restaurant decor is old school cha chaan teng meets 1960s New York Chinatown. A wall of golden fortune cats stands next to a peacock mural leading you down the stairs, where you're greeted with a mahjong-tiled open kitchen, sleek black furniture and backlit dragon mural.
Ho Lee Fook, 2604 Universal Trade Centre 3-5A Arbuthnot Road, Central, (+852)  2810 0860
---
3. Lee Lo Mei 李好味
This restaurant's Chinese name 李好味 (phonetically lee ho mei) translates to 'Lee's good food', a nod to the Director of Culinary and Operations, Chef Max Lee. But its English name 'Lee Lo Mei' stops Cantonese speakers in their tracks. Lee lo mei is a Chinese profanity that is essentially the Cantonese version of 'yo mama'. The ground floor of this two-storey venue is a bar that opens onto the street. Wet-market style lamps hang from the bar, while birdcage and mahjong illustrations adorn the wall. Heading upstairs, the venue turns into a dai pai dong-style restaurant.
Lee Lo Mei, G/F – 1/F, 8 Lyndhurst Terrace, Central, (+852) 2896 7688
---
4. Hang-O-Pho 宿宿醉
Literally meaning hungover in Chinese, Hang-O-Pho's punny name refers to the hangover-curing qualities of a hearty bowl of Vietnamese pho (pronounced fer). An array of artsy but funny detail decorates the establishment. Hilarious spoofs of classic oil-paintings such as Mona Lisa wearing a face-mask and The Last Supper disciples wearing rice hats, hang on red walls. Guests can enjoy a quirky menu of "rapid", "strong", "extra", and "extreme" curing pho, along with other Vietnamese-French fusion comforts.
Hang-O-Pho,  6/F, Cheung Hing Commercial Bldg, 37 Cochrane St, Central, (+852) 3427 3718

---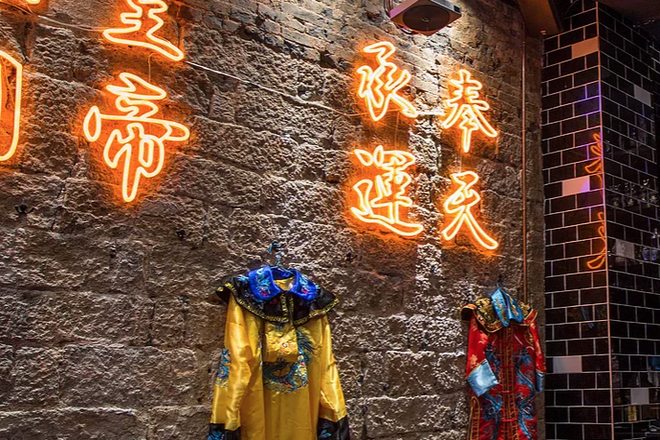 5. Chi Chi Cham 吱吱朕
The name Chi Chi Cham gives a double-dose of humour. Firstly, Chi Chi Cham means 'whispering gossip with friends' in Cantonese – the stuff of many a dinner gathering. Chi Chi Cham also plays on words with its Chinese name.  The Chinese character 朕 is used instead of the usual 噚. While both characters are pronounced cham,  朕  is the Chinese 'Royal I', used only by the emperor as a symbol of status. This punny play on words is a tribute to the restaurant's imperial decoration. The lively bar and restaurant serves quality Japanese cuisine and cocktails full of playful elements. The restaurant is quirkily decorated with Chinese Emperor robes, hanging Japanese umbrellas, and bright neon signs with the Chinese characters 'By The Mandate Of Heaven, This Emperor Decree Hereby.'
Chi Chi Cham, 53 Peel St, Central, (+852) 2386 9718
---
6. Lan Kwai Lau 爛鬼樓
Lan Kwai Lau is a secret speakeasy hidden in plain sight, opposite Lan Kwai Fong's California Tower. Lau means building in Cantonese, while Lan Kwai is an obvious nod to the building's location. The mysterious bar's Chinese name 爛鬼 (lan gwai) is a not-so-subtle dig at what the area is often full of – drunken gweilos. Although Lan Kwai Lau has no phone or website, it's easily identifiable owing to the stag's head sticking out over the inconspicuous black door entrance. Once you gain entry, sit back in the large, comfortable, leather chairs and get started on their impressive whiskey selection.
Lan Kwai Lau, B/F, 2 Lan Kwai Fong, Central
---
Read more! Enjoyed these funny puns? Check out Hong Kong's Best Hidden Bars and Speakeasies, and explore the rest of our Food & Drink section for more delicious treats.
Subscribe to receive our weekly newsletter