The world's best Rugby Sevens Party is coming to Lee Gardens in Causeway Bay – as well!
Over the Rugby Sevens weekend (Friday, April 7 to Sunday, April 9), Lee Garden One in Causeway Bay will be transformed into a rugby-themed party wonderland, the Cathay Pacific/HSBC Hong Kong Sevens FanWalk. The FanWalk, which is conveniently located en route to the Stadium, is designed to give residents and visitors an international experience based on the Sevens' theme: "Where the World Comes to Play".
---
Where The World Comes To Play!
---
What To Expect
Expect entertainment and activities for all the family, food, live rugby on the big screen direct from the stadium, music and more. As well as the fun of the FanWalk itself, surrounding streets will also be decorated as part of the celebrations.
FanWalk Entertainment
The all-day line-up of attractions will include live performances from breakdancers through to Samoan dancers; featured music from African drummers; sax, trumpet, guitar and bagpiper soloists, as well as circus and street acts including juggling, unicycling, stilt-walking and balloon twisting. Alternative live rugby commentary will be conducted by Jed Thian.
OULAMII SOOJ refers to "ALL STARS" in the players' local West African language. The group promotes the distinct culture of West Africa with performances and workshops relating to African music and dance. With the use of musical instruments and body parts, the powerful dances as well as the beautiful songs present a special visual and sensational experience for audiences.
Griffe Saunders a multi-instrumental solo jazz musician who will perform percussion and saxophone. Griffe has performed all over Hong Kong, including performing as a percussionist at Dragon-I and Sevva.
All coming from a dance background – some ballerinas and some ballroom dancers – these French dancers have been performing their native Can Can dance in Hong Kong for a variety of excited audiences. The renowned French dance demonstrates the dancers' dexterity and balance, with their glamorous costumes complementing their amazing high kicks and dancing skills.
International Cuisine Food Booths
Keeping up the regional rugby theme, seven authentic food booths will serve up iconic fan food items from seven sport-loving countries: South Africa, Australia, UK, US, Italy, France and Belgium.
Family-focused Activities
On top of all of the scheduled entertainment, the HKSEVENS FanWalk will feature fan engagement activities for everyone, with face painting for the kids, karaoke singalong to some of the famous "Songs of the Sevens", such as 'Sweet Caroline', rugby challenges and the chance to grab a beer or a coffee with HKSEVENS Rugby Ambassadors including South African modern great Jean de Villiers; British Lion and Welsh Captain, Gareth Thomas; and Sevens Legends Waisale Serevi, Ben Gollings and David Campese. You'll find fun activity booths sponsored by Cathay Pacific and HSBC where you can test your skills.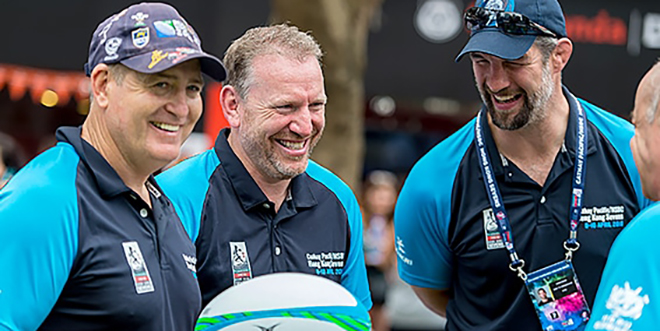 Ricky Lui, Chief Operating Officer of Hysan Development, said that Lee Gardens is ready to welcome everyone: "If you're walking up to the Sevens, we hope you'll stop by to enjoy our pre-party, or if you're in the Causeway Bay area and just want to join the fun for a while, there's a fantastic rugby and entertainment experience waiting for you. Lee Gardens is proud to play host to the inaugural FanWalk, and we hope the public will enjoy all the special offerings we have lined up before and during the Sevens Weekend."
Sam Pinder, Head of the Hong Kong Sevens for the HKRU, said, "We are very excited that our long-term goal to share the Sevens with the whole community is taking root this year with the Cathay Pacific/HSBC Hong Kong Sevens FanWalk.
"FanWalk will add even more colour and fun to this vibrant weekend, while bringing the HKSEVENS party to one of Hong Kong's highest-traffic shopping and entertainment destinations in Causeway Bay," added Pinder.
You can visit the FanWalk Official Page here.
---