As far as cheap, delicious food goes, a cha chaan teng (tea restaurant) is the place to be. Not only do these no-frills eateries serve up some of the best food you will find in the whole city, but they also play an important role in Hong Kong's fascinating history and culture. As much as we love these local diners, deciding what to eat from the menu—especially ones without English translations—can be quite overwhelming. Luckily, you've got us. From staple items that you need to try and where to get them, to useful Cantonese lingo you need to know, here is your ultimate guide to eating at a local cha chaan teng.
---
---
What you need to try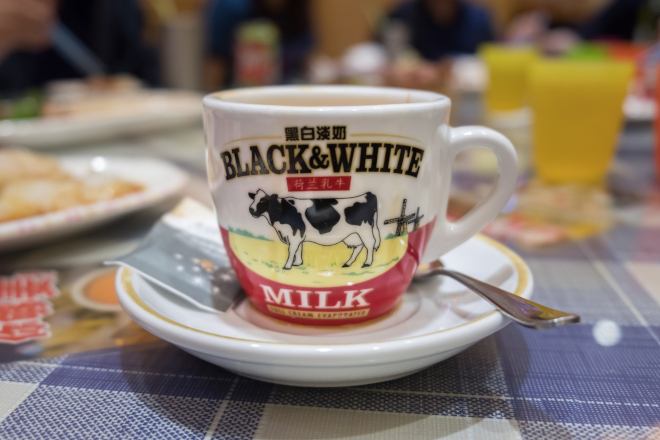 Hong Kong-Style Milk Tea | "Naai Cha" (奶茶)
Combining the mellow-yet-fragrant aroma of Chinese black tea with the velvety-smooth texture of evaporated milk, Hong Kong-style milk tea is everyone's go-to. Apart from the simple naai cha, there are also many variations of milk tea that you can order. For example, cha jau, is when the sugar is replaced with condensed milk, and yuen yeung, is a unique beverage that combines both tea and coffee. There is much debate as to where the best milk tea in town is, but Waso Cafe (where you can get bottled naai cha for on-the-go sipping), Yue Hing (a classic vendor that also serves breakfast foods), and Bing Kee (a popular dai pai dong hidden away in Tai Hang) are all worth checking out.
---
Corned Beef Sandwich | "Au Zhi" (牛治)
We know corned beef sandwiches don't sound like the most exciting thing on the menu, but since every cha chaan teng does them differently, you'll never know what to expect—in the best way. Some places serve them with oversized scrambled eggs, some do them toasted, and don't even get us started on ones with cheese! No matter what you choose, they all make the perfect breakfast to start your day. The most famous corned beef sandwiches in town are from Sun Heung Yuen (Kin Kee) in Sham Shui Po, but Australia Dairy Company in Jordan and Tsuen Wan's Gala Cafe are worth hitting up too.
---
Hong Kong-Style French Toast | "Sai Doh See" (西多士)
If you think you've had French toasts before, think again. Hong Kong-style French toasts are made up of two slices of bread, usually with a layer of peanut butter or condensed milk in-between. It is then dipped in egg, fried to golden perfection, with a knob of butter and heavy drizzle of maple syrup slathered on top. Depending on where you go, there are many cha chaan teng eateries around town that offer French toasts with different fillings. For something simple yet tasty, Shui Kee Coffee in Sheung Wan fries each piece of bread individually to give them an extra bit of crunch, and if you're looking for something different, Chau Kee is famous for its molten French toasts with a choice of three different gooey fillings—custard, black sesame, and taro.
---
Read more! Check out these local dai pai dong to try in Hong Kong.
---

Egg and Spam Instant Noodles | "Chaan Daan Meen" (餐蛋麵)
Yeah, we know you can pretty much make this at home yourself, but there's something distinctively nostalgic about eating instant noodles in a cha chaan teng that makes it all the more delicious. This dish is basically what it says it is: instant noodles, with few slices of Spam and (usually) a sunny-side up egg. If you would like other toppings, you can add extra ingredients for a few more dollars. Crowd favourites include satay beef, spiced pork cubes, and ham. Most places also offer lo ding, which is basically the same thing, but without the savoury broth. Head to Sun Kee Cheese Noodles or Lan Fong Yuen, both a popular destination famous for their lo ding.
---

Pineapple Bun with Butter | "Bor Loh Yau" (菠蘿油)
Clearly, pineapple buns need no further introduction, and sure, spreading some butter in a bun is not something too significant, but with bor loh yau, it's a whole different story. With a thick slab of butter wedged inside the bun, bor loh yau are usually served lukewarm. This is so that when you bite into it, the butter, along with the bun, will instantly melt in your mouth. We definitely recommend heading to Waso Cafe, where apart from the butter, you can also add scrambled eggs, tomato, marinated chicken, and pork chop to turn it into an extra flavourful affair for your palette. Cheung Hing Coffee Shop in Happy Valley is another go-to for some freshly baked, golden brown pineapple buns around the clock. 
---
Read more! Find out what weird foods Hongkongers love to eat.
---
Useful phrases to learn
| | |
| --- | --- |
| Cantonese Phrase  | Meaning |
| siu / jau bing | less / no ice |
| siu / jau tim | less / no sugar |
| hung dai | toasted |
| fei sa jau tong | no sugar no milk |
| ga / jau sik | add / no soy sauce to rice |
| jau cheng | no herbs on top (usually scallion or coriander) |
| ga / kau dai | extra / less white rice |
| fei bin | no crusts on bread |
| sang chun | sunny-side up |
| hang gaai | takeaway |
| daap toi | sharing tables |
---

You're all good to go, but remember…
Don't expect five-star services
If you like to eat at a restaurant where the waiters can attend to your every need, then perhaps a cha chaan teng is not

the right place for you. Working in such a fast-paced environment can be stressful, so don't be surprised if your waiter doesn't greet you with a smile.
Gobble, gobble
Sometimes it's nice to sit back and chat with your friends after a meal, but if you do that at a cha chaan teng during rush hour, you're going to get cold, stabbing stares from waiters or other hungry diners waiting in line. 
Prepare to share
Most cha chaan teng eateries are not that spacious, and if it's lunch or dinner time, these diners are bound to be packed. So prepare to budge up, make space, and welcome another lovely stranger to your table.
Tissues at the ready
Not every cha chaan teng offers table napkins for the taking, and may even charge for a packet of tissue, so it's best to bring your own.
Pay up
When you're done with your meal, don't raise your hand and ask for the bill. There should already be a receipt at your desk, so just walk up to the cashier with it and pay.
---
Read more! Turn up the heat at some of Hong Kong's best sour and spicy noodles restaurant, or explore the rest of our Food & Drink section here on Localiiz.