The vibrant neighbourhood of Wan Chai is set to enjoy a very special makeover this March as international and local artists gather to spray the streets during this year's HKwalls art festival, in partnership with Vans.
---
---
Now in its sixth year, the alternative street art event invites talents from Hong Kong, Asia, and around the world to paint murals which showcase their own unique style and flair, while bringing a splash of colour to the neighbourhoods of Hong Kong.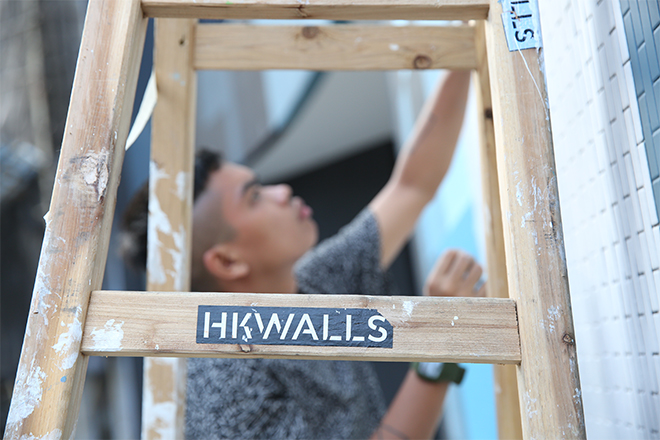 From March 23 to 31, a first-class line-up of artists will be working at multiple locations throughout the Wan Chai district, with a 90 year old Grade III historic building on Stewart Road – dubbed 'The Clubhouse' – serving as the headquarters of the festival. The building will also host several special events for artists and visitors to take part in, including workshops taught by experienced instructors and art professionals, and the HKwalls' annual exhibition which will showcase works by past and present participating artists along with a series of short film screenings.
Festival organisers will also be working with local schools and residents in the neighbourhood to host numerous art workshops, while Alexandra Unrein, lead storyteller of walking tours operator Wanderlust Walks, will provide an in-depth tour of this year's newest murals alongside existing artwork already in Wan Chai. Held in English, Cantonese, and Mandarin, the tours are completely free to join and visitors can sign up for them shortly via the HKwalls website.
The festival's closing party will also be held at the Clubhouse on March 31, where guests will have the opportunity to meet many of the featured artists of this year's event, get a last look at the many artworks on display, watch a short film or two, and enjoy live DJ sets and free drinks.
So, if you fancy an alternative take on Hong Kong Arts Month this year, be sure to swing by the neighbourhood and catch all the action.
---
Read more! See what else is on this Arts Month in Hong Kong.