When living in a city as crowded as Hong Kong, getting the breathing space that you need may seem like a dream beyond reach. But Hong Kong isn't as devoid of parks and greenery as you may think. If you don't have the frequent flyer miles—or the annual leave—for a tropical getaway, we've got your back! For the sake of your rest and rejuvenation, here are the city's best hidden parks. Bet you didn't know some of these high rises have proper lawns!
---
---
Photo courtesy of The Upper House
1. The Upper House
A small slice of hidden paradise can be found at The Upper House in Admiralty, which has a secluded green space on the sixth floor with a view of the surrounding buildings in the area. It's conveniently located for those working in the central business district to go to for a break—the sunset views are to die for. Weekends visits are also recommended for enjoying their garden bites and picnic drinks. It sure offers a different side of Hong Kong that we don't often see!
The Lawn, L6 (Portion A), The Upper House, Pacific Place, 88 Queensway, Admiralty
---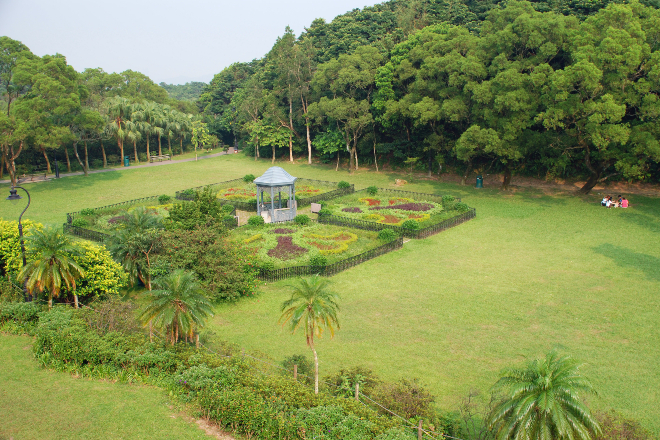 Photo courtesy of Hellodog
2. Victoria Peak Garden
Everyone and their mum knows about the Peak, but not quite as many have heard about the Victoria Peak Garden. Sitting just a short distance away from the tourist-packed Peak Tower and Peak Galleria, the park may take a bit of effort to find, but your reward is another bit of secluded greenery to recharge in. If the appeal of real grass and sunshine isn't compelling enough for you, here's another perk: all pets are welcome!
Victoria Peak Garden, Mount Austin Road, The Peak
---
Photo courtesy of Nonagon Style
3. Hong Kong Dragon Garden
Another hidden urban park in Hong Kong also happens to be one of the New Territories' biggest cultural treasures. Taking 20 years to build, the Hong Kong Dragon Garden is a privately owned heritage park in Tsing Lung Tau—the largest private park in town. We're talking over eight hectares of ornate pavilions, archways, waterfalls, and stone sculptures. The garden decor consists of a blend of Confucianism, Buddhism, and Taoism motifs, as well as hints of Western elements in its design. The Dragon Garden is open to the public once a month, so if you're free and looking for somewhere to explore, this is the place to go!
Dragon Garden, 32–42 Castle Peak Road (Sham Tseng), Tsing Lung Tau
---
Read more! Check out the best indoor play areas to avoid the summer heat.
---
Photo courtesy of Tai Tong Ecopark
4. Tai Tong Ecopark
We know this park isn't particularly hidden, but it sure is far enough away from the city centre with a lot in terms of facilities. Tai Tong Organic EcoPark is located in the tranquil valley of Tai Tong Village, which is only a 10-minute drive from Yuen Long. Occupying over a million square feet of land amongst lychee woods, it's perfect for a day out with the family; the EcoPark is also a key educational partner of Hong Kong's schools and promotes environmental awareness. We're convinced that it's the perfect spot for an off-the-beaten-path date; frolic around the lotus fish pond, pick strawberries, go horseback riding—the possibilities are endless.
Tai Tong Ecopark, 11 Tai Tong Shan Road, Yuen Long
---
Photo courtesy of NY Times
5. Cityfarm
High rises aren't just for living and working in; they can also be for farming! Holed up amongst concrete slabs, it may be difficult to appreciate the small beauties of urban life, but little green oases like Cityfarm can be found throughout Hong Kong. These small farms make their homes amongst the rooftops of industrial buildings, aiming to foster respect and appreciation of nature through green living. Sunlight, organic soil, and natural fats, as well as professional help, nurture the plants, and fresh organic vegetables are harvested on a regular basis. Finally, Hong Kong architecture is pulling double duty!
---
Photo courtesy of Atlas Obscura
6. Un Chau Estate Flower Tunnel
Enough with the green—let's throw some other colours into the mix. Un Chau Estate has a truly hidden gem that appears only in springtime. Concealed by the crowded buildings of Hong Kong, this vast public housing estate contains a garden that is overlooked by many, but those who chance upon it could find a fairytale-like tunnel. When spring comes, the tunnel's ceiling is covered with vivid blooms, pink leaves, tiny white flowers, and vines that wind around the walkway. We challenge you not to twirl around singing like a Disney character!
Un Chau Estate, 303 Castle Peak Road, 303 Un Chau Street, Cheung Sha Wan
---
Read more! Check out our island guide to Ma Wan and Tung Ping Chau.
---

Photo courtesy of Flickr
7. Lai Chi Kok Park
Located at western Sham Shui Po, Lai Chi Kok Park is an oasis in the bustling city. The multi-level park was constructed in a classical Lingnan style. The lower level, for instance, boasts a small yet authentically Lingnan-styled garden surrounding an impressive pond with a waterfall and fountain. In fact, this scenery is often adopted by local period dramas on telly as the backdrop for an Imperial Garden. The upper levels also offer various sporting facilities such as tennis and basketball courts, as well as a kids' playground.
Lai Chi Kok Park, 1 Lai Wan Road, Lai Chi Kok
---
Photo courtesy of YouTube
8. Kowloon Walled City Park
Kowloon Walled City Park sits on the very site of the former Kowloon Walled City, which was infamously the breeding ground of crime and debauchery in the SAR. In 1987, the shantytown was torn down and replaced with a park styled after a Jiangnan garden that boasts glamorous Chinese traditional greenery and water features. Its dark history has been preserved in historical artefacts dotted around, such as the Yamen located in the centre of the park—the only building that remains of the old Walled City. This park is ideal for soaking up some culture while enjoying the quaint greenery.
Kowloon Walled City Park, Tung Tsing Road, Kowloon City
---
Photo courtesy of Flickr
9. Hutchison Park
A gem perched on a cluster of high-rise residential buildings in Hung Hom, Hutchison Park is styled as a Chinese garden with a lot of greenery. A walk through the garden trail reveals decorated archways, stone bridges, pavilions, and ponds. The shade and greens allow you to enjoy tranquillity within the concrete jungle. It's also equipped with several children's playgrounds which will keep the little ones entertained.
Hutchison Park, Tai Wan Road, Hung Hom
---
Photo courtesy of themeparkhk
10. Kowloon Park
Although not quite "hidden" either, Kowloon Park is a spectacular and enormous public space amid the hectic neighbourhood of Tsim Sha Tsui. Once an army fortress that was handed over by the military for public use in 1970, the park now offers a seamless mix of multi-purpose arenas and relaxation areas. It houses the Hong Kong Heritage Discovery Centre, as well as the Kowloon Park Swimming Pool where you can catch some rays. To rest in peacefulness, head to the Chinese Garden which encompasses a two-tiered lotus pond linked by rock cascades, a maze garden, and a sculpture walk.
Kowloon Park, 22 Austin Road, Tsim Sha Tsui
Originally published on August 28, 2019, by Ching Yuen. Updated on October 18, 2019, by Gigi Wong.
---
Read more! For more greenery, check out our Island Guide series or explore the rest of our Days Out section on Localiiz.