With the growing demand for 'eating clean', it's no wonder our city is overflowing with healthy dining options. From mouth-watering salads packed full of fresh ingredients, to wholesome soups in quaint little cafés, and organic produce delivered straight to your door, being good has never tasted so wicked. Just take a look at these delicious finds.

Restaurants | Salad Bars | Sweet Treats | Delivery
---
---
Restaurants
Whether you are looking for a laid-back lunch spot, or somewhere to spend the evening, dining out doesn't have to be indulgently calorific. From casual lunch spots to sophisticated restaurants, Hong Kong has a healthy venue for every occasion.
Grassroots Pantry 
The bright, Scandinavian minimalism of Grassroots Pantry (pictured) gives this venue a clean-eating atmosphere. Ideal for breakfast, lunch, dinner, and everything in-between, this hub of healthy eating has a truly delectable menu. From vegetable stir-fries to kelp noodle salads, deciding which dish to try from their jam-packed, flavourful selection might be your biggest problem. On the hunt for a healthy junk boat package? Grassroots Pantry will deliver their nutritious goodies to Central Pier at no extra cost, because there Ain't No Place for Junk on that Junk.
Grassroots Pantry, 108 Hollywood Road, Sheung Wan, (+852) 2873 3353
Meals cost around $100 – $150; set lunch costs $158
---
Read more! Set sail with Hong Kong's Top 10 Junk Boat Companies
---
Greenwoods Raw Cafe
Get back to basics at Greenwoods Raw Cafe. Wedded to raw, vibrant, tasty dishes which are overflowing with goodness, this culinary team puts guilt-free food on the table. Using local, fresh, organic ingredients to rustle up mouth-watering meals, this meat-free establishment really takes the biscuit when it comes to innovative cooking. Zucchini bolognese? Yes, please…
Greenwoods Raw Cafe, 13/F, 2 Carnarvon Road, Tsim Sha Tsui, (+852) 3428 2416
Meals cost $50 – $120, set menus are priced from $138 – $148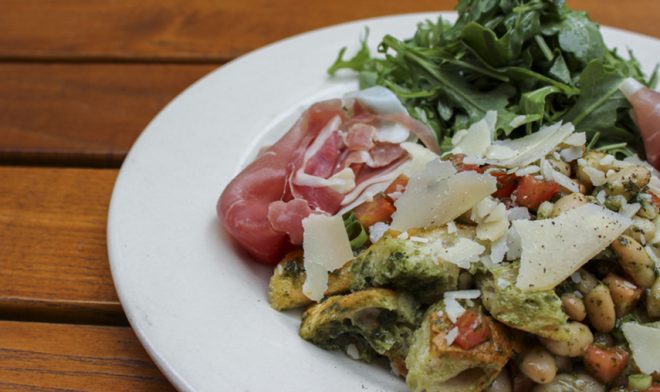 Le Pain Quotidien
Le Pain Quotidien is a rustic Belgian bakery and restaurant with a passion for organic produce. With plenty of vegan and vegetarian options, a beautiful Parisian-style terrace, and prime location at the entrance of Wan Chai's up-market Lee Tung Avenue, we've got a good feeling about this health-conscious eatery. The crunchy, juicy Quinoa Detox salad won our editor over, hitting the perfect balance between raw ingredients and seasoning, and we can't get enough of their feisty Beet Booster. Admittedly we caved into the temptation of the chocolate eclair – but it was only one time. Potentially two.
Le Pain Quotidien, Shop G41, The Avenue, Lee Tung Avenue, Wan Chai, (+852) 2520 1801
Shop 1089C, 1/F, Elements, 1 Austin Road West, Tsim Sha Tsui, (+852) 2521 1377
Shop 008, LG1/F, Pacific Place, 88 Queensway,Admiralty, (+852) 2808 1837
Salads cost $98 – $108; meals cost $88 upwards
Green Common
Originally a health food store, Green Common has now expanded into six delis scattered across Hong Kong, meaning you're never far away from its impressive menu of plant-based dishes and the famous vegan Beyond Burger, which recently won investment from vegetarian celebrity Leonardo DiCaprio. Offering everything from multi-coloured Rainbowl Quinoa and Kale-Licious salads to Beyond Spaghetti Bolognese with Vegan Cheese and Beyond Chicken Yaki Udon, Green Common is a great option for guilt-free dining and is refreshingly innovative. We get it now, Leo. The group have also recently opened The Kind Kitchen, a restaurant and grocery store in Central which seats over 100 diners.
Green Common, (locations vary)
Meals cost $52 – $108
Kind Kitchen, 1/F, Nan Fung Place, 173 Des Voeux Road Central, Central, (+852) 2110 0055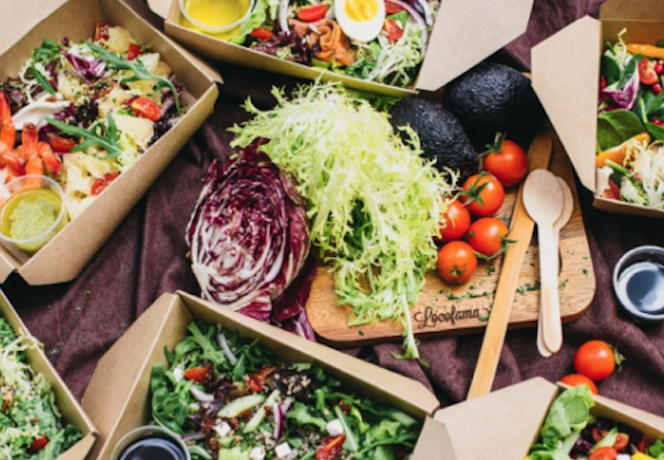 Locofama
Nestled in the health-conscious neighbourhood of Sai Ying Pun, Locofama boasts a colourful salad selection, overflowing with flavour, fruits, and vegetables. Working closely with local farmers, this community-spirited hangout sources 'clean' ingredients (aka chemical-free crops) and serves up mouth-watering, organic dishes as a result. Trying out the Paleo diet? Not a problem – Locofama's menu caters to all.
Locofama, 11 Fuk Sau Lane, Sai Ying Pun, (+852) 2547 7668
Salads cost $48 – $98; Healthy bites cost $58 upwards 
Supafood
Banishing lengthy waiting times and hefty price tags from the world of healthy eating, Supafood (pictured above) is the sister restaurant of popular healthy hangouts Locofama and Sohofama. Take your pick from the mouthwatering menu, which features satisfying portions of organic salad topped with superfoods aplenty. From Sweet Miso Aussie Eggplant to Roast Chicken with a Kale and Cashew Pesto, we can see this super-healthy, super-fast, Sheung Wan restaurant hanging around for the long haul.
Supafood, G/F, 1 Jervois Street, Sheung Wan, (+852) 2812 6088
Meals cost $65 – $105
Purple Tomato
In a rush? WhatsApp ahead your order to Purple Tomato on the number below, and skip the queues. Our editor recommends the Chicken Cobb salad (pictured above) for avocado lovers, and our marketing exec chooses the Purple Tomato salad every time. Though this hole in the wall may not be the cheapest of options, the gigantic salads it serves up often sorts out our dinner too!
Purple Tomato, 2 Jervois Street, Sheung Wan, (+852) 6695 3623
Meals cost $78 – $115
Fresca
Rustling up sizeable salad boxes bursting at the seams with colour and imagination, Fresca is definitely worthy of a lunchtime slot in your diary. Regular salad boxes check in at $70, including two toppings, with additional toppings setting you back a mere $10 thereafter. From Roasted Veggies to Sweet Korean Potato, and Risotto to Apple Beetroot, the daily salad menu is something to get excited about. If you're prone to a mid-afternoon sugar craving, pick up a healthy muffin for $22 while you're in store. Stay classic with Banana Cinnamon or, if you're feeling particularly wild, try something a little more unusual such as Purple Sweet Potato or Spinach Orange.
Fresca, G/F, 54A Hollywood Road, Central, (+852) 2770 2282
Salad boxes cost $77 – $100
Maison Libanaise
Good Lebanese food is hard to find in Hong Kong, but the Black Sheep boys have struck gold with this three-storey gem off the escalator in SoHo. Serving up a selection of healthy Middle-Eastern dips, mezzes, salads, grilled fish, and meat skewers, Maison Libanaise is a popular spot at lunch and dinner time, where health-conscious Hong Kongers line up for their wraps and salad bowls which are packed with only the freshest ingredients. The Pan-fried Halloumi and Za'atar Fried Chicken are winners on the hot mezze front, while the Lahém Mishwé chargrilled prime beef striploin skewers and Sole Fillet make for a delicious dinner.

Maison Libanaise, 10 Shelley Street, SoHo, (+852) 2111 2284
Elephant Grounds
If you thought that Elephant Grounds was only about coffee and ice cream, then think again. This rustic all-day dining spot near Star Street boasts some of the most delicious (and green) dishes in town, and will have you coming back for more in no time. From juicy Salmon Avocado Poke to Daikon & Pomegranate Salad, and Avocado Toast to Brussels Sprouts Radish (who knew sprouts could be so devilishly moreish?), there's a whole menu of nutritious delights just waiting to be devoured. There are some pretty spectacular iced teas on the menu too, and we thoroughly recommend the Berryfield and the Sparkling Red Jade with Bergamot Peel – super refreshing!
Elephant Grounds, G/F, Win Fung Building, 8 Wing Fung Street, Wan Chai, (+852) 2778 2700 (click here for other locations)
Dishes range from $65 – $145 per portion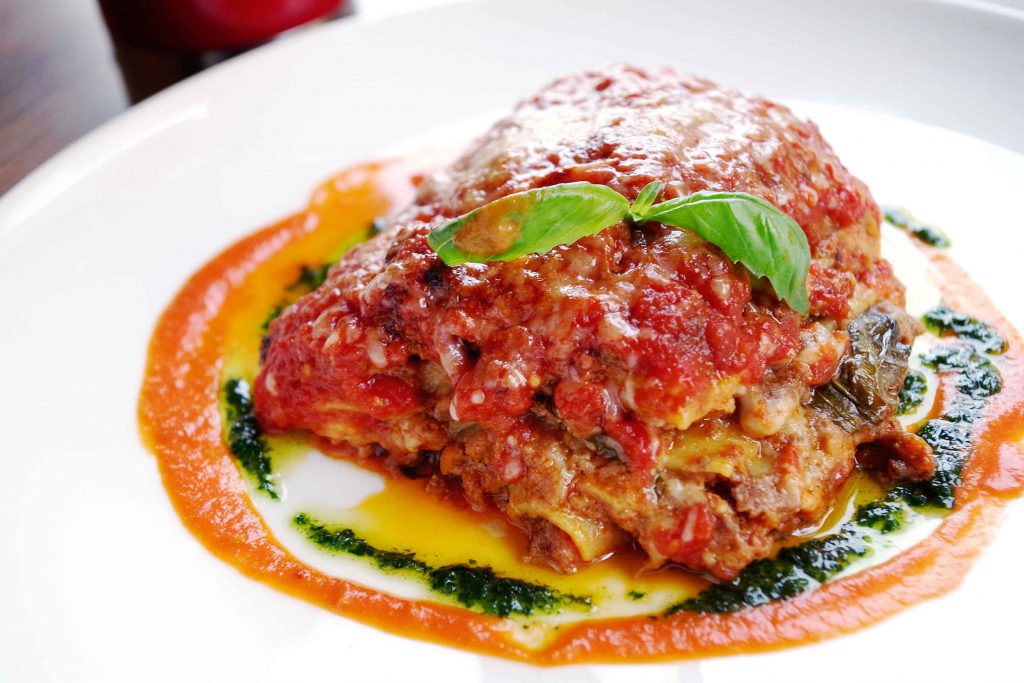 DiVino Patio
Inspired by a shift in their customers' diets and health-conscious attitudes, DiVino Patio is now offering more organic meats and vegetables, as well as sugar-free and gluten-free options. Signature dishes include slow-cooked cuttlefish with Italian black rice, tomato salsa, and Bottarga di muggine roe ($188), and baby spinach salad with quinoa, fresh fennel, grapefruit, heart of palm, and pecan nuts ($145). The restaurant has also joined the Green Monday movement to promote healthy and environmentally friendly living in Hong Kong by encouraging meat-free-diets on Mondays. Goodies include gluten-free pizzas and pasta, in addition to a selection of vegetarian treats. Delizioso!
DiVino Patio Ristorante Bar Pizzeria, Shop 11, 1/F, BRIM28, Causeway Bay Centre, 28 Harbour Road, Wan Chai, (+852) 2877 3552
Veggie SF
Who says vegetarian has to be boring? Aside from the diverse range of vegetarian fusion dishes on the menu, the entire restaurant is decked out in genuine antique from the 1950s, bringing you back to a time when food was simple, fresh, and delicious. The restaurant owners also understand that whilst your stomach needs a cleanse, so does your mind. With a range of inspirational readings available and the cosy restaurant environment, Veggie SF will help you relax and take a break, even if it's just for a little while.
Veggie SF, 10/F, 11 Stanley Street, Central, (+852) 3902 3902
Main courses range from $138 – $168

OVO Cafe 
When coffee enthusiast Felix Wong joined forces with local creative lifestyle brand OVO, a fresh and modern take on healthy eating was born. Serving the most delicious vegetarian comfort food, OVO Cafe is on a mission to make positive influences into people's eating habits. Combining elegant floral interiors with rich scents of roasted coffee beans, you can enjoy your All-Day Breakfast through all your senses.
OVO Cafe, G/F, OVOMARKET, 1 Wan Chai Road, Wan Chai, (+852) 2527 6011
Set lunches are priced at $78, while set dinners cost $168
Grove Sandwiches
Eating healthy in Hong Kong can often be costly, so if you want to do it on a budget, Grove Sandwiches is the place to go. Salads and sandwiches are freshly made each day, bringing high-quality foods with affordable prices. They offer everything from crispy flavourful salads to hot grilled paninis. Don't worry if you can't find an outlet near you, as they offer an online delivery service – however, with over 15 branches scattered all across Hong Kong, you shouldn't be too far from one.
Grove Sandwiches, locations vary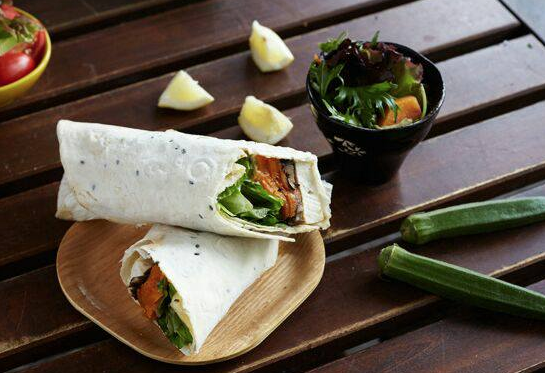 Veggie Spinner
No, we're not talking about a new type of fidget spinner made from vegetables – in fact, this small vegetarian restaurant located in Causeway Bay does not mess about. Using only the highest quality ingredients, dishes at Veggie Spinner are put together in playful and unexpected ways, and are guaranteed to leave your taste buds feeling satisfied. The restaurant is very cosy but has limited seating, so make sure you get down there early to bag yourself a spot.
Veggie Spinner, G/F, 144, Tung Lo Wan Road, Tai Hang, (+852) 2802 6126

Confusion Plant Based Kitchen
Situated in the heart of Sheung Wan, this newly-opened healthy eating hotspot focuses on plant-based, zero-waste cuisine with its vegan menu. Keeping loyal customers surprised, the menu at Confusion changes frequently. With a mission to rid the 'confusion' surrounding healthy eating, this is one spot that doesn't look to be going anywhere any time soon.
Confusion, G/F, 103 Jervois Street, Sheung Wan, (+852) 2563 3699
Sandwiches and wraps are priced from $75 upwards
---
Read more! Check out our Localiiz Restaurant Reviews
---
Salad Bars
If you like to be in control, then creating your own meal at one of the city's vibrant salad bars could be a dream come true. Whether you grab a takeout salad box whilst you're on the run, or have time to sit down and soak in your surroundings, custom-made salads are bound to get your taste buds tingling.
Cooked Deli
Nestled in city'super branches across the city, a tasty Fusion Deli salad box is never far away. Browse the selection of ready-made salads, or grab some tongs and head to the build-your-own station. Then it's over to you to create the basis of your salad from the leaves, vegetables, and meats on offer. Play around with croutons, raisins, or whatever else catches your eye – the power is in your hands after all. Then choose one of Fusion's delicious creations to add on top, and select your dressing. From peppery potato salads to vibrant beetroot and pumpkin creations, Fusion Deli isn't afraid to throw a few carbs into the mix, so if you're looking for some wholesome energy, give it a go.
Cooked Deli, city'super, locations vary, click here for more information
Salad boxes cost around $70
Great Food Hall
Great Food Hall may be tucked away in the basement of Pacific Place, but this salad bar is not to be forgotten about. Browse a variety of raw and cooked vegetables and protein-rich meats, cheeses, and pulses, and create your ideal healthy meal. If you fancy shaking up the savoury flavours, throw some sweeter choices into the mix. To save yourself the hassle of queuing, you can order ahead using the Great-To-Go smartphone app.
Great Food Hall, B/F, Two Pacific Place, Queensway, Admiralty, (+852) 2918 9986
Salad boxes cost $63 for a medium and $72 for a large.

Monsieur CHATTÉ
Located in Sheung Wan, this popular French deli boasts a salad bar upstairs fit to rival most, and it's a firm favourite of the Localiiz team. The salad station boasts a wide array of leafy greens, proteins, meat, and vegetables, as well as your choice of dressing and toppings. There's the option to eat in at the dining room above the salad bar, or for a working lunch, to take your greens to go. Monsieur CHATTÉ also sells a number of voucher packs to loyal patrons who expect to be back soon.
Monsieur CHATTÉ, 121 Bonham Strand, Sheung Wan, (+852) 3105 8077
Salads cost $65 upwards
Just Salad
If you have noticed people walking around with a bright orange, white, or green salad bowl in hand, they're en route to Just Salad (pictured above) to get their daily salad fix. Take your pick of the extensive standard menu, crafted by Just Salad's founder, nutritionist expert, and chef, Laura, or throw together a unique combination of greens, toppings, and Just Green's homemade dressings. In a rush? Not a problem. Simply order online, and pick up your salad 30 minutes later. Don't forget to purchase your reusable salad box to claim your two free toppings every time you come back to refill.
Just Salad, Concession HOK 65, Hong Kong MTR Station, (+852) 2580 6818
Shop 3, G/F, Yuen Fat Building, 25 Wan Chiu Road, Kowloon Bay (+852) 2850 8398
Meals cost $50 – $70

Jamie's Deli
Chow down on some healthy "pucker tucker" at celebrity chef Jamie Oliver's new New-York style deli in Harbour City. Open for breakfast and lunch, Jamie's Deli boasts an overwhelming selection of prepared salads, sandwiches, hot entrees, and pizza that are as nutritious as they are tasty and all served in takeaway tubs and boxes. You can choose a hot item and load it up with two veg for $88 or three for $98, which is surprisingly reasonable given the generous portion sizes. The Gennaro's Meatballs and Lemon & Herb Salmon are the 'hottest items' on the menu while the Kale Caesar and Mixed Grains with Caramelised Onions and Feta make for refreshing and flavoursome sides. There's also a modest beverage counter serving a selection of fresh fruit juices and smoothies, of which the Green Smoothie is an absolute delight.
Jamie's Deli, Shop 412, 4/F, Ocean Centre, Harbour City, Tsim Sha Tsui, Kowloon, (+852) 3758 3333
Mana!
Vegetarian, vegan, gluten-free, organic – you name it, Mana! ticks the box. This environmentally friendly oasis of deliciously healthy living now has three branches dotted around Central and Poho. Packed full of wholesome ingredients, you can't beat Mana!'s takeaway salad boxes. Mix and match from five salad choices, with staples usually including quinoa, roasted veggies, and leafy green combos. Their exciting range of healthy drinks, from shakes to fresh coconuts, are definitely worth a try too.
Mana! Fast Slow Food, 92 Wellington Street, Central, (+852) 2851 1611
Mana! Cafe, 8 Tai On Terrace, Poho, Sheung Wan (+852) 2347 8555
Meals cost $45 – $150
Nood Food
Salad has never looked or tasted so good. So much more than a few leaves, Nood Food (pictured above) is home to one of our favourite custom-made salad bars in the city. Jam-packed full of nutrients, vitamins, and flavour, and with clear nutritional information to prove it, creating a nutritionally balanced salad has never been so simple. From protein-packed mixed beans to crunchy kale, Nood is always on hand to prepare you for a productive afternoon.
Nood Food, 3/F Hutchison House, 10 Harcourt Road, Admiralty, (+852) 3691 3692
1/F, Lincoln House, Taikoo Place, 979 King's Road, Quarry Bay, (+852) 3691 3965
2/F, Kinwick Centre, 32 Hollywood Road, Central, (+852) 8199 8189
Shop 101, Pacific Place 88 Queensway, Admiralty Hong Kong, (+852) 22985180
Salad boxes cost $68 for a small and $95 for a large


Passion by Gerard Dubois
Passion is a Parisian café with a mouth-watering choice of salads, sandwiches, and freshly baked goods on display. Bursting with vibrant colours and strong flavours, this salad bar is hard to miss. There are 12 imaginative creations to choose from, including Winter Waldorf and Beetroot with Orange Segments, and you get to select three or four – it's a tough decision, trust us! Passion's salad boxes are available to takeaway, as are their sandwiches, quiches, and other treats. If you have time to stay in and soak up the friendly, European atmosphere with a freshly brewed coffee in hand, we highly recommend doing so.
Passion, locations vary, click here for more information
Salad boxes cost $53 for a small, $73 for a large
The Petit Café
With a spacious, leafy outdoor seating area, The Petit Café is the perfect al fresco lunch spot for busy Hong Kongers. The Mediterranean and European inspired salads continue to draw in the crowds over lunchtime, with the option to select the four or six concoctions which take your fancy. Think wild mushroom, vibrant beetroot, and creamy potato mixtures – yum! If the food offerings aren't enough to win you over (highly unlikely) then the gorgeous, floral design of the takeaway coffee cups are sure to do the trick.
The Petit Café, Shop 407, Pacific Place, 88 Queensway, Admiralty, (+852) 2918 9293
Salad boxes cost $55 – $79
Toss & Turn 
This fresh salad bar is overflowing with sizeable portions of leafy goodness, tasty soups, and freshly baked sandwiches. Choose from their à-la-carte menu, or pay a visit to the Design Your Own salad station, which boasts a delicious range of protein, deli choices, and dressings to get creative with. Our editorial assistant can't get enough of their leafy spinach, dried berries, beetroot, and mustard dressing – yum! Toss & Turn (pictured above) takes great pride in its fresh, locally sourced produce, so you can rest safe in the knowledge that your purchase is full of goodness. Just keep an eye on your chosen ingredients and any extra charges. A sprinkle of feta and some extra nuts can push you dangerously close to $100.
Toss & Turn, Shop 3, B/F, Three Pacific Place, Admiralty, (+852) 2633 8312
BYO salad bowls cost $68 upwards

Knead
We all know that feeling when nothing on the menu is just right, well Knead will be the perfect place for you! With a customisable menu, you can design your very own salads and sandwiches to just the way you like it by simply selecting from their wide selection of fresh ingredients. But if choosing what to go on your salad is too stressful for you (because everything is so good!), then simply take your pick from their suggestion menu, and it will be made for you straight away.
Knead, G/F, 28 Jervois Street, Sheung Wan, (+852) 2851 7778
18 Hoi Kwong Street, Quarry Bay, (+852) 2856 2911
Salads cost $70
Tallore
Tallore is Hong Kong's very first Belgian soup kitchen, offering a variety of eccentric homemade soups such as Shrimp & Melon. They are all made without any artificial flavourings or MSG, but if that's not enough to satisfy your appetite, try their Souper Set and enjoy your soup with their daily fresh salads or sandwiches. The soups on the menu change on a regular basis, so there's no excuse for you not to try them all!
Tallore, 7-17 Amoy Street, Wan Chai, (+852) 2327 8630
Mixed salads cost $58, while the Souper Set costs $78
Genie Juicery
Put down the frappuccino and step away from the muffins! Instead, pick up one of Genie Juicery's cold press juices, and while you're at it check out their other tasty treats on offer. With the number of calories for each item listed on their huge menu, you can easily calculate just how much of their delicious chia bowls and organic oats you can stuff your face with. Originally a juice detox program, Genie Juicery certainly know their stuff, giving you a one-stop destination to fulfil all your healthy needs.

Genie Juicery, 2096B, Podium Level 2, IFC Mall, (+852) 2644 5875
LG 1, Pacific Place Two, 88 Queensway, Admiralty, (+852) 2918 9986
Other locations vary
---
Sweet Treats
When the sweet cravings hit, it can be tempting to reach for the chocolate bar or nearest sugary treat, only to be cursed with a pang of guilt afterwards. Luckily, there are some super healthy and guilt-free alternatives around the city to keep us feeling healthy and happy that we've managed to cram in some, if not all, of our five-a-day nutrients.

Bear's Lab
Newly-opened health hub, Bear's Lab, offers a variety of freshly-made smoothie bowls, smoothies, and vegan lattés using the freshest and zestiest natural ingredients. Much like in a chemist's lab, each "formula" has been developed personally by passionate founder, Leo Tam, who spent over a year painstakingly perfecting every single recipe on the menu. Here you will find three vitamin-packed smoothie bowls, of which the Detox Bowl ($88), filled to the brim with acai, avocado, banana, spinach, agave syrup, and sprinkled with chia seeds, is to die for. There are four smoothies to choose from, and we're a big fan of the Acai Classic ($56), which blends coconut water, pear, blueberry, banana, and acai. Vegans can select one of five special lattés which include superfoods like turmeric, spirulina, beetroot, and charcoal, all for under $45. With such vibrant, nutritional, and tasty treats on offer, you can feast to your stomach's content with no guilt whatsoever. And while you're there, check out the super "grammable" wall of pink and white roses and a giant wooden teddy bear that greets you near the entrance. 
Bear's Lab, Shop F, G/F, World Trust Tower, 50 Stanley Street, Central, (+852) 2702 0802
Menu items range from $38 to $78

Flamingo Bloom
This colourful, Instagram worthy tea salon serves a range of healthy smoothie bowls and vegan milkshakes in its Central and TST stores. All made from top-quality ingredients and jam-packed with vitamins and free of caffeine, preservatives, and added sugar, the items taste just as gorgeous as they look. The Superfood Edition Smoothie Bowls ($89) are made using fresh fruit and a splash of almond milk, available in Matcha Melon and Virgin Pineapple Pina Colada, with a sprinkling of goji berries, raw rolled oats, black chia seeds, and mulberries. These can be ordered in a cup or shared with a friend in a hollowed-out melon. There are also four Naked Zero Vegan Milkshakes to choose from at Flamingo Bloom (each $43), which blend together almond milk with four varieties of fruit. The salon also offers a thirst-quenching Smashed Strawberries Matcha Latte ($49), which combines premium grade matcha from Japan with milk and fresh strawberries. Delish!
Flamingo Bloom, G/F, Shop B, World Trust Tower, 50 Stanley Street, Central, (+852) 5177 8255
G/F, Mangan Building, 18-20 Cameron Rd, Tsim Sha Tsui, (+852) 5178 7067
---
Delivery
Are your kitchen cupboards crying out to be refilled? Are you having one of those days when even running to the nearest salad bar is too time-consuming? Thankfully, healthy takeaway meals and grocery delivery services are flourishing in Hong Kong, and only a click away.
Farm Fresh 330
When it comes to knowing where your food has come from, you can't beat Farm Fresh 330 (pictured above), as these health shops sell vegetables which they have grown and harvested on their very own land. Clueless when it comes to which vegetables are in season? Don't worry, we are too, which is why we love the Veggies Combo – a vibrant array of vegetables which are in their prime right now, delivered straight to your door. Plus, Farm Fresh 330 employs people recovering from mental illness, so by ordering your groceries, you are helping the community!
Farm Fresh 330, click here for more information
Jou Sun 
If same-day delivery is what you need, then Jou Sun has you covered. Place your order before 12 noon, and their trained team of shopping gurus will hand pick your groceries, and bring them to you before the end of the day. Nestled in the heart of Wan Chai, next to the wet market, and a whole variety of local and specialty shops, Jou Sun has built up a close relationship with many trusted retail partners. From organic treats, courtesy of GroundWorks, to Headtable's premium meats and seafood, Jou Sun's online selection covers all the bases.
Jou Sun, click here for more information
Minimum order of $400 for free delivery, depending on location. For orders of less than $400, a $60 service fee applies.
Eatology
With over 100 unique gourmet recipes, Eatology can satisfy all your specific health needs. Customers can choose from various meal plans such as a low-carb gluten-free plan, an Asian-inspired menu, a guilt-free vegetarian programme, or even tailor-made meal plans that can be customised to suit what works best for you – it even comes with a free consultation session with Eatology's in-house dieticians too!
Eatology, click here for more information (+852) 2368 6331
Delivery is free for Hong Kong Island, $25 for Kowloon, and varies for New Territories and Outlying islands
Nosh
Seasonal ingredients? Check. Delicious concoctions of vegetables and free-range meats? Check. Direct delivery to your desk? Check! With their biodegradable and compostable packaging, Nosh is not only healthy for you, but it's good for the environment too. We love the summery Roasted Salmon and the sweet Beef Cheek with Udon Noodles. Plus, all of Nosh's meals clock in at under 550 calories, which makes it a winning choice every time.
Nosh, locations vary
Signature meals cost around $100

The Green Platters
Offering bespoke, eco-friendly, and sustainable grazing tables, platters, and boxes, The Green Platters answers the consumer demand for healthier snacking. Created by company founder Bhawna Shetty, the stunning food displays feature premium organic fresh produce, artisan cheese, handcrafted vegan cheeses, and other delicious bites, which can be delivered straight to your home or office. These meat-free selections are not only perfect for vegetarians, but also meat-eaters looking to eat clean without compromising flavour. The simple, yet beautiful presentation of the platters, which just so happens to be 95 percent plastic free, also makes them perfect for corporate events, weddings, birthday parties, and small events like anniversaries.
The Green Platters, click here for more information, (+852) 9494 8653
Platters start from $749
Food for Life
Grounded in the belief that education and understanding is the key to healthy living, Food for Life has a range of books on offer, in addition to healthy snacks including hummus chips, for guilt-free grazing. Order online and within five working days, your treats will be at your door. Their range of chocolate goodies are totally irresistible – well, everyone is allowed to indulge every once in a while. Perfect if you are too tied up to take a trip to one of their stores.
Food for Life, click here for more information, (+852) 2838 8902
SpiceBox Organics
As Hong Kong's only United States Department of Agriculture certified organic store, SpiceBox Organics ranks high up on the list of the city's most popular healthy hot spots. Among the organic produce, gluten-free treats, and superfood snacks, you will find SpiceBox's own brand of spices, grains, oils, and more. Lacking inspiration in the kitchen? Take a look at their online recipe collection, or order one of their delicious café specials to enjoy at your desk.
SpiceBox Organics, 137 Caine Road, Shop 1, Golden Valley Mansion, Caine Road, Mid Levels, (+852) 2559 9887
39-45 Hau Wo Street, Kennedy Town, (+852) 2191 0886
---
Read more! Explore the rest of our Food & Drink section, and discover more Grocery Delivery Services in Hong Kong.