Another day, another series of nauseating news. We get it, it's difficult to keep up with all the information out there. Sometimes you watch the news and it feels like the world is spiralling out of control (kind of like a bad hangover) and you end up walking away from the TV with a banging headache. In the spirit of public enlightenment, we bring you our weekly fun news column, where we give you the most interesting international, national, or local headline from the past week — that you have likely overlooked.
---
---
After a long and cold post-holiday work week, we bring you some heartwarming news about the New Year's first baby born in Hong Kong, who is also her family's fifth living generation.
On the first day of the New Year, Mr and Mrs Dai were overjoyed to welcome their precious first child, who was also 2019's first baby, at 17 minutes past midnight. Originally, their baby daughter whom they named Hailey – a homonym of the Chinese word for hope – wasn't expected to arrive until January 13, but Hailey clearly had enough waiting and instead, came early on New Year's day, weighing at a healthy 2.84 kg.
Overjoyed with the arrival of Hailey, the Dai family now has five living generations on the paternal side, with the oldest member being Hailey's 103 years old great-great-grandmother. Mr Dai said his family couldn't be happier because everyone "got promoted" in the family now that Hailey is here.
29-year-old Mrs Dai is a dentist assistant nurse, while her husband is a 28-year-old architect. The new parents met in secondary school and have been sweethearts for 13 years, two of which they've been happily married.
"I'm so grateful for my wife and the Lord's blessing," expressed Mr Dai, who stayed by his wife's side the entire 24 hours she was in pain. "This is the best New Year's gift I could ever ask for."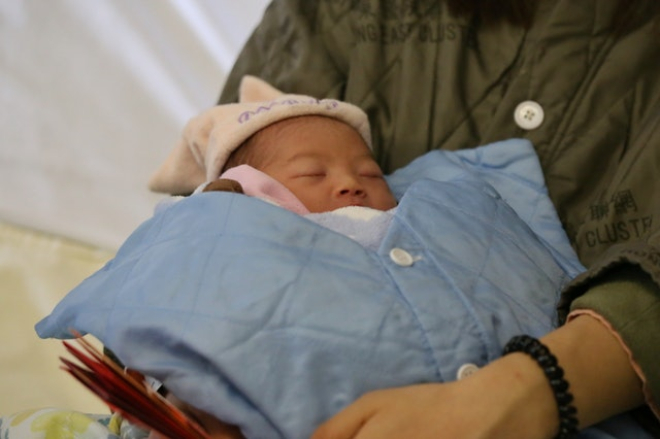 The couple's hope for their daughter is simple – for her to grow up happily and healthily. "We won't force her or pressure her to do a lot of things, we just want her to grow up to be a good person and not fall astray."
Besides Hailey, Hong Kong also welcomed four other newly born babies in the first hour after midnight on the first day of the New Year. And while different families may wish different things for their child, we hope they all grow up happy, healthy, and surrounded by love. Happy 2019, everyone!
---
Read More! Check out our recent headline about the reopening of the Avenue of Stars, or explore the rest of our Culture section.