Christmas is a time for loving and giving, so it seems like the perfect opportunity to snag some gifts that not only treat someone you love, but also support a worthy cause. With this in mind, we scoured the net to find eight gorgeous pressie ideas that give something back to those in need. Here's to good karma, shoppers!
---
---
1. The Lion Rock Press
Make it a Hong Kong Christmas with the adorable selection of cards, wrapping paper, gift tags, and tape available in The Lion Rock Press Holiday Collection. Aside from being insanely cute, these lovely products help raise money for Mother's Choice, a local charity supporting children without families and pregnant teenagers in Hong Kong. Showing their appreciation for the importance of family, the company donates 100% of profits from the collection to the charity, and has raised over $200,000 in the last four years. Why not help them bump up that figure and send a little love this Christmas.
The Lion Rock Press, click here for store locations
Cards $25 each or $100 for a pack of 10
Wrapping paper $20 per piece or $150 for a bundle of 10
Gift tags $5 each or $50 for 10
Tape $75 for a pack
---
Don't forget to check out the St John's Cathedral Charity Christmas Card & Handicraft Fair at Li Hall, Central on November 4, where several local charities will be selling their goodies to benefit amazing causes.
---
2. Eureka Socks
If you're planning on buying socks for your friends and family this Christmas (come on, we all do), then make sure it's a pair of Eureka Socks, because for every pair sold, they will donate a pair to children and homeless people in need all over Hong Kong and Asia. With a range of school, athletic, men's, invisible, and funky designs (pictured) on offer, there's a pair to suit everyone on your gift list. Plus, each pair is made from sustainable bamboo which is not only the most eco-friendly sock material on the market, but also super soft on your feet. It's a win-win situation. 
Eureka Socks, (+852) 9757 8314
Socks start from $35 a pair
---
3. Urban Jungle Jewellery
Who doesn't love receiving a gorgeous piece of jewellery on Christmas Day? Local brand Urban Jungle Jewellery offers a range of beautiful handmade bracelets which come in 925 sterling silver or 14k gold filled with a choice or gorgeous charms, semi-precious stones, and Swarovski birthstone crystals. You can choose from their array of pretty designs or completely customise your own, creating either an elasticated bracelet or an adjustable one which comes on a thread in 14 different colours. For every one of these "do good, feel good" bracelets purchased, the brand donates 5% to Haven Cambodia, a charity in Siem Reap which trains impoverished teens in the restaurant industry and helps to break their family's cycle of poverty in one generation. Now if that's not a great excuse to splurge on some bling, we don't know what is!
Urban Jungle Jewellery, urbanjunglejewellery@yahoo.com
Bracelets start from $195 and prices vary depending on the design
Make a donation on behalf of Urban Jungle Jewellery

---
4. Baby Hero
Saving the world, one onesie at a time, Baby Hero boasts an adorable collection of globally certified organic cotton products which fund life-saving medical items for newborns in need in Pakistan and Kenya. Not only that, they also pay fair trade prices to rural farmers in the developing world and their production facility is run by women and provides jobs for disadvantaged people. Their new Christmas range is insanely cute, with festive themed onesies starting from $190 and each coming with a free organic cotton Santa sack (as pictured). Be sure to check out their lovely range of organic, hand-knit fair trade toys too if you're planning on buying gifts for a certain little someone this Christmas.
Baby Hero, (+852) 9854 9973
Onesies start from $190

---
5. Good 'Hoods
It's all good in the 'hood thanks to these simple yet playful t-shirts by Good 'Hoods, which not only support local businesses, but also raise funds for Enrich which supports migrant workers in financial literacy. All shirts use organic cotton sourced from the Puhan village community in Shanxi, thus directly impacting the economic, environmental, and social sustainability of rural China. The company also works with a local certified Fair Trade Hong Kong manufacturer who is devoted to sustainable production and produces a range of sizes from 3 to 12 years. The t-shirts have a variety of Hong Kong locations printed on them, making this is the ideal gift for proud little Hong Kongers, and if you ask them nicely, they may even customise one for you.
Good 'Hoods, aimee@good-hoods.com
T-shirts start from $200

---
6. Smallprint
You can't get more personal than this! The clever designers at Smallprint enable you to capture precious childhood memories by imprinting your little one's hand or footprint into sterling silver pendants, charms, key rings, and other beautiful keepsakes. But this heart-warming gift gives more than just memories, as every time you purchase a handmade angel keepsake, teddy bear, or child's bracelet, the company makes a donation to Angels for Orphans which helps improve the life of underprivileged children around the world.
Smallprint, (+852) 9501 8498
Refer to website for product prices

---
7. Chinadoll Kids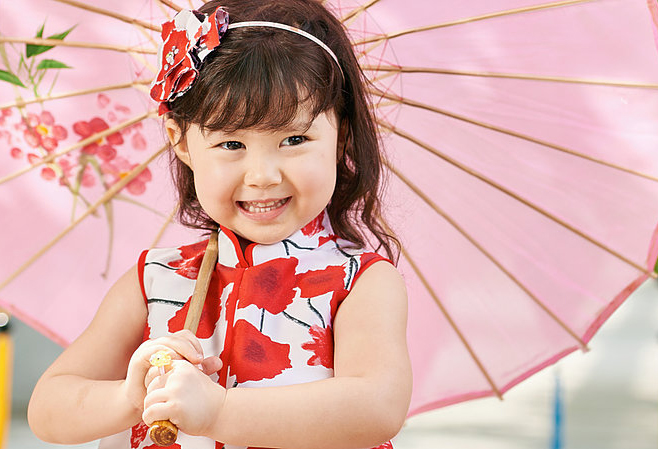 Little fashionistas will jump for joy when they unwrap a gorgeous little cheongsam with a "modern twist" from Chinadoll Kids. For every one of these beautiful silk dresses sold, the company donates a full school starter kit to underprivileged children at the Sunshine school in Vietnam. They work closely with the Christina Noble Children's Foundation (CNCF) to make sure that children begin their important first day with all the essentials such as a uniform, school books, and pens, so you can rest assured this thoughtful gift will be making two little ones happy this Christmas.
Chinadoll Kids, (+852) 6712 8990
Dresses cost $1,480

---
8. Lil Nika
Calling all animal lovers! Your little ones will never be afraid of the dark with Imo the Hippo, Oma the Lion, and Emi the Elephant by their side. Not only are these lovable origami inspired night lights by local design house Lil Nika made from 100% tested recycled plastic, they can also be mounted on the floor, table, or wall, or turned into hats for the ultimate role-playing session. Plus, they come with a handy USB plug meaning they can roam wild wherever you go. The designers have even thought about wastage and cleverly transformed the offcuts into a matching pair of binoculars to add to the whole safari theme. Lil Nika works with the New Homes Association to raise awareness among children about illegal poaching, so these characters come with an important message too.
Lil Nika, (+852) 5187 4199
Night lights cost $498 each

---
Read more! Discover some fun festive things to do in Hong Kong this year.