Aussie Meat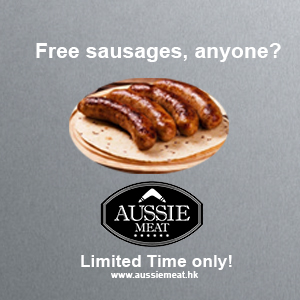 is offering a FREE tray of Australian Premium Juicy Classic Beef Sausages (450g) for every purchase over $1,000—but hurry! As the offer is only valid whilst stocks last.
Shop now on Aussie Meat's website.
Aussie Meat offers Australian and New Zealand Premium meat and seafood – Cut and made-to-order, and vacuum-sealed just for you.
Aussie Meat is an Australian meat brand and online butcher that delivers premium quality Australian and New Zealand fresh meat across Hong Kong.  Owned and operated by Australians, Aussie Meat strives to deliver high restaurant quality, grass-fed, organic quality, naturally farmed, free-range, hormone, and antibiotic free premium fresh meat from Australian and New Zealand farms, jet fresh to your home or office.
Aussie Meat donates 5% of our profits to Hong Kong Charities.
Delivery hours: Tuesday – Saturdays | 9am – 7pm (most areas in Hong Kong)
Orders before 12pm midday for next-day fresh meat delivery, or another day of your choice. Orders can be placed up to 30 days in advance. Orders over $600 receive free meat delivery.