Hong Kong is well known for its milk tea, which originated during the city's British colonial days. With 900 million glasses consumed each year, it's clear Hongkongers love a good cuppa. But with each outlet whipping up its own secret recipe, knowing where to find the crème de la crème of milky cha can be a challenge. Luckily for us, our friends over at Sam the Local have done the rounds to help avid tea drinkers find the perfect cup.
---
---
Milk tea has become a ubiquitous part of Hong Kong culture. Sweetened or unsweetened, hot or cold, Hongkongers drink it in the summer and winter with their breakfast, lunch, afternoon tea, and dinner. Hong Kong milk tea is commonly made with a combination of black tea leaves and is known for its smooth texture and depth of flavour. It is often referred to as "pantyhose milk tea" because the tea is poured through a sackcloth (generally a white bag with many small holes) several times, which eventually becomes dyed brown and looks like pantyhose. With time, however, the famous drink has evolved into many different varieties, and here are some of the best ones around.
---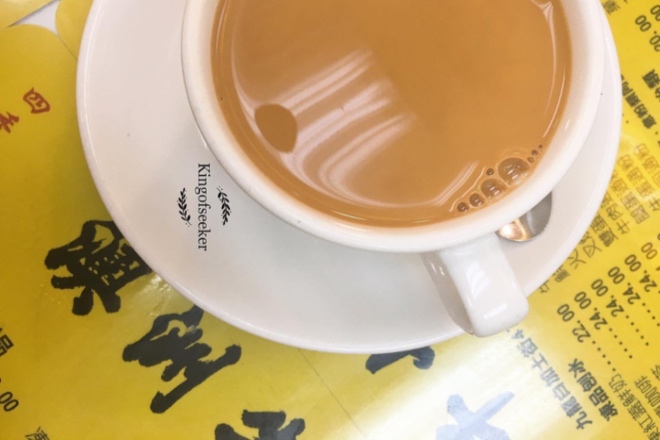 1. With evaporated milk (奶茶)
This is the most common type of milk tea found in Hong Kong. Using a combination of tea leaves, evaporated milk (shops mostly use the Black and White brand because it leads to smoother milk tea), and then some sugar, which you can add in yourself. In some cases, however, the sugar is already added for you. Simple yet satisfying, this is a Hong Kong favourite served the classic way.
Perfect for: Those who like their drinks served hot and not too sweet
Where you can find this: Australia Dairy Company, 47–49 Parkes Street, Jordan | (+852) 2730 1356
---
Photo courtesy of @sheunyin
2. With condensed milk (茶走)
This variety has the tea, of course, but the evaporated milk and sugar are taken away and replaced with condensed milk, giving it a creamy touch and well-rounded sweetness. In these servings, you can normally see the condensed milk sitting at the bottom of the cup. Don't forget to mix it all up to make sure the flavour is balanced before indulging.
Perfect for: Those who enjoy hot drinks, and want their tea pre-sweetened with a smoother texture
Where you can find this: For Kee Restaurant, 200 Hollywood Road, Sheung Wan | (+852) 2546 8947
---
3. In a metallic cup (凍奶茶)
If you fancy something colder in Hong Kong's scorching heat, you can ask for a cup of cold milk tea, which is basically the same thing, but served with ice. You can request to have less ice or less sugar in it, according to your taste. Capital Café in Wan Chai is rumoured to use Hokkaido milk for its tea, and they serve delicious scrambled eggs and condensed milk on toast to go with it, too!
Perfect for: Those who want a cold cup of this Hong Kong classic
Where you can find this: Capital Café, Shop B1, G/F, Kwong Sang Hong Building, 6 Heard Street, Wan Chai | (+852) 2666 7666
---
Read more! Check out the best dai pai dongs you need to try in Hong Kong.
---
4. In a bottle (樽仔凍奶茶)
Traditionally, when ice was less accessible, milk tea was poured into empty soda bottles, such as Coca-Cola bottles, and then placed in the refrigerator to cool down. Some restaurants still use glass bottles to store milk tea, while others, such as Mrs Tang Café, now use plastic bottles for that old-school nostalgia.
Perfect for: Those who want a unique spin on their drink and a taste of the good old days
Where you can find this: Mrs Tang Café, Shop 1, King Palace Plaza, 55 King Yip Street, Kwun Tong | (+852) 2617 3238
---
5. In a bowl of ice (冰鎮奶茶)
There are some cafés in Hong Kong who know how to take milk teas to the next level. Tai Hing, for one, takes into consideration the fact that some customers might not want their cold drink to be diluted by ice cubes. In this case, they take the cup or bottle and put it in a bowl of ice to keep the milk tea cold. Ingenious!
Perfect for: Those who want the drink cold, but don't want it watered down
Where you can find this: Tai Hing, Shop 75, G/F, NMP, 14 Science Museum Road, Tsim Sha Tsui | (+852) 2722 0701
---

Photo courtesy of Ztore
6. In a carton (盒裝奶茶)
Given Hongkongers' affinity for milk tea and juice boxes, combining the two was a no-brainer. Manufacturers "bottled" the drink into cartons as a way to sync up with the metropolitans' busy way of life, so that they can indulge whenever and wherever desired. As the name suggests, milk tea is poured into empty cartons, to be drunk instantly or after refrigeration. A standout is certainly Vita's Hong Kong-Style Milk Tea. Made in Hong Kong with premium Ceylon tea leaves and evaporated milk, it delivers an authentic taste that blends the taste of the tea and the smoothness of the milk.
Perfect for: Those who want quick access to the authentic taste of this Hong Kong favourite
Where you can find this: Available in supermarkets and convenience stores, such as 7-Eleven, ParknShop, and Wellcome
---
Read more! Here's where to get some of Hong Kong's best scrambled egg sandwiches.
---
Photo courtesy of HKTVmall
7. In a can (罐裝奶茶)
In making the famous drink even more accessible, canned milk tea has emerged. Renowned for their pioneering cold milk tea served in a bowl of ice, Tai Hing has also launched a canned version of the Hong Kong beverage. Made from a blend of five Sri Lankan teas, it is rich in flavour and ready to be consumed after refrigeration.
Perfect for: Those who enjoy their drinks cold and convenient
Where can you find this: Available in supermarkets and convenience stores, such as 7-Eleven and ParknShop
---

Photo courtesy of On The Eastern Journey
8. In instant form (即溶奶茶)
Instant milk tea is created for the convenience of customers. All you have to do is place a tea bag in your cup, pour hot water over it, and wait for three to five minutes before pouring in a dash of milk. A few simple steps lead to a cup of freshly-brewed milk tea. Lipton, for instance, offers spin-offs of the classic drink that include the Original, Extra Flavourful, and Golden Smoothness flavours. Instant 3-in-1 Milk Tea Mix from local brand Dai Pai Dong, on the other hand, serves up a distinctively aromatic and smooth drink that is made using the finest ingredients.
Perfect for: Those who enjoy hot drinks at home or in the office
Where you can find this: Available in supermarkets and convenience stores, such as 7-Eleven, ParknShop, and Wellcome
Originally published on November 13, 2018, by Sam the Local. Updated on October 9, 2019, by Gigi Wong.
---
 Read more! Hack your way through your next cha chaan teng visit with our ultimate guide, or explore the rest of our Food and Drink section on Localiiz.