Splashing onto the Hong Kong Arts Month scene for the first time since 2013, the Premier Art Fair will be showcasing works from 50 galleries across 50 guest rooms at the Excelsior Hotel this March 24 to 26. Offering art lovers free entry to view 1,500 pieces by around 300 artists from fifteen nations, the show is certainly one to mark in the calendar. We catch up with the fair's director, Tomy Kim, ahead of its return.
---
What is the history of the Premier Art Fair?
The fair was first held in Vietnam back in 2011, and since then has been to Singapore (in 2014 and 2015) and Hong Kong back in 2013 when we took over 66 guest rooms at the Island Shangri-La. We are very excited to bring the show back to Hong Kong for this year's arts month.
Why did you choose to host the Premier Art Fair in Hong Kong?
Hong Kong is in the centre of Asia, thus there is a good geographical advantage for galleries and artists from Europe and the West, as well as Southeast Asia. The city is less inclined to reject any sense of heterogeneity, which is also due to the coexistence of British culture over such a long period of time. It is thought that Hong Kong is the center of culture where East and West have merged and developed properly.
What is different about this art

fair

compared to others being held this March?
Most of the art fairs are similar in their purpose which is to display and sell art. These events started for commercial purposes, however, those that are held in hotel guest rooms, such as the Premier Art Fair, are becoming more and more fashionable these days over say, those held in a convention centre. This is because they offer the advantage of allowing the public open access to art in an intimate setting. We hope that many Hong Kongers will come together at this fair to enjoy, celebrate, and purchase their own artwork.
What is your opinion of the a

rt

scene in Hong Kong?
As I mentioned before, the works of many artists from both the East and West are exhibited in Hong Kong. The city is known to have a high income level as well as a great appreciate for art, giving it an important role in the art market. I hope this market will continue to grow in the city.

Who is your personal favourite

artist from the fair

?
There are several artists participating in the fair, but as an organiser, I cannot point to one as my favourite. The works of all the artists are carefully selected by each participating gallery, so they are all incredibly good.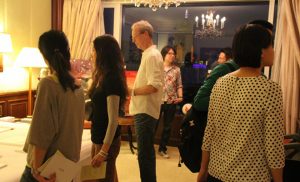 Check out the Premier Art Fair as it makes its return to the city this Hong Kong Arts Month. The show will be held at the Excelsior Hotel, 281 Gloucester Road, Causeway Bay, from March 24 to 26, (12pm – 8pm) and entry is free.
Click here for more information.
---
Read more! See what art fairs are on this March, or spend Five Minutes With some of Hong Kong's most colourful characters.