The shortlisted artworks for the 2018 Hong Kong Human Rights Arts Prize have been selected. A total of 23 pieces, from 24 artists, will be exhibited at the Hive Spring from December 8 to January 11, serving as an open reminder to members of the public that human rights are continually challenged in our city, and that there is much to be done.
---
---
Shortlisted entries have been selected from 126 submissions. This year's selections include Recycled Thought by 45-year old domestic worker Gemma Abad Calajate. Calajate's artwork repurposes a conventional laundry bag and transforms it into a garment. Her piece is designed to provoke people to reconsider common, everyday items and the way clothing can project identities and the concepts of family, home, and choice.
Alexander Treves, who has spent his career documenting the movement of refugees and internally displaced persons, has travelled to more than 18 countries to raise awareness of the issue. His shortlisted work, titled Lucky, contains a series of photographs and the testimony of an asylum seeker in Hong Kong, who counts himself lucky because he escaped with his life. The second component to this piece is a series of four photographs of young female refugees from different geographic locations and situations, atop the collected remains of burnt photographs of homes from 69 countries that have been destroyed.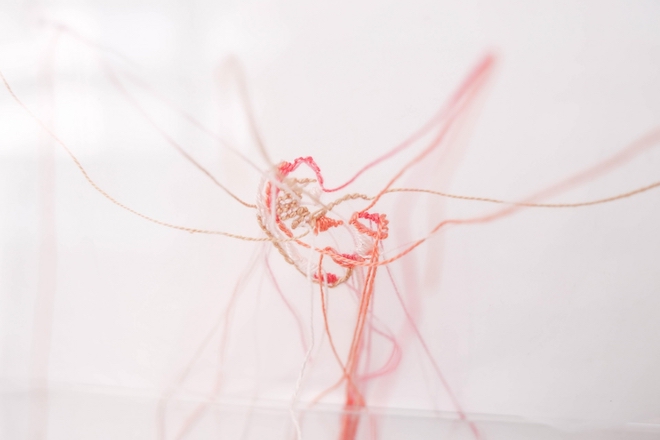 French artist Ophelia Jacarini's piece is comprised of nine embroidered, nude female bodies. Jacarini's work strives to open the dialogue on female sexuality and empowerment, and questions what it will take to secure fundamental freedoms for all women.
The winner of the 2018 Hong Kong Human Rights Arts Prize will be announced on December 8 at the Hive Spring. They will receive a cash prize of $35,000 and a trophy designed by acclaimed Hong Kong artist Jaffa Lam. An additional prize – an exhibition to be staged at Eaton HK hotel in 2019 – will be judged and announced by the Eaton team. Following the close of the Hive Spring exhibition, award-winning entries will be displayed at Eaton HK, where they will remain from January 14 to February 3.
Pre-registration is required and can be done via Eventbrite. A minimum donation amount of $250 is suggested. Proceeds from the exhibition benefit the Justice Centre Hong Kong – a non-profit organisation that strives to protect human rights in Hong Kong.
For more information about the 2018 Hong Kong Human Rights Arts Prize, visit the Justice Centre's website.
---
Read more! Explore the rest of our Culture section on Localiiz.