There's nothing worse than waking up early for your junk or beach day, sweating buckets on your quest to get out of the city, only to find that the refreshing oasis you had your heart set on is more like a luke-warm breeding ground for trash and algae. So we packed sea snob Amy Poulton off on a mission to find Hong Kong's cleanest swimming spots.
With high anticipation for bikini season, I donned my best sunnies, slapped on the factor 50 and shoved a trashy novel in my beach bag. I trekked all the way to the Southside on a sunny Sunday wearing a new swimsuit ready and raring to lose its saltwater virginity.
As I rounded a corner, the glistening turquoise of the China Sea appeared, bordered by hot white sands. I discarded my flip-flops and ran barefoot into the ocean – only to be confronted with bottles-a-plenty, a flock of plastic-bag jellyfish, and food scraps washed ashore from junk boat parties – thanks a lot guys!
So, for anyone who's suffered the same plight as I have, and doesn't like sharing the shallows with shoals of candy wrappers, check out my pick of Hong Kong's cleanest beaches, in ascending order.
Click here to check out the latest official Beach Water Quality ratings. 
---
Big Wave Bay, Hong Kong Island
Your best bet, if you want to take the easy route and stick to the Southside, is Big Wave Bay. Thanks to the occasional big waves (duh!) and the fact that it's an extra few minutes' journey from Deepwater Bay, Repulse Bay, and Stanley, means there's less crowds and less crap. It's definitely not perfect, but these shores are markedly less murky and more convenient for those who don't want to get trapped somewhere in Sai Kung's Geopark at sunset on a Sunday.
How To Get There: Take the MTR to Shau Kei Wan Station, then from Exit A3 take Bus 9 to Big Wave Bay Beach/Shek O. Some buses go to both beaches, but others will only stop at Shek O. If this is the case, jump off just after you see the Shek O sign at the roundabout, and walk up the hill for five minutes.
Clear Water Rating: 3/5 … for the more favourable rubbish/ocean ratio.
---
Read more! Make a splash at The Coolest Outdoor Pools in Hong Kong. 
---
Lo So Shing Beach, Lamma Island
Who knew Lamma had so much more to offer than an expat Sunday brunch and cheap seafood? And no, I'm not referring to the picturesque stretch of sand opposite the power station. There are showers, changing facilities, and barbecue pits at this hidden cove, but Lo So Shing is less frequented than its Yung Shue Wan neighbour – the dreaded sands of Hung Shing Yeh.
How To Get There: Lo So Shing is closest to the Sok Kwu Wan ferry pier, so hop on for a 30-minute journey from Central, and then it's a short walk past the 'Kamikaze Caves' (worth a look in themselves).
Clear Water Rating: 4/5 … for the perfect pirate hideaway.
---
Pui O Beach, Lantau
This west-facing strip of sand is home to a gorgeous sunset vista. Definitely a cut above the usual towel-strewn rubbish tips we find in Hong Kong, Pui O is practically litter and crowd-free (possibly due to its incredible length). There are also some nice eateries nearby, including popular beach bum favourite Mavericks, for those who prefer their water in a tall glass with a cocktail umbrella – and replaced with a Margarita!
How To Get There: Get the ferry to Mui Wo then hop on Bus 1 for a 15-minute bustle to one of Hong Kong's longest beaches. Alternatively, you can hike over from the Mui Wo ferry pier, turning left out of the exit. Not only will you feast your eyes on some breathtaking views, you'll also appreciate lying on the sand a whole lot more after three hours of tackling inclines.
Clear Water Rating: 4/5 … the average number of Mavericks' Sex on the Beach cocktails consumed per visit.
---
Read more! Get active with 5 Steps to Happy Hiking. 
---
Cheung Sha Beach, Lantau
Not everyone is a happy (beach) camper, so this tipi campsite caters for city 'gallopers' looking for a weekend of beach and watersport action. Alternatively, you can skip the camping and kayaking altogether and just float out into the clear, sparkling waves – there is plenty of beach to go around. Worked up an appetite? Not a problem! There are plenty of restaurants dotted along the shore which offer Asian and Western treats.
How To Get There: The same route as Pui O, catch a ferry to Mui Wo then take Buses 1 or 2 for 25 minutes to reach Palm Beach.
Clear Water Rating: 4/5 … also the number of bruises that will be incurred from body-boarding.
---
Read more! Pack your tent and check out Pitch Perfect: Top 5 Camping Spots.
---
Tai Long Wan, Sai Kung Country Park
It's a mission to be sure, but it's worth the walk and you can camp overnight at Ham Tin or Sai Wan once you're there. If you can't manage the final push to the triplet beaches of Tai Long Wan in the high summer heat, then the shores of Sai Wan Village also boast the Surf Hong Kong surf school and equipment rental, and are only a short walk from fairytale waterfalls and pools for cliff-jumping. Be sure to pick up your rubbish after you leave though, as the locals often get stuck with the clean up mission following an influx of thoughtless, weekend, sun-worshippers.
How To Get There: Get yourself to Sai Kung. Then, take the 29R minibus to the end of Reservoir Road. Follow the sign posts and walk for 30 minutes downhill to reach Sai Wan Village. Hike for another hour or so to Tai Long Wan's Ham Tin beach.
Clear Water Rating: 5/5 … school's out, surf's up.
---
Long Ke Wan, Sai Kung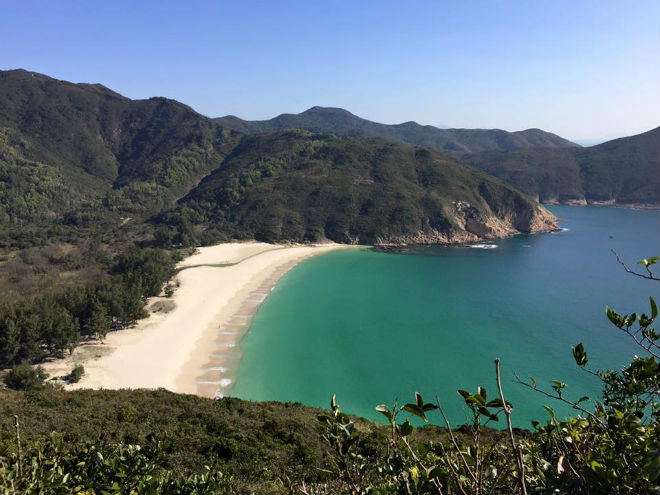 So you've done Tai Long Wan a million times, why not try Long Ke Wan, found on Stage Two of the MacLehose Trail? This hidden jewel is sheer bliss when the sun is out. Dig your toes in the soft, white sand or cool down with a dip in the crystal waters. Long Ke has such a relaxing atmosphere, making it hard to believe you were in one of the world's most densely populated cities just that morning. In fact, you'll feel a million miles away from city life in this tranquil location.
How To Get There: You can hike Stage 1 and 2 of old Mac's trail if you're brave, or else take a taxi from Sai Kung or University MTR Station to "East Dam" of the High Island Reservoir. Upon arrival, follow the sign posts and it's a 20 minute, hilly walk to Long Ke Wan.
Clear Water Rating: 5/5 … I've decided to trade in city life altogether.
---
Sham Wan, Lamma Island
Surely Lamma's best kept secret, the water at Sham Wan is so invitingly clear that even marine life has moved in – the beach is a nesting ground for broody green turtles! Unfortunately, this means it's restricted from June 1 to October 31, but turtley gorgeous and well worth the wait.
How To Get There: Sham Wan beach is on the south of Lamma and walkable from Mo Tat Wan (a tiny village with one restaurant, only serviced by a ferry from Aberdeen). The path starts up the steps behind the restaurant's kitchen, taking you on scenic stroll around Tung O village to the beach.
Clear Water Rating: 5/5 … I recently went with my friend. It really helped him come out of his shell (sorry, couldn't resist!).
---
 Pak Lap Wan, Sai Kung
Paradise comes at the price of another taxi/hike combo from Sai Kung, but you'll thank me for it! The shore is so shallow that you can just float on your back above the fine white sand to enjoy the gentle lapping of the waves. Don't forget to marvel at the perfect transparency of the water; you can see your toenails in perfect definition, even when you're up to your neck in ocean! Why not make a weekend of it and camp at the nearby Pak Lap Campsite, where you can find BBQ pits, tables, and benches, and a breathtaking spot on the East dam to watch the sun rise. The only problem is being convinced to go back home!
How To Get There: Once you reach Sai Kung, take a cab to Pak Lap, find the sign post for the beach, and follow the paved footpath downhill for 20 minutes.
Clear Water Rating: 6/5 … am I in Thailand?
---
What About the Others?
This list would be way more extensive if everyone chipped in and did their part to keep the beaches they visit clean. It sounds obvious, but the existing problem means that it isn't obvious enough – take your litter with you when you leave! Yes, pollution from China and other places has spoiled much of Hong Kong's coastline, but that doesn't mean we should contribute to the problem.
Do you know another spot of Hong Kong paradise not included in this list? Post the details below in the comments section!
---
Read more! Check out The Island Series: Cheung Chau Guide or get The Low Down on Sailing in Hong Kong.