When tablets first hit the market, many mocked that these were pointless tech additions – too big and heavy to be truly portable like the e-reader, yet too limiting to be a laptop replacement. Well, time and technology have proved the nay-sayers wrong, and today these powerful devices have killed off the netbook and rival many laptops, while still being light enough to use with one hand. If you're in the market for an upgrade, or making the move to touchscreen computing for the first time, then check out our pick of the top five models on the market.
---
---
Apple iPad (2018) from $2,588
Apple has recently updated its original iPad for 2018. This sixth generation model features a 9.7-inch 2048 x 1536 pixel display and the A10 processor that featured in the iPhone 7 and 7 Plus. This is also the first non-pro iPad to work with the new Apple Pencil. There's an eight-million pixel rear camera that can shoot 1080P video, and a 1.2-million-pixel front camera for selfies. The standard model features 32GB storage and WiFi, but a 128GB and sim-card models are also available. It's also available in four different colours, including popular rose gold.
Click here for more information
---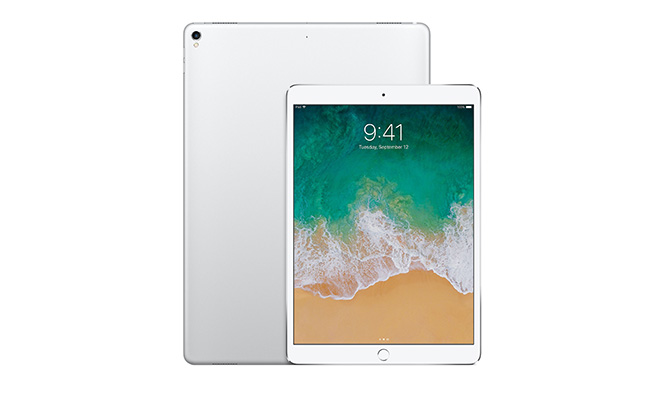 Apple iPad Pro 10.5 from $4,988
If you're looking for a high performing tablet, the iPad Pro range is designed for photo and video with premium displays and sensors. Though originally available only in the rather hefty 12.9-inch size, this year's update saw the addition of a more compact 10.5-inch version. This still offers an impressive 2224 x 1668 pixel retina screen, which is considerably more than high definition, and the same A10X Fusion Chip that features in the second generation 12.9-inch version. There's a 12-million-pixel rear camera and a seven-million-pixel front camera, as well as four speakers for audio. The Pro 10.5 is available in 64GB, 256GB, and 512GB capacities, as well as cellular and Wifi-only models.
Click here for more information
---
Huawei Media Pad M3 $2,899
For those on a smaller budget, the Huawei M3 offers a worthy alternative to the offerings from Apple and Samsung. It features a seriously high-res 8.4-inch screen (2560 x 1600 pixels), a fingerprint scanner and both a sim tray for 4G data and a memory card slot to extend the 32GB of internal storage by up to 128GB. The M3 is an Android tablet, so it will run the full range of applications available on the Google Play Store, and features eight-million-pixel cameras on the front and rear.
Click here for more information
---
Microsoft Surface Pro from $5,988
Microsoft's tablet has undergone five iterations since its launch in 2013 and its latest model makes for a well-rounded machine. Running the Windows 10 Pro platform, rather than a mobile OS, the Surface Pro feels more like a laptop, which means that when it comes to doing real work, it's more than capable (the keyboard cover costs extra though). The Pro features a 12.3-inch, 2736 x 1824 pixel screen, a full-size USB 3.0 port and card reader, an eight-million-pixel rear camera, and five-million-pixel front camera. The entry model features a seventh-generation Intel M3 processor, 128GB storage, and 4GB RAM. The top models feature either i5 or i7 processors and up to 16GB of RAM.
Click here for more information
---
Samsung Galaxy Tab S3 $4,798
Launched in early 2017, the Galaxy S3 remains one of the most popular Android tablets on the market. It features a 9.7-inch 2048 x 1536 screen – like the new iPad – and four speakers. This is more a competitor for the iPad Pro in specification though, featuring a Snapdragon 820 processor and coming complete with Samsung's S Pen for writing and drawing on the tablet. There's a 13-million-pixel rear camera and a five-million-pixel front camera, 32GB internal storage, and a microSD slot to increase that by up to 256GB.
Click here for more information
---
Read more! Explore the rest of our Style & Beauty section on Localiiz.