We often praise Hong Kong for being one of the safest cities in the world, and while that is statistically true, it would be naive to believe that crimes never happen here. An unfortunate reminder of this is the recent surge of pickpocket thefts that have been reported on Facebook groups including Hong Kong Moms and DB Mums.
---
---
Several women have reported incidences over the past week, which have involved the slashing of bags by a gang on the MTR between Causeway Bay and Admiralty. The general tactic seems to be standing "awkwardly too close" to passengers and cutting their way into bags to retrieve wallets.
Anne Elzinga was the first victim to post a photo and warning on social media on May 24, after the incident happened. There only appeared to be one suspect, an Asian women in her thirties who seemed "to be a bit pregnant".
However, a similar incident later that same day, reported by Marion Udall, suggests that there may be more than one thief at work.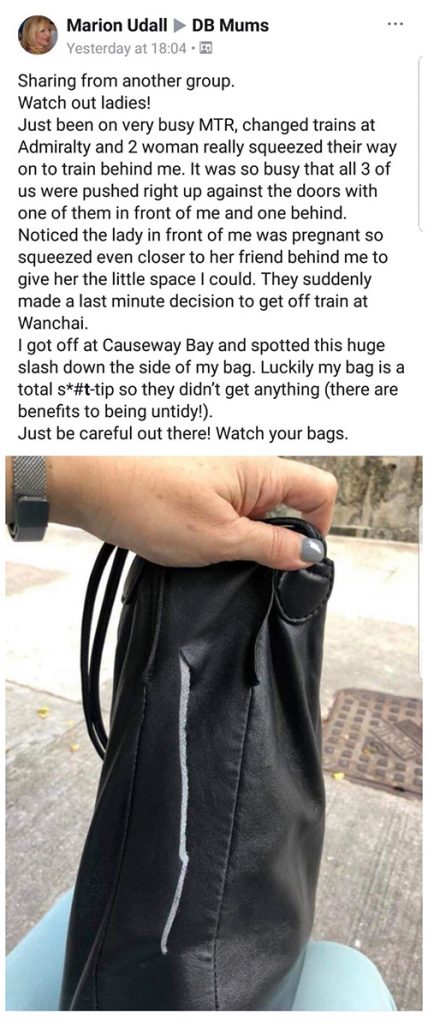 Since the crimes were reported on social media and to the police, several people in the comments section have shared similar accounts.
Sadly, reports continue to be posted in the Facebook groups, with the most recent appearing on May 31 from Sarah George, and while we can't confirm if it was the same gang as before, we strongly suggest that you keep a close eye on your bag.
If you do have the misfortune of being pickpocketed, make sure to report it to the police and inform your bank to cancel your cards straight away because, as Anne unfortunately learnt, these thieves work fast!
Let's hope they catch these scumbags! Stay safe, people.
---
Read more! See what's coming up this weekend in Hong Kong.