Hidden in the upper floors of many old buildings in Hong Kong are an array of small and under-the-radar indie cafés hoping to escape Hong Kong's soaring rents. These trendy upstairs cafés are becoming increasingly popular, and even have their own category on OpenRice! If you fancy escaping the masses in Starbucks and Pacific Coffee, why not try one of these cute coffee spots dotted around the city?
---
---

Mum's Not Home
As its name suggests, Mum's Not Home is an upstairs café where you can let your hair down—just as you would when you have the house to yourself. Located on the first floor of a rundown building in Yau Ma Tei, the whimsical café is decorated with eclectic paintings, a forest of plants, and cushions scattered around short tables. Choose your spot to unwind as you find liberation from boring food with one of the colourful cheesecakes and drinks on offer. The Secret of Butterfly Pea Tea ($40) in particular is a hit among social media savvy guests. Served in a bowl-like cup with a slice of lime on top, the originally-blue coloured tea turns into a mesmerising purple tone as you squeeze the lime juice into the tea. 
Mum's Not Home, 1/F, 302 Shanghai Street, Yau Ma Tei | (+852) 9770 5760
---
Photo courtesy of @vanessaaaama and @hk_foodblog
Twenty One From Eight
With large windows that allow plenty of natural sunlight to pour in, bare white walls, and minimalistic pine fixtures, this furniture store slash upstairs café in Kwun Tong oozes a 'Swedish furniture showroom' vibe. The laid-back soundtrack playing in the background adds to the casual atmosphere of the café, making it easy for you to stay and while away a lazy afternoon. Order a cup of coffee and get lost in a good book on the corner sofa, bring your laptop and set up shop on the high tables, or come with friends and enjoy delicious food freshly made by the in-house Le Cordon Bleu chef. Those who want to deck their homes with the industrial hangout's rustic-chic decor can even pick up some goodies in the retail area.
Twenty One From Eight, 11/F, Pang Kwong Building, 59 Hung To Road, Kwun Tong | (+852) 2321 1738
---
Read More! Get snap happy with the most Instagram-worthy cafés in Hong Kong.
---

La Crêperie
With three outlets dotted around Hong Kong Island, this adorable French bistro whips up authentic crêpes and galettes that are traditional to the French coastal province of Brittany. The restaurant's decor stays true to its coastal origin by showcasing wooden furniture, shades of white and blue, and small touches such as lighthouse-themed salt and pepper shakers. La Crêperie's sweet wheat flour crêpes and savoury buckwheat flour galettes (ranging from $150–$200) are topped with an array of offerings made with fresh or imported ingredients from France, to create either a light treat or a hearty meal. Apart from its delicious crêpes and galettes, which are mainstays on the menu, La Crêperie also offers other traditional Brittany delicacies such as oysters, mussels, and scallops in different combinations.
La Creperie, 8/F, The L Square, 459–461 Lockhart Road, Causeway Bay | (+852) 2898 7123
1/F, Kui Chi Mansion, 100–102 Queen's Road East, Wan Chai | (+852) 2529 9280
G/F, 69 Jervois Street, Sheung Wan | (+852) 2679 4666
---
Mamaday Café
Mamaday Café, which means "so-so" in Cantonese, is anything but ordinary. Brimming with colourful, fun, and quirky decorations on every corner, this upstairs café practically commands you to Instagram it. The walls are decked out with bright, sharp colours and hilarious English and Chinglish phrases such as, "To avoid injury, never tell a woman to calm down" and "To apply for membership, the applicant shall meet the following criteria: touching tongue to elbow". You will also find cartoonish paintings of Mr Bean, Queen Elizabeth, and Teletubby Hitler—quite the eclectic mix! The menu offers mainly Western dishes such as pizza, fettuccine, and rib-eye steak, as well as a few Asian options, along with a wide selection of drinks. If you're looking for a boozy meal, then go for one of the cutely-named cocktails such as Yoda's Body Fluid ($88), made with rum, mint, lemon, and dragon fruit, or White Ghost ($88), with rum, gin, coconut, dragon fruit, marshmallow, and cream.
Mamaday Café, 1/F, Perfect Commercial Building, 28 Sharp Street West, Causeway Bay | (+852) 2164 0066
---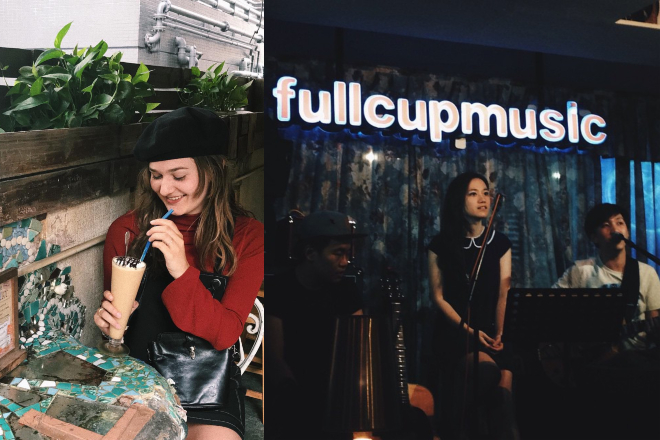 Photo courtesy of @annekwak and @enoch_ho
Full Cup Café
Spanning five floors, Full Cup (a homonym for the café's Chinese name and the Cantonese word for breath) is a place of respite in the depths of Mong Kok. Hidden inside an unassuming building in a back alley, each floor of this shabby-chic upstairs café is decorated with a carefully-selected, eclectic mix of mismatched vintage-kitsch furniture and carries a different theme. The third floor regularly hosts indie gigs, while the fourth floor offers a Gaudi-inspired alfresco area, and the fifth floor draws inspiration from the French rom-com Amélie, with red walls and romantic roses on every corner. The dark and brooding sixth floor is dubbed "the mysterious bar", while the 70s-inspired top floor doubles up as the owner's workshop. The café serves a selection of delicious western food, but its main draw is its regular performances by budding local artists and bands.
Full Cup Café, 2–7/F, Hanwai Commercial Centre, 36 Dundas Street, Mong Kok | (+852) 2771 7775
---
Read More! Cool down with our favourite cold-brew teas in Hong Kong.
---

Fleur De Sel
Located on the second floor of a nondescript commercial building in the heart of Causeway Bay (the same building as the famous Cat Café), Fleur De Sel offers a cosy space in which to enjoy authentic French dishes, made with fresh ingredients imported from the country. As you walk through the impressive entrance, decorated with white brick walls, Parisian-style pop art, and a playful arrow sign, you are met with the aroma of fresh coffee and sweet crêpes and galettes, which can be enjoyed within a casual, chic-industrial setting. But it's not only about sweet treats here, as the menu offers soups, salads, and a variety of French classics such as Snails Baked in Garlic Butter ($72), Duck Confit with Mushrooms and Potatoes ($142), and Foie Gras with Chutney ($118). With its laid-back atmosphere and playful French flair, this is the perfect spot for relaxed weekend brunching.
Fleur De Sel, Shop 2J, Po Foo Building, Foo Ming Street, Causeway Bay | (+852) 2805 6678
---

Photo courtesy of U Lifestyle
Café Zense
Beloved for its exceptional food and spacious ambience, Café Zense located at the hub of Causeway Bay is the go-to place to enjoy a lavish dining experience which, in the meantime, doesn't hurt your wallet. It also boasts an excellent outdoor terrace, in case you want to cosy up with friends and families (and given there's no heatwave striking our shore).
Food-wise, the menu offers a wide assortment including their formidable risotto and pasta. Try out the Spaghetti with Tom Yum Shrimp ($108) that permeates the rich and aromatic Tom Yum soup bases. Fried comfort food is also served, like the Crispy Fried Calamari with Sriracha Mayonnaise ($78), its calamari flawlessly crunchy on the outside, but maintaining succulence and tenderness inside. You may also want to exult in the quirky iced smoothies like the unpredictably stunning Brown Sugar Tofu Smoothie ($52).
Café Zense, 4/F, Yeung Iu Chi Commercial Building, 460–462 Jaffe Road, Causeway Bay | (+852) 2892 2249
---

Photo courtesy of OpenRice
The 5B Private Corner
Café gimmicks and visually-appealing cuisines may attract attention, but it's always the quality of the food chefs endeavour to achieve that retains the love from patrons. That's exactly what The 5B Private Corner in Tsuen Wan set out to do. The results are the delectable cuisines, ranging from the freshly-made Cuttlefish Charcoal Burger ($88) with a cuttlefish block at least 3cm thick, a range of pasta like the Mixed Mushroom Spaghetti with Homemade Truffle Sauce ($98), to main courses like the Pan-Fried Spanish Black Pork ($138).
All that is served in a retro-style decor that's cosy and tranquil. Whether you want to chill up with friends, or indulge yourself in a good novel, The 5B Private Corner in the Tsuen Tung Factory Building in the heart of Tsuen Wan is the ideal place to go.
The 5B Private Corner, Room B, 5/F, Tsuen Tung Factory Building, 38–40 Chai Wan Kok Street, Tsuen Wan | (+852) 3956 3926
---

Photo courtesy of U Lifestyle
Zi
Situated on the fourth floor of Wai Wah Building in Tsim Sha Tsui, Zi is a classy and unfussy café—as evident from the name's Chinese homonym, meaning "only" or "just". Minimalism can be seen in its wood décor that gives out an incredibly modest feel.
In contrast to its quiet appearance, cuisines served by the café is eclectic and appealing, from all-day-breakfast, waffles, ice-cream, coffee, to green tea latte—truly a visual and gustatory feat for guests. The specialty there is the Orecchiette in 36-Month Parmesan Cheese Sauce ($92) that gives out a rich and chewy taste, and the Earl Grey with Homemade Rose Strawberry Sauce ($70), which you're supposed to enjoy by pulling in a cup of Earl Grey first, followed by a spoon of rose strawberry sauce packed in a small tile.
Zi, Room 402, 4/F, Wai Wah Building, 66–76 Granville Road, Tsim Sha Tsui | (+852) 2325 1115
---
Read More! These are the best speciality coffee spots for true caffeine addicts.
---

Photo courtesy of GOGOAdvise
What The Food Café
Tucked away in an industrial loft of Fanling is the unassuming What the Food, an underground café that boasts an avant-garde vibe the moment you get out of the lift and spot Bart Simpson pointing you to the way. Once you get into the eatery, snap as many as you want with Alice from Alice in Wonderland who guards the board games corner, and the infamous brick mosaic of Snow White chewing on the poison apple, which has slowly become the obligatory background for food pics.
As the eccentric atmosphere starts to draw you in, order from the menu of international delicacies, such as the delectable Eel Omelet Rice ($86), Pineapple Cheese Beef Burger ($66) and the refreshing Rose Hawthorn Tea Soda ($33). Dare to mix and match your choices and you won't be disappointed.
What the Food Café, Flat F, 1/F, Dormind Industrial Building, 13 Yip Fung Street, Fanling | +(852) 2677 1303
Originally published on November 9, 2018 by Sarah Moran. Updated on August 16, 2019 by Gigi Wong.
---
Read More! Check out the latest Food & Drink news around Hong Kong.