Let's be honest, who doesn't love to spend a lazy afternoon feasting on their body weight in food and sipping on free-flow bubbly with their nearest and dearest? Buffet brunches will never go out of style in Hong Kong, so we decided to check out the best ones on offer so you can sit back, relax, and indulge to your stomach's content—whatever your budget. Bon appétit!
---
---
Bargain Brunches (Under $400)
Madame Ching
Honestly, we're up for anything that's named "Secret Garden Brunch", let alone hosted by Madame Ching! They have a hidden courtyard at the back of the restaurant with limited seating, so if the weather permits, that's exactly where we want to be. We're going with Asian-style with Hamachi Crudo and purple shiso, charred cucumber salad and prawn toast with milk bread and fried eggs to be shared by the table as well as a choice of one main. For dessert, you opt for some green-tea ice cream or relive your childhood memories by having an Ovaltine Tart!
Madame Ching, 5 Star Street, Wan Chai | (+852) 2577 7227
When: Saturdays, Sundays and public holidays from 12pm-3pm
How much: $248 per person, free-flow prosecco, beer, house wine and cocktail an additional $180
---

Pirata
If knocking back unlimited Prosecco and wine, while grazing on an Italian buffet of cold cuts, cheese, and roast beef is your idea of fun, then Pirata is your dream brunch spot. Located in the heart of Wan Chai, this cosy venue provides an intimate setting in which to catch up with friends over some hearty Italian dishes. As well as getting to tuck into a delicious antipasti buffet, diners also get the chance to nibble on tasty starters and main courses from a tempting selection which includes My Mama's Meatballs, Lasagne, Eggplant Parmigianna, and Tagliatelle with Black Truffle – and to top it all off, the Chef's Selection of desserts. This is a great option for those who love to share, as trying to decide which main to devour is just too hard given the mouth-watering options on offer. Be warned though, the waitstaff are so attentive that you'll unlikely see the bottom of your glass at any point during your feast – all the more reason to stock up on a ton of food!
Pirata, 29/30F, 239 Hennessy Road, Wan Chai | (+852) 2887 0270
When: Saturdays, Sundays, and public holiday from 12pm to 2:30pm
How much: $298 per person, free-flow beer, wine, or Prosecco an additional $180
---
Scarlett Café & Wine Bar
Stylish but cosy French venue Scarlett Café & Wine Bar is enticing hungry Hong Kongers will its new and improved brunch menu of sweet and savoury delights. New Head Chef, Danny Grimshaw, has been hard at work perfecting a mouth-watering brunch menu that won't disappoint. Guests can opt for Smashed Avocado on toasted sourdough, a hearty Smoothie Bowl with fresh fruits and yoghurt, or something a little more indulgent like Truffle ham and Gruyere croquettes or Scrambled eggs with a smoked salmon tart and goats cheese. To add a little "je ne sais quoi" to this tasty brunch experience, Scarlett invites all oyster lovers to dive into a selection of Fine de Claire oysters accompanied by sparkling wine for $398 per person. Available from 11am to 3pm on Saturday and Sundays, this is the perfect way to start the day with friends and family.
Scarlett Café & Wine Bar, 2 Austin Avenue, Tsim Sha Tsui, Kowloon | (+852) 3565 6513
When: Saturdays and Sundays from 11am to 3pm
How much: Various prices, oysters and sparkling wine additional $398
---
Middle Range ($500 to $700)
ALTO
Who doesn't want to be high up sipping bubbles? ALTO serves a semi-buffet brunch that might just be high enough. Located on the 31st floor of V Point Tower in Causeway Bay, ALTO offers breath-taking views of Hong Kong paired with a classic grill menu with a modern twist. We're talking a salad bar, hot and cold seafood buffet, choice of main from dishes like citrus spice waffle or the avocado tartine or even a 6oz impossible burger with fries! Add on a Veuve Clicquot Yellow Label Champagne free flow for just $200 to complete the full experience under the array of Tom Dixon lights hanging from the ceiling. For anyone who still wants to get higher up, you can even walk up to their balcony looking out to the harbour and finish the rest of your fizz in style.
ALTO, 31/F, V Point, 18 Tang Lung St, Causeway Bay | (+852) 2603 7181
When: Saturdays, Sundays and Public Holidays from 11am to 2:45pm
How much: $328 per person; free-flow juices, soft drinks, house wine and cocktails an additional $188, free-flow Veuve Clicquot Yellow Label Champagne an additional $200
---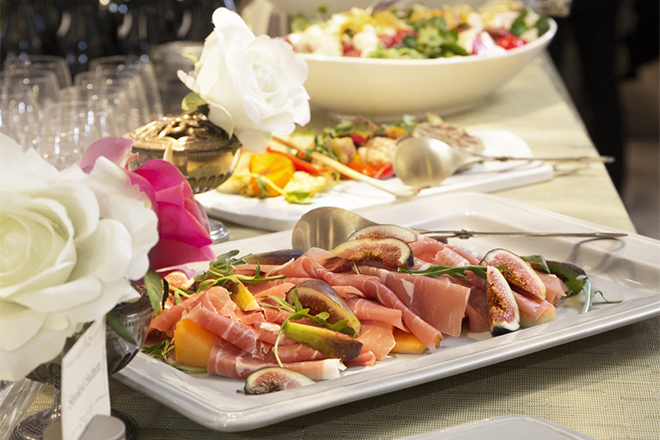 Maison ES
Ooh la la! Weekend diners looking for a charming brunch with a touch of French flair will find it at the gorgeous sun-filled, vintage-inspired restaurant, Maison ES. Located on Star Street, the sophisticated venue, helmed by female model turned chef, Esther Sham, is serving up a semi-buffet brunch along its beautiful marble bar counter. The spread features chilled seafood, assorted cold starters, salads, cold cuts, cheeses, sweet treats, and two premium quality fresh shucked french oysters per person. If guests still have room after all that, they can select a seasonal main course from the menu which changes every few weeks. They can also opt for a two-hour free-flow drinks package of selective french wines, soft drinks, and orange juice (for $150 per head), or upgrade this to include Louis Roederer Brut Premier (for $298). With its elegant interior, adorned with antiques, artworks, and collectibles sourced from flea markets around the world, this is the perfect spot to escape the city and enjoy a touch of je ne sais quoi!
Maison ES, No. 1A Star Street, Wan Chai | (+852) 2521 8011
When: Saturdays, Sundays and public holiday from 11.30am to 2.30pm (main course last order at 2pm)
How much: $298 for buffet only, $398 for buffet with one main course (free-flow an additional $150 or $298 per person)
---
Casa Lisboa Gastronomia Portuguesa
We do love a bargain boozy brunch, and Portuguese restaurant Casa Lisboa delivers just that with its four-course weekend offering. Available for an affordable $358 per person every Saturday, Sunday, and public holiday, you get to tuck into six starters including the foodgasmic Portugese crab salad, fluffy Codfish Cakes, and refreshing Clams Casa Lisboa, as well as a main of your choice. Be warned though, picking one is tough, given that you have six equally mouth-watering dishes to choose from including the Slow Roasted Suckling Pig, Oven Baked Duck Rice, and the whopping too-big-to-finish Casa Lisboa Francesinha (a Portuguese style hamburger stuffed with roast beef, chorizo, pork belly, cheese, egg, and potatoes). There are five rich desserts to choose from too, including the cheeky Drunken Pear in Port and Portuguese Biscuit Cake with vanilla ice cream, which tastes as heavenly as it sounds. You can also choose from two free-flow drinks packages for an additional price, allowing you to sip on as much sangria and wine as you like. Alternatively, you can just hit the cocktail menu and savour the highly-addictive Green Day ($78), Bloody Mary ($78), and several other tantalising options.
Casa Lisboa, 2/F, Parekh House, 63 Wyndham Street, Central | (+852) 2905 1168
When: Saturdays, Sundays and public holiday from 12pm to 3pm
How much: $358 (adults) $210 (kids); free-flow an additional $150 or $180
---
Olé Spanish Restaurant and Wine Bar
There's a reason this legendary Spanish eatery has remained a Central landmark for the past 20 years – the food is amazing!If you love tapas in a romantic and authentic setting, then Olé Spanish Restaurant and Wine Bar is the ideal spot. Their summer fiesta brunch invites you to feast on a menu that lets you choose from over twenty all-time favourite dishes (yep, you read that right) enjoyed by the venue's customers over the past two decades. Sizzling Garlic Prawns, Sautéed Chorizo with Garlic and Chives, and Traditional Spanish Seafood Paella are just some of the delights that grace this exquisite menu. As if that isn't enough to lure you through the rustic arched alcoves of this hidden gem, then surely one of the three free-flow drinks packages is (see below). Romantic souls will be charmed to the core as they sip on chilled Sangria, munch on Hot Chocolate Churros, and enjoy beautiful live performances from the restaurant's musical duo who will literally serenade you on a Spanish guitar at your table – magic! At an unbeatable price of $398 per person, Olé sits right up there on our list of favourite brunches in Hong Kong.
Olé Spanish Restaurant and Wine Bar, 1/F, Shun Ho Tower, 24 Ice House Street, Central | (+852) 2537 8856
When: Saturdays and public holiday from 12pm to 3pm
How much: $398 (adults) $258 (kids); free-flow options: juice and soft drinks ($88) / Cava and Sangria ($150) / White wine, red wine, Cava, and Sangria ($180)
---
Fang Fang
Casual eatery Fang Fang has launched a new Asian Fiesta Brunch which serves up all the favourites the restaurant has to offer. For a reasonable $358 per person, diners can tuck into a selection of welcome snacks, such as sea salt edamame beans and prawn crackers, followed by an assortment of small sharing dishes, including Hamachi ceviche and truffle mushroom dumplings, crispy salt and pepper tofu with smoky chilli sauce, prawn tempura rolls with beetroot yoghurt, and braised pork belly served with Japanese black honey "Kuromitsu". They also get to choose one main, with options including honey-grilled Chilean seabass, slow-cooked beef short ribs with tangy lemongrass sauce, Szechuan pepper chicken with sweet caramel house-made popcorn, and crispy aromatic duck served with crepes, cucumber, and hoisin sauce. Diners with a sweet tooth can enjoy the ginger crème brulee or a selection of ice cream for dessert. For an additional $280, they can sip on free-flow Moët Chandon champagne, Asahi beer, white and red wine, sake and Margaritas. Need we say more?
Fang Fang, 8/F, LKF Tower, 33 Wyndham Street, Central | (+852) 2983 9083
When: Saturdays from 12pm to 3pm
How much: $358 per person; free-flow alcohol package an additional $280,  Non-alcoholic beverage package an additional $110
---

FUMI
If you love sushi then you're in for a serious treat as Japanese restaurant FUMI has launched a semi-buffet brunch every Sunday. The trendy eatery, which was voted the "Hottest New Restaurant in 2018" by CNN, is inviting diners to tuck into unlimited delicacies from the appetizer and salad bar, sashimi and sushi bar, tempura and grill station, chef's takoyaki station, the choice of one main course and a dessert platter for the table – all for a reasonable $480 per head. Guests can also choose one of two free-flow drinks packages, which include beer, wine, and sake, for an additional $168 or $228. Located in the heart of Lan Kwai Fong, on the sixth floor of California Tower, FUMI is a plush venue which boasts stylish, geometric gold walls, a sleek black bar, and tables seating intimate groups of up to four people, making this a great option for brunching with close friends or partners.
FUMI, 6/F, California Tower, Lan Kwai Fong, 30 – 36 D'Aguilar St, Central | (+852) 2328 3302
When: Saturdays from 11.30am to 2.30pm
How much: $480 per person; free-flow package an additional $168 or $228
---
Lily & Bloom
The All-American Brunch at Lily & Bloom serves up all the staples we know and love. For $495 per person, hungry diners get to indulge in a buffet of healthy salads, a fresh seafood bar, made-to-order omelettes, pastries and healthy cereal, plus one choice of three mains to follow, including Eggs Benedict with smoked ham and roasted potatoes, Croque Madame with three cheese sauce, or Brioche French Toast with candied pecans and cinnamon cream. The mains are fairly substantial in size and richness, so try not to fill up on the buffet before you get stuck in, and make room for the free-flow Veuve Clicquot Ponsardin Brut (an additional $100). If you don't fancy bubbles, though, then head mixologist John Nugent has whipped up four tantalising cocktails to wash down your egg-fuelled brunch. You can follow tradition and opt for the classic Bloody Mary, or go for a delicious drink with a kick with the Chamomile Sour, made with Bulleit bourbon, chamomile tea, lemon, and egg white. And while the adults are having fun, little ones can enjoy the fun-filled play area and dedicated kid's menu for $155 per child (aged 4 to 11). An all-round weekend winner!
Lily & Bloom, 5-6/F, LKF Tower, 33 Wyndham Street, Central | (+852) 2810 6166
When: Saturdays and Sundayd from 11am to 1pm or 1.30pm to 4pm
How much: $495 per person (free-flow Veuve Clicquot Ponsardin Brut an additional $100)
---

Zuma
Recently renovated Japanese restaurant Zuma has given its popular weekend brunch an upgrade, offering diners individual made-to-order mains, a new deluxe dessert platter, and a welcome bellini. After tucking into a buffet selection of fresh sushi, sashimi, tempura, salads, and robata grill items, guests can choose one of five main courses, with options including naruo ribeye steak with wafu sauce and garlic crisps, grilled Hamachi kama with lemon and sea salt, chili marinated chicken thigh with pickled nashi, vegetarian takana fried rice, and teriyaki salmon fillet topped with sliced pickled cucumber. There is also a new dessert platter with seasonal fruit from Japan, chocolate cake, banana pudding, and homemade ice cream in a range of unique Japanese flavours. Those looking to skip the alcohol can enjoy a food-only package that is served with refreshing iced teas ($548 per person), while those who enjoy bubbles can indulge in the Beverage Packages ($688, $988, $1980 per person) with free-flow Ruinart Champagne, wine, sake, beer, bellini and iced tea. As if that wasn't enough to lure guests through the doors, Zuma also allows diners to continue their soiree in the upstairs lounge afterwards.
Zuma, Landmark, Level 5 & 6, 15 Queen's Road, Central | (+852) 3657 6388
When: Saturdays and Sunday, two-hour sitting anytime between 11am and 3pm
How much: $548 or $688 (depending on drinks package)
---
Splashing Out (Over $700)
Buenos Aires Polo Club
What do you imagine when we say feast? Well, we weren't too sure how to define it a feast till we saw Buenos Aires Polo Club's Sunday brunch. That's towers of freshly baked bread and pastries, a seafood selection, endless Iberian cold cuts and cheese as well as an egg station using fresh Japanese eggs, a carving table and more towers of desserts. When you can eat anything you can imagine in a brunch, guess that's what they call a truly formidable feast.
Buenos Aires Polo Club, Seventh floor, LKF Tower, 33 Wyndham Street | (+852) 2321 8681
When: Saturdays and Sundays from 11am-4pm
How much: $398 per person food only; non-alcoholic free-flow an additional $190, alcoholic free-flow an additional $390
---
Gough's on Gough
For those feeling like going a bit more traditional or just feel like having some Sunday roast, Gough's on Gough is the place to be! Serving traditional Sunday roast but in style, there's grilled asparagus and hollandaise sauce to share, a choice of one main from a selection including roast leg of lamb, roast rib of Hereford beef, beef wellington or even roast loin of Dingley dell pork. There are even a few English desserts to choose from to fill up that separate dessert stomach, including strawberry trifle, pineapple upside-down cake or Colston basset stilton cheese if you feeling brave. If that's not enough to entertain you, there's always the diver that Timothy Oulton installed at the bottom of that gorgeous gilded staircase!
Gough's on Gough, 15 Gough St, Central | (+852) 2473 9066
When: Sundays from 12pm to 7:30pm
How much: Starting from $498 per person; non-alcoholic free-flow $298, alcoholic free-flow $398-$498
---
The Grill at the Grand Hyatt
If you live for barbecue food, then you'll be in paradise at The Grill's weekend buffet. If the sun is shining, kick back and relax by the outdoor pool and enjoy chargrilled sand lobster, king prawns, crabs, mussels, and grilled salmon. This premium al fresco dining spot also boasts a selection of refreshing salads and meats, including beef steak, pork chops, chicken, and home-made sausages, as well as a heavenly dessert station. An additional free-flow package can be added, where you get to enjoy beer, sparkling, red, or white wine. A perfect spot to escape the hustle and bustle of the city and lap up some rays.
The Grill at the Grand Hyatt: 11/F, Grand Hyatt Hong Kong, 1 Harbour Road, Wan Chai | (+852) 2584 7722
When: Saturdays and Sundays from 11.30am to 3pm
How much: $588 (adults) $268 (kids); free-flow house wine and beer an additional $288, free-flow champagne an additional $518
---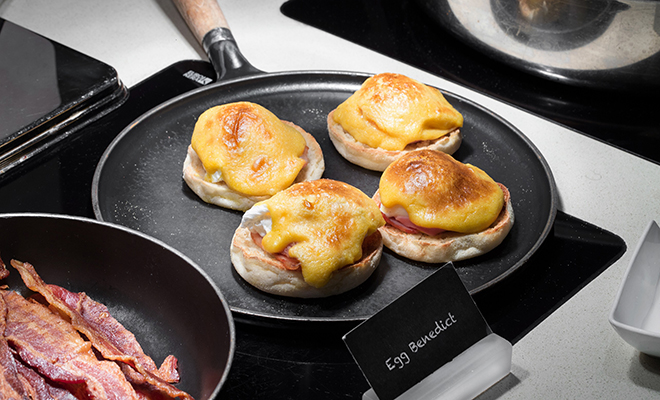 The Verandah at The Peninsula
If you can't decide what time to feast, then The Verandah at the iconic Peninsula hotel offers breakfast, lunch, and dinner buffet every day of the week, including weekends. Featuring all the brunch classics, such as sushi, sashimi, roast beef and lamb carvery, salad, and seafood, this classy brunch also offers a selection of Chinese hot dishes, including dim sum, and is renowned for its delicious Eggs Benedict (only available in the breakfast buffet). If you have room at the end, you will no doubt enjoy conquering the dessert station which features pastries created by Dutch chef and World Chocolate Master Champion 2011, Frank Haasnoot. The free-flow package with soft drinks, fresh juices, beer, and rosé wine is available for an additional $188 per person.
The Verandah, 1/F, The Peninsula Hong Kong, 19-21 Salisbury Road, Tsim Sha Tsui | (+852) 2696 6772
When: Breakfast, 7am – 10.30am / Lunch, 12pm – 2.30pm / Dinner 6pm – 10pm
How much: Breakfast ($390); Lunch (starting from $518); Dinner ($838); free-flow an additional $148 – $188
---
La Rambla
Talk about taking in the view! La Rambla's Sunday brunch offers a 180 degrees view of the harbourfront, with floor to ceiling windows that share the view from the terrace with those inside the main dining area. We've got classic tapas, make-your-own tortilla station, grill station and 3 kinds of paellas classic, squid ink and vegetarian made-to-order. That's not all though since there's also suckling pig, grilled turbot and wagyu beef cheek as a main for you to choose from. The menu quotes "we recommend you start off with one dish per couple" so if you still feel like you have room, you're welcome to take on the whole menu!
La Rambla, 8 Finance Street 3071-73 Level 3, IFC mall, Central | (+852) 2661 1161
When: Sundays from 12pm-3pm
How much: $550 per person, free-flow an additional $350 or $1,300
---
Kitchen at W Hotel
If you're looking for the ultimate indulgent treat, then the Bubbly Seafood Sunday Brunch at Kitchen is your spot. Spend a lazy afternoon sipping on free-flow Veuve Clicquot Yellow Label Champagne and feasting on an open buffet of fresh seafood (including a fresh oyster station), cold cuts, sushi, sashimi, sliders, roast beef, prime quality Boston lobster, and melt-in-your-mouth desserts as you overlook the tranquil harbour. With its stylish decor, stunning views, and ambient live DJ set, this spacious setting is hugely popular among locals and expats alike. And while you're there, be sure to try one of the delicious hand-crafted cocktails on offer – the spicy Bloody Mary will knock your socks off – as well as the champagne oyster shooter.
Kitchen at W Hotel, 6/F, W Hotel, 1 Austin Road West, Tsim Sha Tsui | (+852) 3717 2299
When: Sundays from 12pm to 3pm
How much: $898 per person (includes free-flow)
---
Clipper Lounge
Variety is the key at Clipper Lounge's Sunday brunch, which invites you to dine on a selection of fancy hors d'oeuvres, seafood, noodles, sushi and sashimi, farmhouse cheeses, carvery, vegetables, and pastries, as you overlook the busy hotel lobby. With an omelette egg station, and cooking station serving up Vietnamese noodles, your only problem might be deciding what to eat first – or fitting it all in! With thirty desserts to choose from, just make sure you save some room at the end – and did we mention that you can enjoy free-flow Veuve Clicquot Ponsardin Brut or Veuve Clicquot Ponsardin Brut Rosé Champagne for an additional cost? Cheers to that!
Clipper Lounge, M/F, Mandarin Oriental Hong Kong, 5 Connaught Road, Central | (+852) 2825 4007
When: Sundays from 11.30am to 3pm
How much: $738 (adults) $448 (kids); free-flow an additional $400
---
Harbourside at InterContinental
Perched on the edge of Victoria Harbour, Harbourside offers a full buffet with all the classics, set against the impressive backdrop of Hong Kong island. Featuring a tempting array of Western and Asian dishes, a roast carving station with prime cuts of beef, decadent home-made desserts, and a vast selection of lobster, scallops, prawns, and crabs, this is a buffet that will satisfy all taste buds – and eyes! Pan-fried foie gras is a specialty dish here, and free-flow Champagne, red, white wine, and beer is included too.
Harbourside at InterContinental, LG/F, InterContinental Hong Kong, 18 Salisbury Road, Kowloon | (+852) 2313 2323
When: Sundays from 11.30am to 3pm
How much: $898 per person (includes free-flow)
---
Oyster & Wine Bar at The Sheraton
We've had some cracking brunches in our time, but this one really takes the biscuit. Head to the Oyster & Wine Bar on the top floor of the Sheraton Hong Kong and lap up the stunning view of Victoria Harbour while indulging in unlimited servings of fresh oysters and seafood, steaks and appetisers, delicious hot dishes, and tantalising desserts at the Vivacious Sunday Champagne Brunch. We're pretty confident that these are the best oysters we've ever tasted in Hong Kong, and the Classic Lobster Thermidor isn't half bad either. Just make sure you leave plenty of room for dessert as the Mini Hot Soufflé with kahlua, ginger, vanilla, or grand marnier toppings is not to be missed. Pair these gorgeous dishes with your choice of free-flow Perrier-Jouët Grand Brut, Perrier-Jouët Blason Rosé, or Perrier-Jouët Blanc de Blancs (our personal favourite), and you're in for one unforgettable Sunday feast.
Oyster & Wine Bar, 18/F, Sheraton Hong Kong Hotel & Towers, 20 Nathan Road, Kowloon | (+852) 2369 1111
When: Sundays from 12pm to 3pm
How much: $998, $1,298, or $1,498 per person (depending on your champagne choice)
---
Themed Brunches

Looking to take weekend brunching to a whole new level? Well, you're in luck because Hong Kong is pulling out all the stops with its epic themed brunches hosted around the city each month. For a burst of colour and sound, head to Uma Nota's Rio de Janeiro-style Carnaval Brunch where you're invited to wiggle your hips to live high-energy drum music, lap up some salsa dancing performances, and make some noise with your own homemade percussion instruments. For a more dramatic affair, head to The Fiasco at Carbone and get lost in a world of Mafia mayhem as you immerse yourself in an interactive show over some hearty Italian grub. If you're a wine-chugging, fun-loving carnivore looking to have a good time with your buddies, then pop along to the legendary Disco Brunch at Parisienne steakhouse La Vache and make some shapes on the dance floor, in between munching on bottomless steak and fries. Keen to know more about these epic events? Read our full article.
---
Read more! Explore the rest of our Food & Drink section at Localiiz.