Let's be honest, who doesn't love to spend a lazy afternoon feasting on their body weight in food and sipping on free-flow bubbly with their nearest and dearest? Weekend brunches will never go out of style in Hong Kong, so we decided to check out the best ones on offer so you can sit back, relax, and indulge to your stomach's content – whatever your budget. Bon appétit!
---
---
Bargain Brunches (below $300)
Café Siam
What could be better than tucking into an endless selection of exquisite Thai delicacies in beautiful and spacious surroundings? Michelin-recognised Café Siam is an absolute must for foodies with a passion for dishes with a kick that taste as incredible as they look. Available at both Central and Kennedy Town, this super generous all-you-can-eat brunch allows you to enjoy as much as you like within a two-hour sitting, choosing from a menu of over twenty traditional Thai dishes including all the favourites such as Pad Thai and Gaeng Khiaw Waan (spicy green curry with coconut milk). You are literally spoilt for choice as you navigate your way through the huge selection of appetizers, salads, sides, curries, vegetables, meats, noodles, and rice-based dishes on offer. Our personal favourites include the Tod Mon Goong (Thai prawn cakes with sweet plum sauce), Tom Yum Goong (the classic prawn soup with lemongrass and lime leaf), and Naam Tok Gim Gaw (wok-fried diced beef with fresh peppercorn and shallot). The desserts are equally as delicious, with the sweet and refreshing Khao Niew Mamuang (mango sticky rice) stealing the show. Add a refreshing Singha Soda or two into the mix (we highly recommend the Lemongrass, Mint & Thai Basil) and your taste buds will have the time of their lives!

Café Siam, Central: 2-3/F, The Plaza, 21 D'Aguilar Street, Lan Kwai Fong, (+852) 2851 4803 / Kennedy Town: G/F, 38 Forbes Street, (+852) 2855 0810
Central – Saturdays from 12pm to 2.30pm / Kennedy Town – Saturdays and Sundays from 12.30pm to 4pm
$268 per person (includes free-flow soft drinks and Singha Sodas)
---
Middle Range ($500 to $700)

Pirata
If knocking back unlimited Prosecco and wine, while grazing on an Italian buffet of cold cuts, cheese, and roast beef is your idea of fun, then Pirata is your dream brunch spot. Located in the heart of Wan Chai, this cosy venue provides an initimate setting in which to catch up with friends over some hearty Italian dishes. As well as getting to tuck into a delicious antipasti buffet, diners also get the chance to nibble on tasty starters and main courses from a tempting selection which includes My Mama's Meatballs, Lasagne, Eggplant Parmigianna, and Tagliatelle with Black Truffle – and to top it all off, the Chef's Selection of desserts. This is a great option for those who love to share, as trying to decide which main to devour is just too hard given the mouth-watering options on offer. Be warned though, the waitstaff are so on it that you'll unlikely see the bottom of your glass at any point during your feast – all the more reason to stock up on a ton of food!
Pirata, 29/30F, 239 Hennessy Road, Wan Chai, (+852) 2887 0270
Every Saturday, Sunday, and public holiday from 12pm to 2.30pm
$298 per person (free-flow beer, wine, or Prosecco an additional $180)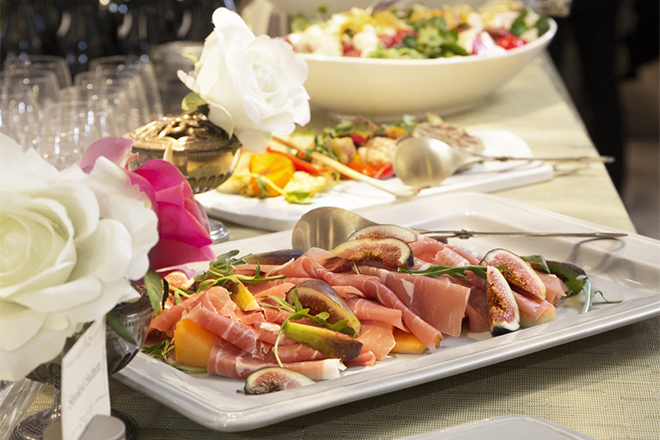 Maison ES
Ooh la la! Weekend diners looking for a charming brunch with a touch of French flair will find it at the gorgeous sun-filled, vintage-inspired restaurant, Maison ES. Located on Star Street, the sophisticated venue, helmed by female model turned chef, Esther Sham, is serving up a semi-buffet brunch along its beautiful marble bar counter. The spread features chilled seafood, assorted cold starters, salads, cold cuts, cheeses, sweet treats, and two premium quality fresh shucked french oysters per person. If guests still have room after all that, they can select a seasonal main course from the menu which changes every few weeks. They can also opt for a two-hour free-flow drinks package of selective french wines, soft drinks, and orange juice (for $150 per head), or upgrade this to include Louis Roederer Brut Premier (for $298). With its elegant interior, adorned with antiques, artworks, and collectibles sourced from flea markets around the world, this is the perfect spot to escape the city and enjoy a touch of je ne sais quoi!
Maison ES, No. 1A Star Street, Wan Chai, (+852) 2521 8011
Every Saturday, Sunday, and public holiday from 11.30am to 2.30pm (main course last order at 2pm)
$298 for buffet only, $398 for buffet with one main course (free-flow an additional $150 or $298 per person)
Casa Lisboa Gastronomia Portuguesa
We do love a bargain boozy brunch, and Portuguese restaurant Casa Lisboa delivers just that with its eight-course weekend offering. Available for an affordable $350 per person every Saturday, Sunday, and public holiday, you get to tuck into six starters including the foodgasmic Garlic Octopus, fluffy Codfish Cakes, and refreshing Clams Casa Lisboa, as well as a main of your choice. Be warned though, picking one is tough, given that you have six equally mouth-watering dishes to choose from including the Slow Roasted Suckling Pig, Oven Baked Duck Rice, and the whopping too-big-to-finish Casa Lisboa Francesinha (a Portuguese style hamburger stuffed with roast beef, chorizo, pork belly, cheese, egg, and potatoes). There are four rich desserts to choose from too, including the cheeky Drunken Pear in Port and Portuguese Biscuit Cake with vanilla ice cream, which tastes as heavenly as it sounds. You can also choose from two free-flow drinks packages for an additional price, allowing you to sip on as much sangria and wine as you like. Alternatively, you can just hit the cocktail menu and savour the highly-addictive Lisboa Cooler ($68), Ginger Sour ($78), and several other equally tantalising options.
Casa Lisboa, 2/F, Parekh House, 63 Wyndham Street, Central, (+852) 2905 1168
Every Saturday, Sunday, and public holiday from 12pm to 3pm
$350 per person (free-flow an additional $150 or $180)
Olé Spanish Restaurant and Wine Bar
There's a reason this legendary Spanish eatery has remained a Central landmark for the past 20 years – the food is amazing! If you love tapas in a romantic and authentic setting, then Olé Spanish Restaurant and Wine Bar is your ideal spot. The newly launched 20th anniversary brunch invites you to feast on a menu that features twenty all-time favourite dishes (yep, you read that right) enjoyed by the venue's customers over the past two decades. Sizzling Garlic Prawns, Baby Squids in Ink Sauce, Sautéed Chorizo with Garlic and Chives, and Traditional Spanish Seafood Paella are just some of the delights that grace this exquisite menu. As if that isn't enough to lure you through the rustic arched alcoves of this hidden gem, then surely one of the three free-flow drinks packages is (see below). Romantic souls will be charmed to the core as they sip on chilled Sangria, munch on Hot Chocolate Churros, and enjoy beautiful live performances from the restaurant's musical duo who will literally serenade you on a Spanish guitar at your table – magic! At an unbeatable price of $380 per person, Olé sits right up there on our list of favourite brunches in Hong Kong.
Olé Spanish Restaurant and Wine Bar, 1/F, Shun Ho Tower, 24 Ice House Street, Central, (+852) 2537 8856
Every Saturday and public holiday from 12pm to 3pm
$380 (adults) $228 (kids) Free-flow options: juice and soft drinks ($88) / Cava and Sangria ($150) / White wine, red wine, Cava, and Sangria ($180)
Fang Fang
Contemporary Asian eatery Fang Fang has launched perhaps the most colourful and photogenic brunch we've ever seen, all laid out on a lavishly long buffet table, topped with more surf and turf treats than your Instagram feed can handle. For an extremely reasonable $398 per person, diners can tuck into an all-you-can-eat selection of Oysters, Prawn Cocktail, Satay Chicken, Salmon Cream Cheese Rolls, Salmon Nigiri, Roasted Chicken, Salad Buckets, and the humungous cheese wheel which invites you to dip away to your stomach's content. Besides this colourful feast, they can also enjoy the Platter to Share and select either the New Zealand Lamb Rack, Angus Beef Tenderloin, Mui Choy Pork Belly, or incredible succulent Aroma Duck with Crepe, which is hands down the best dish on the menu. This super feast doesn't leave much room for dessert, but if you do have space, we recommend trying the Mango Mascarpone and Chocolate Passion Fruit Cake. Could this epic brunch get any better? How about throwing free-flow Moët Champagne into the mix for an added $160? Now that alone is worth going for!
Fang Fang, 8/F, LKF Tower, 33 Wyndham Street, Central, (+852) 2983 9083
Every Saturday from 12pm to 3pm
$398 per person (free-flow Moët Champagne an additional $160)


FUMI
If you love sushi then you're in for a serious treat as Japanese restaurant FUMI has launched an all-you-can-eat sushi brunch every Saturday. The trendy eatery, which was voted the "Hottest New Restaurant in 2018" by CNN, is inviting diners to tuck into a selection of four different grilled skewers, twelve sushi dishes, six snacks, seasoned miso soup, and a special dessert of the day – all for a reasonable $450 per head. Guests can also choose one of two free-flow drinks packages, which include beer, wine, and sake, for an additional $128 or $168. Located in the heart of Lan Kwai Fong, on the sixth floor of California Tower, FUMI is a plush venue which boasts stylish, geometric gold walls, a sleek black bar, and tables seating intimate groups of up to four people, making this a great option for brunching with close friends or partners.
FUMI, 6/F, California Tower, Lan Kwai Fong, 30 – 36 D'Aguilar St, Central, (+852) 2328 3302
Every Saturday from 11.30am to 2.30pm
$450 per person (free-flow package an additional $128 or $168)
Lily & Bloom
The All-American Brunch at Lily & Bloom serves up all the staples we know and love. For $495 per person, hungry diners get to indulge in a buffet of healthy salads, a fresh seafood bar, made-to-order omelettes, pastries and healthy cereal, plus one choice of three mains to follow, including Eggs Benedict with smoked ham and roasted potatoes, Croque Madame with three cheese sauce, or Brioche French Toast with candied pecans and cinnamon cream. The mains are fairly substantial in size and richness, so try not to fill up on the buffet before you get stuck in, and at least make room for the free-flow Veuve Clicquot Ponsardin Brut (an additional $100). If you don't fancy bubbles, though, then head mixologist John Nugent has whipped up four tantalising cocktails to wash down your egg-fuelled brunch. You can follow tradition and opt for the classic Bloody Mary, or go for a delicious drink with a kick with the Chamomile Sour, made with bulleit bourbon, chamomile tea, lemon, and egg white. And while the adults are having fun, little ones can enjoy the fun-filled play area and dedicated kid's menu for $155 per child (aged 4 to 11). An all-round weekend winner!
Lily & Bloom, 5-6/F, LKF Tower, 33 Wyndham Street, Central, (+852) 2810 6166
Available on weekends from 11am to 1pm or 1.30pm to 4pm )
$495 per person (free-flow Veuve Clicquot Ponsardin Brut an additional $100)

Zuma
Nothing beats getting all dressed up and spending two hours sipping on top-notch champagne in luxurious surroundings. One of our absolute favourite weekend brunches in Hong Kong has to be Zuma, not only because of the incredible selection of mouth-watering Japanese style bites on offer, but also the fact that this classy venue has teamed up with the world's oldest and most premium champagne, Ruinart, to spoil weekend diners. Guests can choose either the Deluxe Drinks Package ($688 per person), which includes free-flow R de Ruinart NV Champagne, wine, beer, and sake, or upgrade to the Premium Package ($1,288) and enjoy it's swankier cousin, Ruinart Blanc de Blanc NV Champagne. Both packages grant them full access to the all-you-can-eat buffet which includes a seemingly endless selection of sushi, sashimi, tempura, salads, and robata grill items. Additional highlights include the Ribeye Steak with Wafu Sauce and Garlic Crisps and Teriyaki Salmon Fillet with Sliced Pickled Cucumber. As if that wasn't enough to lure diners through the doors, the venue also allows guests to continue their soiree on the beautiful roof terrace or upstairs bar with gorgeous cocktails and chilled beats.
Zuma, Landmark, Level 5 & 6, 15 Queen's Road, Central, (+852) 3657 6388
Saturdays and Sunday, two-hour sitting anytime between 11am and 3pm
$688 or $1,288 (depending on drinks package)

ToTT's
Views don't come much better than this. Perched on the 34th floor of The Excelsior hotel, ToTT's boasts one of the best views of Victoria Harbour in Hong Kong, making it a prime spot for relaxed weekend dining. The brunch buffet here is equally as impressive, serving up all-you-can-eat seafood, sushi, and sashimi, curry, pasta, salad, foie gras, as well as a carvery and dessert stations. Guests can also choose from a selection of six hot dishes which include both fish and meat, and enjoy free-flow Veuve Clicquot champagne, red, or white wine.
ToTT's, 34/F, The Excelsior Hong Kong, 281 Gloucester Road, Causeway Bay, (+852) 2837 6786
Sundays from 10.30am to 1pm / 2pm to 4.30pm
$698 per person (includes free-flow) / $568 (non free-flow)
---
Splashing Out (above $700)
WHISK at the Mira
Pick your way through an open gourmet buffet of unlimited dry-aged beef creations and fresh seafood, including freshly shucked Fanny Bay oysters, and tuck into a barbecue station with crispy roasted suckling pig, in this sophisticated setting in the heart of Tsim Sha Tsui. WHISK boasts an impressive range of international cheeses, charcuterie, and homemade breads, as well as a dessert room filled to the brim with pastries and ice cream, which can be perfectly washed down with free-flow Perrier Jouet NV champagne and cocktails for an additional cost. Delicious! 
WHISK, 5/F, The Mira, Mira Place, 118 – 130 Nathan Road, Tsim Sha Tsui, Kowloon, (+852) 2315 5999
Sundays from 12pm to 3pm
$548 per person (free-flow an additional $280)
The Grill at the Grand Hyatt
If you live for barbecue food, then you'll be in paradise at The Grill's weekend buffet. If the sun is shining, kick back and relax by the outdoor pool and enjoy chargrilled sand lobster, king prawns, crabs, mussels, and grilled salmon. This premium al fresco dining spot also boasts a selection of refreshing salads and meats, including beef steak, pork chops, chicken, and home-made sausages, as well as a heavenly dessert station. An additional free-flow package can be added, where you get to enjoy beer, sparkling, red, or white wine. A perfect spot to escape the hustle and bustle of the city and lap up some rays.
The Grill at the Grand Hyatt: 11/F, Grand Hyatt Hong Kong, 1 Harbour Road, Wan Chai, (+852) 2584 7722
Saturdays and Sundays from 11.30am to 3pm
$538 per person (free-flow an additional $218)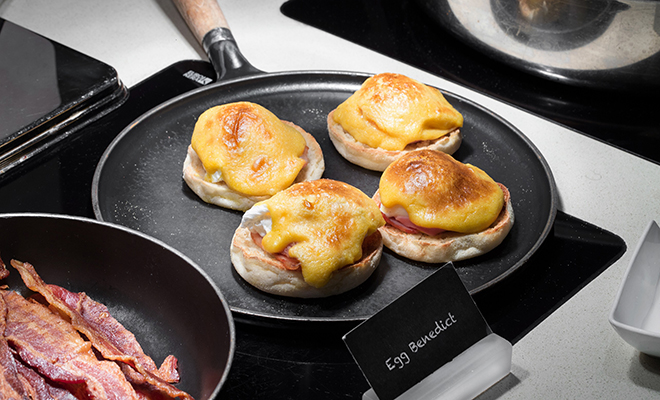 The Verandah at The Peninsula
If you can't decide what time to feast, then The Verandah at the iconic Peninsula hotel offers a breakfast, lunch, and dinner buffet every day of the week, including weekends. Featuring all the brunch classics, such as sushi, sashimi, a roast beef and lamb carvery, salad, and seafood, this classy brunch also offers a selection of Chinese hot dishes including dim sum, and is renowned for its delicious Eggs Benedict (only available in the breakfast buffet). If you have room at the end, you will no doubt enjoy conquering the dessert station which features pastries created by Dutch chef and World Chocolate Master Champion 2011, Frank Haasnoot. The free-flow package with soft drinks, fresh juices, beer, and rosé wine is available for an additional $168 per person.
The Verandah, 1/F, The Peninsula Hong Kong, 19-21 Salisbury Road, Tsim Sha Tsui, (+852) 2696 6772
Breakfast, (7am – 10.30am / Lunch, (12pm – 2.30pm) / Dinner (6pm – 10pm)
Breakfast ($360); Lunch ($788); Dinner ($788); free-flow an additional $168
Kitchen at W Hotel
If you're looking for the ultimate indulgent package, then the Bubbly Seafood Sunday Brunch at Kitchen is your spot. Spend a lazy afternoon sipping on free-flow Veuve Clicquot Yellow Label Champagne and feasting on an open-concept buffet of fresh seafood (including fresh oysters and prime quality Boston lobster), cold cuts, sushi, sashimi, sliders, roast beef, and melt-in-your-mouth desserts as you overlook the tranquil harbour. This modern and airy setting, with funky decor and stunning views, is highly popular among locals and those visiting the city, so get in there quick with your booking. The free-flow offer includes homemade Bloody Mary drinks, frozen strawberry margaritas, Royal Sangria, four types of shooters, beer, and wine.
Kitchen at W Hotel, 6/F, W Hotel, 1 Austin Road West, Tsim Sha Tsui, (+852) 3717 2299
Sundays from 12pm to 3pm
$828 per person (free-flow and non free-flow guests) 
---
Read more! Check out our full review of Kitchen at W Hotel
---
Clipper Lounge
Variety is the key at Clipper Lounge's Sunday brunch, which invites you to dine on a selection of fancy hors d'oeuvres, seafood, noodles, sushi and sashimi, farmhouse cheeses, carvery, vegetables, and pastries, as you overlook the busy hotel lobby. With an omelette egg station, and cooking station serving up Vietnamese noodles, your only problem might be deciding what to eat first – or fitting it all in! With thirty desserts to choose from, just make sure you save some room at the end – and did we mention that free-flow Ruinart Champagne is included? Cheers to that!
Clipper Lounge, M/F, Mandarin Oriental Hong Kong, 5 Connaught Road, Central, (+852) 2825 4007
Sundays from 11.30am to 3pm
$888 per person (includes free-flow)
Harbourside at InterContinental 
Perched on the edge of Victoria Harbour, Harbourside offers a full buffet with all the classics, set against the impressive backdrop of Hong Kong island. Featuring a tempting array of Western and Asian dishes, a roast carving station with prime cuts of beef, decadent home-made desserts, and a vast selection of lobster, scallops, prawns, and crabs, this is a buffet that will satisfy all taste buds – and eyes! Pan-fried foie gras is a specialty dish here, and free-flow Champagne, red, white wine, and beer is included too.
Harbourside at InterContinental, LG/F, InterContinental Hong Kong, 18 Salisbury Road, Kowloon, (+852) 2313 2323
Sundays from 11.30am to 3pm
$898 per person (includes free-flow)
Oyster & Wine Bar at The Sheraton
We've had some cracking brunches in our time, but this one really takes the biscuit. Head to the Oyster & Wine Bar on the top floor of the Sheraton Hong Kong and lap up the stunning view of Victoria Harbour while indulging in unlimited servings of fresh oysters and seafood, steaks and appetisers, delicious hot dishes, and tantalising desserts at the Vivacious Sunday Champagne Brunch. We're pretty confident that these are the best oysters we've ever tasted in Hong Kong, and the Classic Lobster Thermidor isn't half bad either. Just make sure you leave plenty of room for dessert as the Mini Hot Soufflé with kahlua, ginger, vanilla, or grand marnier toppings is not to be missed. Pair these gorgeous dishes with your choice of free-flow Perrier-Jouët Grand Brut, Perrier-Jouët Blason Rosé, or Perrier-Jouët Blanc de Blancs (our personal favourite), and you're in for one unforgettable Sunday feast.
Oyster & Wine Bar, 18/F, Sheraton Hong Kong Hotel & Towers, 20 Nathan Road, Kowloon, (+852) 2369 1111
Every Sunday from 12pm to 3pm
Priced at $998, $1,298, or $1,498 (price depends on your champagne choice)
Themed Brunches

Looking to take weekend brunching to a whole new level? Well, you're in luck because Hong Kong is pulling out all the stops with its epic themed brunches hosted around the city each month. For a burst of colour and sound, head to Uma Nota's Rio de Janeiro-style Carnaval Brunch where you're invited to wiggle your hips to live high-energy drum music, lap up some salsa dancing performances, and make some noise with your own homemade percussion instruments. For a more dramatic affair, head to The Fiasco at Carbone and get lost in a world of Mafia mayhem as you immerse yourself in an interactive show over some hearty Italian grub. If you're a wine-chugging, fun-loving carnivore looking to have a good time with your buddies, then pop along to the legendary Disco Brunch at Parisienne steakhouse La Vache and make some shapes on the dance floor, in between munching on bottomless steak and fries. Keen to know more about these epic events? Read our full article.
---
Read more! Explore the rest of our Food & Drink section at Localiiz.