It's that time of year again, wipe your tears of sadness (or perhaps joy?) and kiss your kids goodbye as they embark on a new academic year. With new friends, new teachers, and new knowledge on the horizon, it's only fair that your little ones are geared up with new stationery too, right? Well you're in luck because we've discovered the best places in Hong Kong to fill up those pencil cases and backpacks with all the goodies your kids will need – and we promise we won't tell if you sneak in a few items for yourself too!
---
---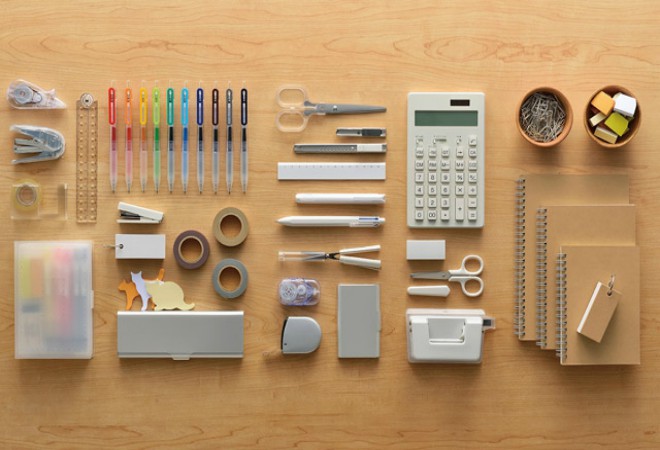 1. Muji
There's no messing about when it comes to Muji. If keeping things to a minimal is what you're after, their simple and clean-cut stationery is the perfect solution. Best of all, their price tags are definitely wallet-friendly, and even if you do go overboard with all the must-have items, you can always check out their mini desk-drawers ranging in all shapes and sizes that will keep every loose paper clip in place. Now your messy little monkeys won't have any excuse not to clean up!
Muji, locations vary
---
2. Cotton On
Did you know that Cotton On sells more than just t-shirts and leggings? We're talking about their Typo brand, which is packed with affordable stationery and other homeware products that will have you and your kids going back and forth wondering which glittery notebook to buy, or which Star Wars pen holder to take home. Remember to make note that Typo products are not available at every Cotton On branch, and the most well-stocked selection can be found at their flagship stores in Tsim Sha Tsui and Causeway Bay. Better yet, browse through their online store to find special discounts in their back-to-school section!
Cotton On, 34-36 Granville Road, Tsim Sha Tsui, Kowloon, (+852) 2367 2190
2/F, Lee Theatre Plaza, 99 Percival Street, Causeway Bay, (+852) 2557 1110
---
3. CN Square
Stacking up to five-stories high, CN Square is definitely the King of all stationery shops. With over 20,000 types of stationery goodies inside, they have everything from a tiny drawing pin, to an office-sized copier machine. Don't worry if the idea of going up five floors carrying a basket full of pens and notebooks sounds terrifying to you, there's an elevator inside that can take you to each floor that's been separated into different categories such as art supply, craft materials, and even a whole floor dedicated to just pens! If you're looking to bring home more than just a few pencils and crayons, this is the place to go.
CN Square, G/F – 3/F, 503 Nathan Road, Yau Ma Tei, (+852) 2384 2430
M/F, 135 King's Road, North Point, (+852) 2462 2265
---
4. Kikki.K
With a wide range of uniquely themed journals and notebooks, Kikki.K has got all your scribbling needs covered. From gratitude journals to year-round planners, you can help your little ones develop an organised habit from early on (they even have a 10 year planner!). With two brand new collections arriving this summer, not only will your kids soar through the year with all the latest gear from the Superheroes Are Real collection, they can also sparkle away in class with eye-catching holographic stationery from the Count Your Lucky Stars collection. We're not saying you have to splurge on their adorably designed items, but we know we will!
Kikki.K, locations vary
---
5. Stuck On You
If you're frustrated from having to buy more stationery for your little ones every other week because they always seem to mysteriously "disappear", then why not smack some personalised name labels from Stuck on You on to their pens and rulers? In fact, stick them on everything – lunchboxes, water bottles, the whole lot! Besides name labels, you can also have fun picking and mixing up colours, patterns, and fonts to create original designs with your kids for the perfect backpack to show off to their friends.
Stuck On You, Suite B, 11/F, 88 Commercial Building, 28 – 34 Wing Lok Street, Sheung Wan, (+852) 2549 2245
---
6. Journalize
While modern technology continues to dominate our world, it might be tough trying to convince your kids that nothing beats a good old-fashioned handwritten letter, or that putting pen to paper is the way to go when it comes to journaling. Perhaps Journalize can help you with that. Conveniently located near Victoria Park in Causeway Bay, this is a small and independent shop that has a variety of rare stationery products imported from all over the world, with a large focus on handwriting tools and materials. Their items are usually sold at a much lower price than other chain stores in Hong Kong too, so it's definitely one to check out!
Journalize, 6A Morreton Terrace, Causeway Bay, (+852) 3565 6455
---
7. Artland
This arts and crafts haven has everything from ceramics materials to all the shades of green you'll ever need. Even if you're spoilt for choice, their extra helpful staff are always happy to guide you through any questions you may have about getting a school project done, or simply stocking up on essentials. They even host art exhibitions featuring local artists from time to time, so if you have yourself a little Picasso in the making, Artland is surely one not to be missed.
Artland, 3/F, Lockhart Centre, 301 – 307 Lockhart Road, Wanchai, (+852) 2511 4845
---
8. Log-on
Usually found next to City'super, Log-on is your dose of intense Japanese "kawaii-ness". Inside you will find yourself standing next to some Lego day planners, pac-man staplers, or even erasers disguised as a plate of sushi! While your children run around gawking at fish-like pencil cases, parents can also enjoy strolling through aisles of strangely innovative tech and gadgets as well as the latest beauty products from Japan.
Log-on, locations vary
9. The Commercial Press
While The Commercial Press focuses more on putting books up on shelves, they still have a large collection of stationery that will meet your basic needs. With over 25 branches dotted all around Hong Kong, it's the perfect place to get your shopping done while you're out and about. The range and variety of stationery available varies depending on the size of the branch, so head on over to their flagship store in Causeway Bay and you are bound to find what you're looking for, plus their Kiddyland store, completely dedicated to children's books, toys, and activities, is just across the street!
The Commercial Press, 9 Yee Wo Street, Causeway Bay, (+852) 2890 8028
68 Yee Wo Street, Causeway Bay, (+852) 2972 2038
(Other locations vary)
---
10. Smiggle
Bold and funky, Smiggle will have you falling in love with their brightly coloured backpacks and quirky Smiggle cartoon characters in a second. With everything from a scented silicone pencil case, to plush hamburger notepads, your kids will never have a dull day at school!
Smiggle, locations vary
---
Read more! Check out the 10 Best Pre-Schools in Hong Kong or explore our Family section to discover more.