Conscious Couture
Spring Fashion Show
Join AWA for an evening of glamour and beauty at this year's charity fashion show, Conscious Couture, focusing on sustainability and ethical fashion with a strong emphasis on promoting locally grown talent. You will have an opportunity to view and purchase looks by established and up-and-coming designers with a focus on sustainable manufacturing processes and materials.
Not only is this a fashion show you won't want to miss …
The night will also be filled with amazing lucky draws, a special performance by Jolie Chan, as well as a goodie bags worth over $1,000!
The event is open to all and a dedicated coach will be available from Ocean Park MTR station should you wish to add this option to your registration.
When: April 26, (6.30pm – 10pm)
Where: The American Club, 28 Tai Tam Road, Tai Tam
Member Cost: $1,000
Guest Cost: $1,000
Check out this huge lineup of awesome designers:
Sera By Raashi 
At the Wong Chuk Hang workshop, Sera by Raashi is made locally using only natural fibers and lined with 100% silk. Sera by Raashi is consciously reviving the art of original handcrafted embroidery in each unique design, creating elegance that is accessible while simultaneously preserving local artistry.
Classics Anew 
100% Hong Kong in make and style, Classics Anew up-cycles collected fabrics to incorporate into unique fashion designs that celebrate and preserve the finest traditional local Chinese arts and handicrafts through timeless fashion designs.
Grace Fashion Company 
Top quality textiles are sourced from Italy, Japan and India, handpicked to bring baroque style into contemporary fashion in Grace Fashion Company's Hong Kong studio. Mostly handcrafted in India, handmade techniques are incorporated to elevate quality and artistry. GFC consciously employs only women to help support local women economically and improve their lives.
French Allure 
Infused with the artistic soul of Paris and the innovative heart of Hong Kong, French Allure seeks to provide women with access to high quality fashion at an accessible price point. The ethos of the brand is to consciously give back on every sale, through NGO, to protect women and children of Asia.
Rania Hatoum Bridal & Occasions 
Fibers extracted from the heart of 100% recycled pineapple and banana leaves are used to produce Pina or abaca silk for this distinctive line. Hatoum is not only environmentally conscious, but socially as well, providing women in the Philippines a way to make a living and have a voice in a male-dominated society.
Ranee_k 
Called the future classics of contemporary Oriental style, ranee_k Qipao designs consciously honor the past in refreshingly modern Eastern cutting and patterns to serve today's woman.
Bon Voyage HK 
Balinese inspired Bon Voyage resort wear sources sustainable fabrics from the region, and uses limited production runs to consciously create environmentally friendly designs. Rigorous fair trade standards ensure workers earn a living wage.
Heritage ReFashioned 
New life is breathed into these sustainable fashion clutches made from forsaken, forgotten and rejected vintage Japanese kimono textiles. Made in Hong Kong, Heritage ReFashioned consciously provides a living wage to the women who expertly use every scrap of vintage fabric that would otherwise become waste.
Emi & Eve
Emi & Eve jewelry is carefully hand crafted of pure brass from bombshells by Cambodian artisans, consciously providing sustainable livelihoods, reclaiming land from landmines, and in so doing contributing to freedom from fear.
Coy Collection 
The playfully designed scarves of Coy Collection are manufactured using eco-friendly digital printing techniques which consciously eliminate harsh chemicals, produce almost no water waste, and eliminate production line waste making it possible to affordably create limited edition designs.
La French Cut 
Designed and handmade in Hong Kong, La French Cut's custom-made shoes naturally avoid waste and consciously source recycled materials for refined one-of-a-kind and limited run shoes.
Modement 
Socially conscious Modement focuses on unisex wear; taking the best of men's and women's tailoring to design clothes that are modern and edgy. Minimal cutting creates great silhouettes that suit people of all shapes and sizes effortlessly.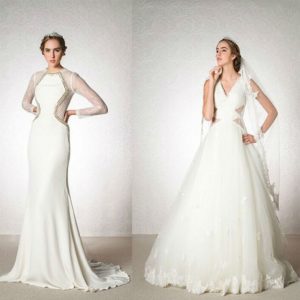 Emi&Eve, Rania Hatoum Bridal & Occasions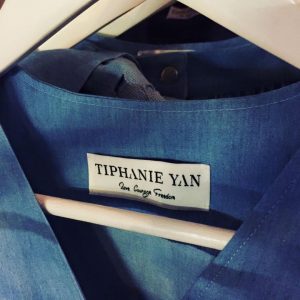 Tiphanie Yan, Sera by Raashi