What is Localiiz?
Since its launch in 2012, Localiiz has fast become one of Hong Kong's leading lifestyle websites for insight and information on our vibrant city. Through our multimedia platforms, we provide a comprehensive resource to help readers make the most out of living in Hong Kong.
We report on key Hong Kong happenings, provide local lifestyle guides and undiscovered stories about the hidden side of the 852, opinion pieces, quirky news articles, and more. Localiiz also provides an ever expanding directory to help our readers navigate the city. Why the strange spelling? Well, Localiiz is designed to be your 'local eyes'—and for that, you need two i's.
In 2018, we joined the Nexus Media family to continue our growth and expansion in Hong Kong. Formally Angloinfo Asia, Nexus Digital also owns and publishes My Life in Hong Kong. Don't miss out on our latest stories—follow us on Facebook, Twitter, Instagram, and LinkedIn to stay in the loop.
---
Editorial
Jen Paolini, Content Director
Born in Hong Kong, raised in Germany, and educated in the U.S., Jen is an award-winning creative whose background in illustration and communication design has led her to a career in art direction and content creation. When she's not getting lost in a good book, you'll find her doing crosswords, eating dim sum, covering both sides of a Disney duet, testing out zero waste tips and tricks, and taking naps.
---
Jenny Leung, Senior Editor
Born in Hong Kong and raised in the UK, Jenny grew up with the best of both worlds. She loves just about anything to do with music and doesn't shy away from belting out a tune or two when it comes to karaoke. If she's not out and about exploring the city and practising her photography skills, she's probably glued to her laptop shopping for the weirdest things she can find on Taobao.
---
Sales and Marketing
Stephanie Lown, Marketing Manager

Stephanie is extremely passionate about animal welfare and conservation. She found herself in marketing after moving to London to pursue a career in Film & TV, and ended up building her own startup to help connect other creative artists in the industry. When she's not at work, or taking her gorgeous pup Lola out for adventures, she can be found playing basketball at Victoria Park.
---
Tara Prakash, Business Development Manager 
Growing up, Tara moved around South-East Asia and eventually went to Los Angeles for university to study International Relations, Economics, and Business Administration. She decided to move back to Hong Kong – a city she has called home for nearly seven years – and loves being a part of the Localiiz team to bring readers the best of this vibrant city. She loves to explore the more tucked away parts of Hong Kong, boogey to some good tunes, and play games like mahjong and liar's dice.
---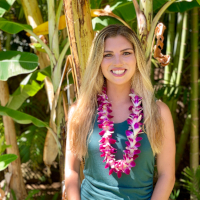 Sydney Campise, Business Development Manager
Having grown up in San Diego, Sydney is on a quest to find the best Mexican food here in Hong Kong! She enjoys an active lifestyle and is always looking for a creative way to get a workout in. She can stay on the beach for hours and not get bored, but her real guilty pleasures are pop culture and espresso martinis. She loves living in Asia, trying new restaurants, and is excited to be apart of a company that shows people how awesome Hong Kong is.
---
Corporate
Tak Man, Managing Director

Our charming, charismatic leader has a long history in advertising sales and has led teams in London, New York, and here in Hong Kong.
---
Barrie Goodridge, Director

Barrie is originally from the UK and has lived in Hong Kong and Asia since 1982. He has held senior positions in the media industry in Asia throughout his career, working with and managing some of the world's biggest media brands. He knows the Asian media industry inside out and, alongside his other business interests, brings his expertise to Localiiz on a daily basis.
---
Ivy Su, Finance Manager

Ivy brings bags of financial experience in the media representative and publishing industry to Localiiz. As a working mum, when she's not in the office, she enjoys taking her kids out and shopping online.
---
Fion Choi, Accountant

Fion enjoys working in the PR and media industry. When she's not crunching numbers or working on financial reports, you will find her in the kitchen baking up a storm of desserts, which she loves to share with others.
---
Lola, Office Mascot
Lola was rescued from the China meat trade and brought to Hong Kong by a kind lady who rescues dogs in Dongguan. When Lola isn't following anyone with food or enjoying head rubs, she is jumping, climbing gates, or hanging herself out of a car window, enjoying life in the city!
Follow Lola and her predecessor, Tigger, on her adventures @livin_da_vida_lola on Instagram.
---