If, like us, you have a weakness for Netflix and Deliveroo, and may have piled on a few extra pounds of late, then you might be looking for ways to get back into shape that don't necessarily mean slogging away at the gym. Luckily for us, Hong Kong has heaps of weird and wonderful fitness classes that promise to add some fun to your workout. From hula hooping to trampolining, and sexy dancing to flying yoga, there's plenty to float your bloat. So put down the remote, peel yourself off the sofa, and take advantage of our city's wacky exercise scene.
---
---
1. Stand Up Paddle (SUP) Yoga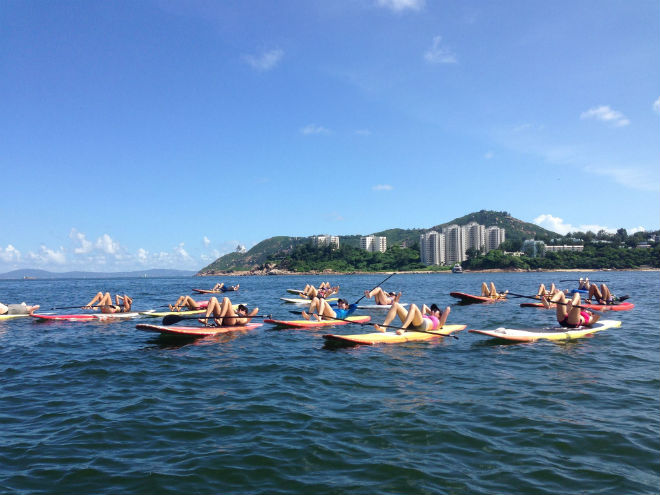 So you've mastered the cobra and downward facing dog in the studio, but can you nail it on a paddle board at sea? Now's your chance to find out, as Hong Kong's SUP Yoga brings you a summer of waterborne fun. Join your fellow yogis for some relaxing paddle board action in the picturesque surroundings of the South China Sea. Perfect for enhancing your flexibility, improving your balance, and toning those abs, this quirky sport has been a hit for years now with yogis who love the water and appreciate stretching it out in beautiful, natural surroundings. If mindfulness is what you're after, then give their SUP Meditation & Yin class a go, and enjoy a series of yin yoga stretches and 20-minute guided meditation. If you want to step it up a gear, however, then try their SUP Fitness class, an intensive workout that makes use of your body weight. Make sure you book well in advance though, as these exciting sessions fill up faster than you can say namaste!
SUP Yoga, visit their website and Facebook page for more information

---
2. Underwater Spinning

Spinning in your swimwear may seem like a crazy idea, but not at Hong Kong's first aqua fitness centre, Hydro 1.0. Dip your toe in the 8 x 20 foot hydro-spinning training pool and work up a sweat on their underwater bicycles and treadmills. So how does it work? Hydraulic pressure intensifies your muscular workout, whilst the buoyancy of the water relives tension on your joints, making this the perfect workout for toning muscles and increasing flexibility. Well, it's definitely shaking up the traditional breast stroke approach to working out in the pool. There are also three underwater cameras, meaning your coach can keep an eye on your underwater movements – so no slacking!
Hydro 1.0, Shop 6, Brilliant Court, 28 Praya, Kennedy Town, (+852) 9475 0737
---
Read more! Make a splash at The Coolest Outdoor Pools in Hong Kong
---
3. Stiletto Heels
Strut your stuff at Dance Trinity with sexy mover and stiletto heel pro, Milton (pictured). Posture, routines, catwalk styles – this hour and a half-long class is jam-packed with exciting exercises that not only tone your muscles, but ensure you leave the modern, Sheung Wan studio oozing confidence. Milton's vivacious personality and talent for dance draws out your inner diva and had us flicking our hair and flashing sultry looks around the room in no time! And boy does time fly when you start working those heels to the music. Just make sure you bring shoes with ankle straps or support. If you're looking for a Kowloon-side session, then you're in luck because Milton hosts a Heels Class at Studio Danz every Monday evening from 8.30pm to 10pm.
Dance Trinity, 8/F, Fung Woo Centre, 279 – 281 Des Voeux Road Central, Sheung Wan, (+852) 9634 9770
Studio Danz, Workshop B, 5/F, Tontex Industrial Building, 2-4 Sheung Hei Street, San Po Kong, (+852) 2332 8006
---
Read more! Shake your tail feather at Hong Kong's Best Dance Classes
---
3. Hula Hooping
Hula hoop your way to health and happiness with Hong Kong's first hooping company, Turning Circles. Strengthening your core, toning your arms, and developing strong, slender shoulders, this alternative al fresco workout is now a popular sport in Hong Kong thanks to hula hooping heroine, Emma Brown. Under her guidance, you will begin by mastering the art of whipping hoops from your waist up to one hand, before pulling all sorts of impressive stunts that look amazing on camera! Classes and courses are held in Tamar Park, or under the cover of Pier 10 if the weather is protesting. And if you're on the lookout for an alternative celebration, whether it's a hen do, kids' party, or a grown-up birthday bash, then a private hooping session is sure to get the fun flowing.
Turning Circles, Tamar Park, (+852) 5324 7473
---
Read more! Discover 5 Ways to Get in Shape this Summer
---
5. Aerial Yoga
From waterborne to airborne, the possibilities are endless when it comes to yoga. Tried and tested by our editorial team, the Aerial Yoga class is both a workout and an experience. With the lights dimmed and the smell of incense hanging in the air, we were guided through a range of floor exercises and stretches using our hammocks as a support, before guiding us into fully airborne positions. Soon enough we were hanging upside down like a couple of bats, although getting back up proved to be a lot less graceful! Elegance definitely comes with practice. Aerial yoga is a growing trend across the city, with classes in mainstream gyms such as Fitness First, as well as specialist centres such as Aerial Arts Academy and Bodywize. So, if you're keen to give it a go, there are plenty of places to get your skills off the ground.
Aerial Arts Academy, click here for locations, (+852) 2375 8088
Bodywize, 3F, Cubus, No 1 Hoi Ping Road, Causeway Bay, (+852) 2838 5686
Fitness First, click here for locations, (+852) 2525 2900

---
Read more! Check out these 8 Drop-in Yoga Classes in Hong Kong

---
6. Trampolining
If a sweaty session at the gym doesn't float your boat, then why not take your workout to a whole new level at one of Hong Kong's popular trampoline parks. Here you will get to unleash your inner child and let loose as you bounce your way to fitness in these spring-loaded urban playgrounds, which feature between 40 and 100 trampolines, and burn up to 1,000 calories per hour – that's double your average spinning class by the way! With various fitness workouts scheduled at BounceLimit each week, and an hour-long RyzeFit class held every Wednesday night at Ryze Ultimate Trampoline Park (pictured above), you really are spoiled for choice when it comes to picking your adrenaline-pumping workout.
BounceLimit, 13/F 22-26 Bonham Strand, Sheung Wan, (+852) 2441 0021
Ryze Ultimate Trampoline Park, 3/F, 321 Java Road, Quarry Bay, (+852) 2337 8191
---
7. Handstands
Flip your workout on its head and join one of the multiple handstand classes and workshops on offer around the city. The art of controlled handstands are making somewhat of a comeback in our yoga-obsessed city, and no wonder. Whether you sign up for a private session with handstand expert, Andres Vesga, or join one of his group sessions at Pure Fitness, you will emerge with a killer core, upper body strength, and serious balance skills – not to mention an awesome party trick. You've seen the clips of Usher, Janet, and Missy, well now it's your time to get the same funky moves with full-on dance sequences that will make you feel like the hottest booty on the block. So what are you waiting for? Get ready to turn your world upside down – in a good way!
Pure Fitness, click here for locations, (+852) 8129 8000
---
8. Bubble Football
Who said football was boring? What could be more fun than climbing inside a giant, inflatable bubble and wreaking havoc in a huge open arena? Bubble football is not only a great workout for your legs, it's undeniably hilarious too, and the teams at Crossfire Arena and Bubble Football have plenty of games on offer to get you (quite literally) bouncing off the walls! And if running around inside a giant bubble isn't wacky enough for you, then try turning off the lights and seeing how well you fare in the dark. With a huge, neon ball, heart-pounding music, and dazzling laser lights flashing around the arena, this really is a whole other ball game. They even offer different event packages too, should you have a birthday or stag/hen do coming up anytime soon.
Crossfire Arena (pictured above), 13D, Wah Ha Building, 8 Shipyard Lane, Quarry Bay, (+852) 9378 1875
Bubble Football, 6/F, Grande Building, 398-402 Kwun Tong Road, Kwun Tong, (+852) 9666 0869
---
Read more! Check out the 4 Best Night Hikes On Hong Kong Island or All You Need to Know About Sport Cycling in Hong Kong.