You can always count on Hong Kong to come up with weird and wonderful things to do when life becomes a little stale. Always keen to try something new, we did the rounds to find you the coolest (and craziest) novelty activities around town. So next time you are feeling uninspired and stuck in the same routine, just try out one of these.
---
Set Fire to a Bar

Why sit at the bar when you can get behind it and make that Coyote Ugly fantasy come true? That's right, the brave bartenders at Honi Honi are inviting you to try your hand at whipping up a Polynesian storm in a glass at their new Tiki Ladies Cocktail Club.
Grab your girlfriends for a 90-minute session with award-winning barman Stephane, who will guide you in making your very own concoctions. Shake and stir the night away and learn the tricks of the trade as you create the perfect Mojito, and a cocktail of your choice (flame torch optional). This fiery adventure requires a maximum of 10 people per class, which makes it a winner for birthday or bachelorette parties.
Little Tip: Turn the heat up a few notches and pick a cocktail that requires a flame torch to create. Where else would you get to set fire to a bar?
When: Available daily from 7pm – 9pm
Where: Honi Honi, 3/F Sompteux Central, 52 Wellington Street, Central
How much: $250 per person (includes the class and 2 cocktails)
Book: Email info@honihonibar.com to make your reservation.
---
Dine in the Dark
What could be more of a novelty than ditching your go-to restaurant and eating in complete darkness? Tuck into a delicious three to five-course dinner and sharpen your sense of taste, smell, and touch as you dine at Hong Kong's mysterious and intriguing Alchemy in the Dark. With a strict "no mobile phones" and "no light pollution" policy, this quirky venue offers you a totally unique dining experience that you will never forget.
Let one of Alchemy's visually impaired waiters (or 'guides') escort you through the dark doorway to your table where the adventure begins. All dishes are prepared by French Chef, Pascal Breant who hails from Paris's Michelin Star restaurant scene (so yes, you can trust him!) and the best part is you don't get to choose them. Rather than select from a menu, Breant will craft each course and your friendly guide will explain how it is arranged. The menu remains a secret until the end of the meal, which means that you and your dinner date get to have loads of fun guessing what you are eating!
Little Tip: Apart from the obvious advice (do NOT wear white), try ditching your cutlery and eating with your hands – half the fun is trying to guess what each bite is by feeling it. Also make sure you take a chatty companion with you because nothing is more awkward than sitting in silence – in a black abyss!
When: Open Tuesday to Saturday (7pm – 11pm)
Where: Alchemy in the Dark, LG/F, 16 Arbuthnot Road, Central
How much: Per person $500 (3-course) $580 (4-course) $650 (5-course)
Book: Call (+852) 6821 2801 to make a reservation.

---
Play Soccer in a Bubble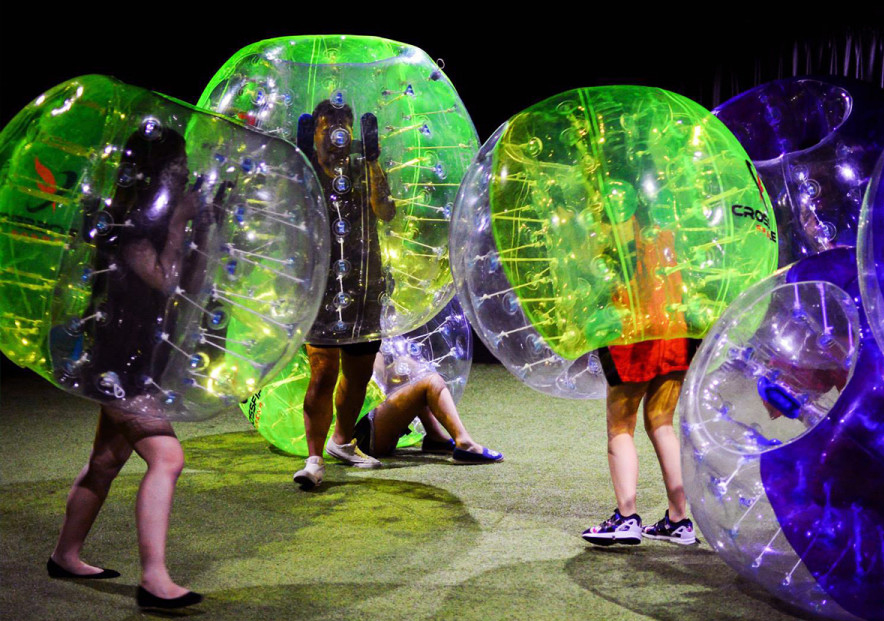 What could be more fun than climbing inside a giant, inflatable bubble and wreaking havoc in a 4,000 square-foot arena? Head to Crossfire Arena, bubble up, and let the madness begin as you bump and crash your way to victory in this quirky team sport. Each session lasts around 1.5 hours and includes around eight different games to get you bouncing off the walls – quite literally!
The bubbles come in three different sizes so all players can find the perfect fit, and there's also the option to dim the lights for a neon adventure. With party bookings available (where you can bring your own food and drink) and a large lounge area to relax in between games, this venue is perfect for large groups. Just make sure you hide the Xbox from the boys!
Little Tip: Be brave and combine Bubble Soccer with a game of Archery Tag to really get the adrenaline pumping. We tried it and escaped with zero casualties!
When: Open Monday to Saturday (7pm – 11pm)
Where: Crossfire Arena, 13D, Wah Ha Building, 8 Shipyard Lane, Quarry Bay (Tai Koo MTR Exit A1, 1 minute walk)
How much: Sports Package – $2,988 for 8 – 20 people (1.5 hours)
Party Package – $6,976 for up to 40 people (3 hours)
Book: Call (+852) 9378 1875 to make a reservation.

---
Get That Hollywood Smile
We can't help thinking that the Swedish designers behind The Smile Bar were avid Star Wars fans. Thanks to this quirky new on-the-go teeth whitening service, you can now get that dazzling Hollywood smile in only 20 minutes. Simple hop inside one of their egg-shaped pods and let their special whitening gel and LED plasma light work their magic to give you pearly whites.
Before you get going, the bar's friendly 'smiletenders', will guide you through a pre-whitening teeth assessment using a teeth shade guide and explain the process. Then it's time to kick back and relax as your chompers turn two to nine shades whiter. You should see immediate visible effects after the treatment, and for an additional cost, you can get a Nano Seal (think nail polish for teeth) which protects your fangs against discolouring from food and drink. Quick, safe, painless, and affordable!
Little Tip: Ask the smiletender to borrow one of the bar's iPads and set of headphones to keep you entertained while you sit in your pod.
EXCLUSIVE LOCALIIZ OFFER:
Localiiz readers get a 15% discount on their first visit to The Smile Bar throughout the month of December. Simply quote the code LOCALIIZ when you book over the phone.
When: Open daily from 10am to 10pm
Where: The Smile Bar, 1/F Hang Wai Commerical Building, 231-233 Queen's Road East, Wan Chai
How much: $588 – $1,388 (three different packages available)
Book: Call (+852) 2620 0615 to make a reservation.

---
Have an Ostrich Egg Facial
Yes, you did read that right. Clever scientists in Japan have discovered the secret to flawless skin, and it lies within our feathered friend. Here comes the science… An ostrich has one of the most advanced immune systems known to mankind, and injecting the bacteria which causes skin eczema, dermatitis, dehydration, and pre-mature aging into an ostrich egg creates antibodies which can be extracted and added to skincare products to prevent these woes.
Lucky for us, the range of products, Rehydrater La Peau by Zeal Cosmetics, are now available to buy in Hong Kong and can be found at award-wining spa Sense of Touch. The spa uses the products for its Vital Skin Health Facial and Hydra Age Defense Facial, so you can kick back and relax as your skin gets a natural boost.
Little Tip: Pick up a bottle of the All in One Moist Serum and the Three Way Cleaning and Wash to keep your skin spotless and glowing long after your facial. Over 250,000 bottles of the serum were sold in 2014 and it's not hard to see why. I've been using this product every day for over a month and my skin has never felt so silky!
EXCLUSIVE LOCALIIZ OFFER:
Hydra Age Defense Facial (75 mins) – Special trial price: $880 (original price $980)
Vital Skin Health Facial (75 mins) – Special trial price: $880 (original price $980)
Special 15% off product purchases

When: Opening hours vary. Click here more more information.
Where: Sense of Touch (available at the spas in Lan Kwai Fong, Repulse Bay, Discovery Bay, Central, and Tseung Kwan O). Click here for location details.
How much: Hydra Age Defense Facial – $780 (60 minutes) or $980 (75 minutes)
Vital Skin Health Facial $780 (60 minutes) or $980 (75 minutes)
Book: Visit the website for contact numbers to make a reservation.

---
Find a new adventure! Read our roundup of 5 Action Packed Things to Do in Rainy Hong Kong, or 15 Free Activities. Enjoy!