They say that "when it rains, it pours", and that sure seems to be the case in Hong Kong. But luckily for us, we have loads of fun indoor entertainment to keep us occupied on those dark and drizzly days. So we say find the silver lining in those grumpy, grey clouds and try out one of these exciting activities.
---
---
1. Jump Around
You don't need sunshine to make you feel high when you can fly through the air and bounce off the walls at Hong Kong's awesome trampoline park Ryze Ultimate Trampoline Park. Add a spring in your step and dare to conquer the Ultimate Ninja Course (pictured above) or become a "Circus Extraordinaire" on the trapeze. If not, you can simply fling yourself through the air into the giant Foam Pit – you know you'll always have a soft landing! Alternatively, let off some steam at the newly opened SuperPark, which invites Hong Kongers of all ages to let loose in three separate fun areas within a 45,000 square-foot space. Park goers can jump on the Flying Fox and Sliding Mountains climbing wall in the Adventure Area, or enjoy a game of Street Basketball or SuperPinball in the Game Arena. Older kids and teens will no doubt enjoy exploring the Freestyle Hall where they can test their skills in the Skate and Scoot World, bounce on a giant Trampoline Platform, or tackle an Augmented Climbing Wall.
Ryze Ultimate Trampoline Park, 3/F, 321 Java Road, Quarry Bay, (+852) 2337 8191
How much: Prices start at $150 per person for one-hour sessions
SuperPark, Shop G03, G/F One SilverSea, No 18 Hoi Fai Road, Kowloon, (near Olympian City)
How much: Day pass ticket costs $180 on weekdays and $240 on weekends (includes all equipment rental)

---
2. Burn Some Rubber
Escape the drizzle and seek shelter at Hong Kong's premier virtual racing centre, Sideways Driving Club. With 15 networked simulators, designed to let you experience what it feels like to be in a real race car on the circuit, this hidden gem has more thrills and high-speed action than you can shake a brolly at. Why not become a Formula One champion or, if you're feeling really competitive, race your friends against the clock? Turn off your Playstation or Xbox and get yourself down there.
Sideways Driving Club, 1/F, 65 – 65A Peel Street, Central, (+852) 2523 0983
How much: Prices start from $300 per hour, but make sure you book ahead.

---
3. Battle With Lasers
Why stay cooped up on the couch watching sci-fi movies when you can recreate your own at Hong Kong's first spaceship themed laser tag station, Lasermads? With dramatic music blaring out across the space station, epic laser sound effects, and two weapons of choice to play with (the Blaster or Phaser), you're sure to get the adrenaline pumping and the competition fired up. Let your imagination run wild as you duck, dive, and zap your friends (or enemies) with the most advanced laser equipment and systems this planet has to offer.
Lasermads, 11/F Ying Kong Mansion, 2–6 Yee Wo Street, Causeway Bay, (+852) 2343 3033
How much: Each game lasts 30 minutes and costs $118 per person (min 8 players, max 30)

---
4. Go Art Jamming
Are you a budding artist just dying to get creative and show off your artistic side? If so, why not spend a rainy day at one of Hong Kong's quirky art studios? Head to charming and cosy boutique painting studio, Ka Atelier, and enjoy a 2.5-hour workshop in either teapot painting or bottle art with the studio's artist herself, Carole Leung. Alternatively, head to Messy Jam in Sheung Wan (pictured) or Causeway Bay studios Paint Palette or AURA ART. Choose a canvas of your preferred size, grab all the acrylic paints you need, and enjoy complimentary soft drinks to keep your creative juices flowing. If you fancy something a little stronger (champagne darling?), then both venues allow you to bring your own alcoholic drinks, and they'll even let you play your own music.
KA Atelier, 2D, Moonstar Court, 2A – 2G Star Street, Wan Chai, (+852) 3484 2919
How much: Bottle Art Workshop costs $280 / Teapot Painting Workshop costs $325 (call at least 2 hours in advance on the day to see if there is an available slot)
Messy Jam, Flat D, 2/F, Tai Fat Building, 37 Ko Shing Street, Sheung Wan, (852) 9366 9836
How much: $600 for 1 adult and 1 child (2 hour session) and other packages are available
Paint Palette, 3/F, 532 Jaffe Road, Causeway Bay, (+852) 2575 8830
How much: $220 per person (from Monday to Thursday) and $280 (Friday to Sunday and public holidays)
AURA ART, 2/F, 18 Matheson Street, Causeway Bay, (+852) 2886 2359
How much: $210 per person
---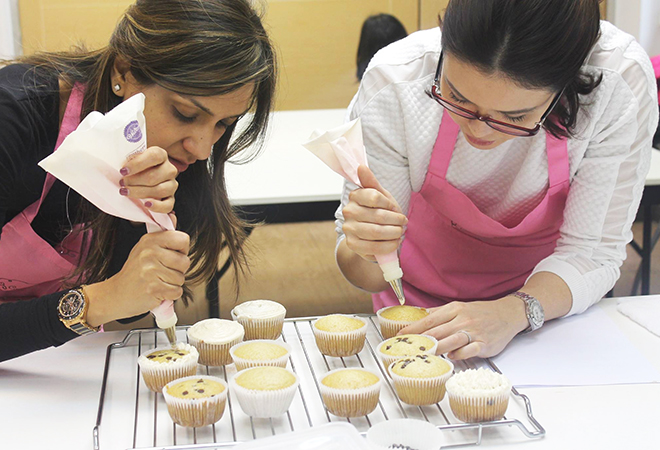 5. Bake a Cake
Unleash your domestic goddess (or god) at one of the city's top bakery schools. Whip up some gorgeous cupcakes, masker the skill of creating beautiful floral decorations with icing, or create your very own couture handbag cake (yes, you read that right), with the sweet treat maestros at Complete Deelite. There are several workshops to choose from which cater to both adults and kids, so you can bring your little ones along too. Alternatively, head to The Mixing Bowl and bring out the baker in you with enjoyable classes in bread making and traditional Hong Kong goodies.
Complete Deelite, 2/F, On Lan Centre, On Lan Centre, Central, (+852) 3167 7022
How much: $650 per workshop (member $620)
The Mixing Bowl, 23/F, The Pemberton, 22-26 Bonham Strand, Sheung Wan, (+852) 2524 0001
How much: Classes vary from $400 to $700 per person
---

6. Enter Virtual Reality
Escape reality completely at Zero Latency, Hong Kong's latest multiplayer virtual reality gaming centre. The centre uses state-of-the-art wireless technology and motion tracking to take players into the next level of social gaming. Equipped with VR headsets, headphones, military-style backpacks, and weapons, players get to talk, strategise, call for help, and banter while battling zombies, robots, and drones. There are currently a choice of four games on offer: Engineerium, set in a fantasy, ancient alien world; Singularity, a galaxy space mission full of drones and droids to shoot down; Zombie Survival, a heart-racing zombie attack scenario; and Sol Raiders, a competitive virtual reality game set against three futuristic maps. Although the graphics are very much computer game rather than real life, once you're playing, you're quickly immersed and it's easy to forget where you really are. And having tried it ourselves, we can confirm that this is more than enough to tire you out.
Zero Latency, Unit ABC, 11/F, Montery Plaza, 15 Chong Yip Street, Kwun Tong, Kowloon, (+852) 2762 0108
---
7. Break Free
Harry Houdini broke out of a suspended straitjacket, David Copperfield escaped from an exploding building, but have you got what it takes to mastermind your own perfect escape? Find out at Hong Kong's first ever real-life room escape centre, Freeing HK. Throw yourself into a mysterious world of intrigue, puzzles, and codes as you engineer an escape in a tight race against the clock. Can you wake yourself up from the Horror Dream, escape from the traps of The Lost Chamber, or find the missing informer in The Prison Chaos – all in under 45 minutes? There's only one way to find out!
Freeing HK, Causeway Bay – 10/F, Richmond Plaza, 496 Jaffe Road, (+852) 2711 1791 / Mong Kok – 4/F, Pakpolee Commercial Center, 1A – 1K Sai Yeung Choi Street South, (+852) 2711 1785
How much: Games start from $98 per person and require 4 or 6 players
---
8. Visit a Museum
With 19 Leisure and Cultural Services Department (LCSD) museums to explore, you're certainly not short of educational activities to enjoy when the heavens have opened. Aside from favourites such as the Hong Kong Museum of History, Hong Kong Heritage Museum, and Hong Kong Science Museum, there are some excellent niche museums which cater to all sorts of interests. Perhaps you fancy traveling back to 1910 to see the Tai Po train station as it once stood at the Hong Kong Railway Museum, or having a totally mind-opening experience at Dialogue in the Dark (pictured) where you will discover first-hand what it's like to live as a blind person with the help of a guide and a walking cane. If it happens to be raining on a Wednesday then even better, as many of Hong Kong's museums open their doors for free.
Dialogue in the Dark
, Shop 215, 2/F, Nob Hill Square, 8 King Lai Path, Mei Foo

, Kowloon,

(+852)

2

310 0833


How much: 

Tickets cost $160 – $180 for adults, and $80 – $90 for senior citizens


Hong Kong Railway Museum, 13 Shung Tak Street, Tai Po Market, Tai Po, (+852) 2653 3455
How much: Free admission 
---
Read more! Discover Hong Kong's Top 5 Niche Museums
---
9. Go Bowling
When the rain is falling the alley is calling! Get competitive on the lanes at Hong Kong's coolest bowling alley, Tikitiki Bowling Bar. This surprisingly spacious Sai Kung venue is like a world of it's own and absolutely perfect for a rainy day. Slip on your bowling shoes and bowl your way to victory under the flashing lights of the impressive video wall. Hitting all those strikes is hungry work, but luckily there are small bites and gourmet restaurant spreads to tuck into. There are also tonnes of family-friendly deals and packages to choose from, with an hour on the lanes setting you back as little as $100 per hour!
Tikitiki Bowling Bar, 4/F, Centro, 1A Chui Tong Road, Sai Kung, (+852) 2657 8488
How much: Standard prices start at $300 per hour (plus $10 per person for shoe rental); Packages start at $100 per hour
---
10. Play Bubble Soccer
You'll soon forget the rain when you're climbing inside a giant, inflatable bubble and wreaking havoc in a 4,000 square-foot arena. Bubble up and let the madness begin as you and your buddies bump and crash your way to victory in the quirky Crossfire Arena. Each session lasts around 1.5 hours and includes around eight different games to get you (quite literally) bouncing off the walls! The bubbles come in three different sizes so everyone can find the perfect fit, and there's also the option to dim the lights for a neon adventure. With party bookings available (where you can bring your own food and drink) and a large lounge area to relax in between games, this is the perfect rainy day activity. And if you're feeling brave, then why not combine Bubble Soccer with a game of Archery Tag to really get the adrenaline pumping?
Crossfire Arena, 13D, Wah Ha Building, 8 Shipyard Lane, Quarry Bay, (+852) 5808 9681
How much: Sports Package – $2,988 for 8 – 20 people (1.5 hours)
Party Package – $6,976 for up to 40 people (3 hours)
---
11. Get Lost in Disney
It may be raining outside, but inside is where the magic happens! Jump on a magic flying carpet with Aladdin, ride in a pumpkin carriage to meet Prince Charming, and chase Princess Anna and Elsa down the snowy slopes at Hong Kong's first Disney-themed 4D photo studio, Magical World. Featuring 12 cartoon zones and 70 photography spots, the 10,000-square-foot studio mixes paintings, statues, props, lighting effects, and even smells, to create a magical experience for guests. Whether you want to share a pot of honey with Winnie the Pooh in the 'Disney Classic Characters' zone, join Olaf in a giant snow globe in the 'Frozen' zone, or battle it out with Darth Vader in the 'Star Wars' zone, you're sure to have a blast!
Magical World, 1F, Hilton Place, 96 Granville Road, Tsim Sha Tsui East, Kowloon, (+852) 2721 9318
How much: $168 for adults and $120 for kids and senior citizens
---
Read more! Check out our full review of Magical World
---
12. Visit a Themed Cafe
Whether you're an animal lover, board game geek, or mad about Harry Potter, you are quite literally spoiled for choice when it comes to novelty cafes in Hong Kong. If you want to while away a rainy afternoon with some furry companions, then head to Cat Store Cafe or Rabbitland Cafe. If you love cartoons, then you'll appreciate the character themed drinks and nibbles on offer at the Hello Kitty Secret Garden and Charlie Brown Cafe. Fans of J.K. Rowling's wizarding world will no doubt be spellbound by the magical potions, props, and memorabilia on offer at 9¾ Cafe. Or perhaps you love nothing more than getting stuck into a game of Monopoly, in which case you'll enjoy the huge selection of board games on the shelves at Jolly Thinkers. It's game on in Hong Kong!
Cat Store Cafe, 3D Po Ming Building, Foo Ming Street, Causeway Bay, Hong Kong, (+852) 2710 9953
Rabbitland Cafe, 3/F, 530 Jaffe Road, Causeway Bay, (+852) 5281 0280
Hello Kitty Secret Garden, 19 Ormsby Street, Tai Hang, (+852) 2808 2868
Charlie Brown Cafe, G/F-1/F, Fortuna House, 58-60 Granville Road, Tsim Sha Tsui, Kowloon, (+852) 2366 6315
9¾ Cafe, 4/F, Prosper Commercial Building, 9 Yin Chong Street, Mong Kok, (+852) 9432 6555
Jolly Thinkers, 11/F Bayfield Building, 99 Hennessy Road, Wan Chai, (+852) 2527 2882
---
Read more! Discover more about Hong Kong's Top 10 Themed Cafes
---
13. Kill Some Zombies
Unleash your inner Rambo and eliminate your enemies in a 10,000-square-foot playing field scattered with towers, bridges, and oil barrels at Paintball Headquarters. With a variety of light, sound, and smoke effects to create various moods and atmospheres, you're guaranteed non-stop excitement from start to finish. There are ten games to choose from – will you play the villain in 'Sniper' and 'Terminator', or be the hero in 'Save the President' and 'Kill the Zombies'? Grab your headband – this means war!
Paintball Headquarters, Unit No. 2-3, G/F Po Lung Centre, 11 Wang Chiu Road, Kowloon Bay, (+852) 3106 0220
How much: Games cost $280 per person and group bookings are available (min 10 players, max 60)
---
14. Have Afternoon Tea
There's nothing quite like whiling away the afternoon with your friends over a lovely cup of tea in the cosy indoors – especially when you're in luxury surroundings. Afternoon tea will never go out of style in Hong Kong, and it's hardly surprising with so many delicious offers around the city. For the quintessentially English experience, head to the iconic Lobby at The Peninsula and delve into a tower of savoury, sweet, and creamy delights (not to mention a glass of bubbly if you're feeling cheeky). Alternatively, relax in the elegant Lobby Lounge of the Island Shangri-La and enjoy the view of the hotel's tropical gardens and ancient Banyan Tree as you sip on your teacup. You can even take your cuppa to dazzling new heights and enjoy stunning views of Victoria Harbour at Café Gray Deluxe. Check out more amazing afternoon tea spots here.
The Peninsula, Salisbury Road, Tsim Sha Tsui, (+852) 2696 6772
How much: $658 for two
Island Shangri-La, 6/F Island Shangri-La, Pacific Place, Supreme Court Road, Central, (+852) 2877 3838 
How much: $538 for two
Café Gray Deluxe, Level 49, The Upper House, Pacific Place, 88 Queensway, Admiralty, (+852) 3968 1106
How much: $395 for two

---
15. Hit Up Happy Hour
Sometimes you just fancy catching up with your buddies over a drink or three, and luckily Hong Kong is overflowing with amazing happy hours deals to keep us smiling on those rainy days. From buy-on-get-one-frees (BOGOFs) to all-you-can-drink (and eat if you're lucky), there are deals to satisfy all tastes – and wallets. And the good news is there's one on offer every single day of the week at some generous venues such as Mahalo Tiki Lounge, Rúla Búla, Scarlett Café & Wine Bar, and Cicada. Going one step further is popular Vietnamese restaurant Chôm Chôm with it's "When it rains, we pour" motto – order a bottle of wine while it's raining outside and you can enjoy 50 percent off! Cheers to that!
---
Read more! Explore our Family section on Localiiz.
Subscribe to receive our weekly newsletter