Calling all art lovers! Prepare to be spoilt for choice this September as Hong Kong's art scene brings us a storm of local and international talent to enjoy this month. If you don't know where to begin, don't worry – we've put together a list of must-see exhibitions to help get your artistic juices flowing. Better mark these dates in your diary!
---
---
1. MARK6 Pop-up Exhibition Opening

Before you start imagining how old lottery tickets can make up an art exhibition, let us put your minds at ease. When the Chinese word for Mark 6 is broken down individually, it stands to mean – six, together, and colour, which is exactly what this exhibition is all about. Featuring six local artists who will be letting their creative minds flow through the walls, floors, and ceilings of the art space at Yat Fu Lane, the masterpieces will come together and create a refreshingly hip micro-environment for all spectators. It's graffiti at its best.
When: September 7, (6pm – 10pm)
Where: Yat Fu Lane, 554 – 560 Queen's Road West, Shek Tong Tsui
How much: Free admission
Click here for more information
2. Art in the Bar
Art and drinking? Yep, that's right – for one night only CoBo Social will be taking over 11 of the city's hottest bars for a night of special promotions, live performances, and most importantly, screenings of the latest and most cutting-edge video art from over 18 different Asian artists. To participate in this magical evening, simply check-in on Facebook with the unique event ID at any of the event's partner bars, then just sit back, drink up, and discover what the world of video art has to offer.
When: September 14, (from 6pm onwards)
Where: locations vary
How much: Free admission
Click here for more information
3. Life is Art Pop-up Cinema
Inject your mundane workdays with a touch of creativity at Artistree this autumn in celebration of the brand new opening of Cityplaza's MOViE MOViE cinema. Whether you want to make your lunch hour more meaningful with a documentary, or end your work day with a fun animation, hurry and get your free access to the screenings via Taikoo Social. The first 100 guests can get a free MOViE MOViE Membership with complimentary Broadway Circuit tickets too.
When: Until September 15, (1pm on Tuesday & Friday) / (6.30pm on Wednesday & Thursday)
Where: ArtisTree, 1/F Cambridge House, Taikoo Place
How much: Free admission
Click here for more information
4. HKFOREWORLD17
Back for its 6th edition, the annual HKFOREWORD17 exhibition presents artworks by ten different Hong Kong art graduates. Organised by 10 Chancery Lane Gallery, the event aims to promote and encourage contemporary artists of the new generation to the local art scene. Showcasing a wide array of creations from mixed medias to sculpture installations, the exhibition will be a collection of the freshest young creative minds of Hong Kong.
When: Until September 16, (Tuesday to Saturday, 10am – 6pm)
Where: G/F, 10 Chancery Lane, SoHo, Central
How much: Free admission
Click here for more information
5. First Smash 4 Art Exhibition
Presented by Art Experience Foundation, which serves as a platform to open doors for young and developing artists, the First Smash 4 exhibition will be featuring five emerging local artists who through their artwork, offer a creative dialogue on their cultures and identities. The exhibition is especially unique due to the use of rare mediums such as hand-carved movable type woodblock, archival installation, and anthotype (creating images using plant-based photosensitive materials).
When: Until September 23, (Monday to Saturday, 11am – 6pm)
Where: Art Experience Gallery, Room 2009, 20/F, Cable TV Tower, 9 Hoi Shing Road, Tsuen Wan
How Much: Free admission
Click here for more information
6. Asia Contemporary Art Show: Fall 2017 Edition
With a Spring edition and Fall edition occurring annually, the Asia Contemporary Art Show is the only art fair in Hong Kong that takes place twice a year. The show presents works by artists from over 20 countries around the world such as South Korea, the Philippines, and Japan. Art-lovers will also be excited to hear that the fair's reoccurring Artist Dialogues section will be dedicating a whole floor for guests to meet and engage with emerging talents as well as well-established artists. If you're looking to purchase a few art collectables yourself, this exhibition is the place to be!
When: September 22, (1.30pm – 5.30pm) / September 23, (1.30pm – 9.30pm) / September 24, (11am – 6pm)
Where: Conrad Hong Kong, One Pacific Place, 88 Queensway, Admiralty
How Much: $240 (2-for-1 offer if purchased online)
Click here for more information
7. Fine Art Asia 2017
If you're a lover of fine art then you're in for a real treat. Spanning over 5,000 years of cultural history through museum-quality artworks, Fine Art Asia is renowned for showcasing some of Asia's most exquisite arts and antiques. Covering everything from antique silvers and jewellery, to modern impressionist art and photography, the show provides a unique opportunity for art enthusiasts to view and acquire masterpieces from a wide range of stunning collectables from both East and West. Register now for your tickets to round off your artsy month at this year's Fine Art Asia fair.
When: September 30 – October 2, (11am – 7pm) / October 3 (11am – 6pm)
Where: Hong Kong Convention and Exhibition Centre, 1 Expo Drive, Wanchai
How much: Register here for complimentary tickets
Click here for more information
8. Tycoon Tann x Samantha Li
Celebrating the roots of Hong Kong's culture through dining and art, Tycoon Tann's art programme will be exhibiting local artist Samantha Li's art works down at their restaurant until the end of October. Guests can purchase any of Samantha's pieces on display, but if you're not exactly an art collector, you can always feast you eyes (and stomach) on some of the Samantha-inspired desserts and cocktails that promises to bring culinary art to a whole new level.
When: Until October 31, (Lunch at 11.30am – 3pm / Dinner at 6pm – 11.30pm)
Where: 74 Wellington Street, Central
How much: Free admission
Click here for more information
9. Wang Gongxin: Rotation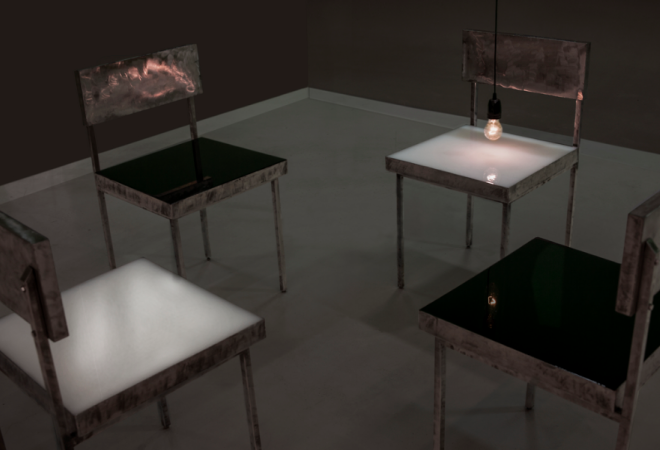 Presented by White Cube Hong Kong, the Rotation exhibition will be multimedia artist Wang Gongxin's first ever solo exhibition in Hong Kong. Beginning his career as a painter before moving on to become a pioneering media artist, the exhibition will present some of the artist's earliest installation works, as well as three new works exclusively created for the exhibition. If you miss out on this one, we can't promise there will be another chance to see Wang's rare and unique work anytime soon!
When: September 6 – November 11, (Tuesday to Saturday, 11am – 7pm)
Where: White Cube Hong Kong, 50 Connaught Road, Central
How much: Free admission
Click here for more information
10. Tale of the Wonderland
Tale of the Wonderland is a collective narrative of twenty years of post-colonial Hong Kong told through eight different artists using a mixture of artworks, installations, and performances. Borrowing from the framework of Alice in the Wonderland, the exhibition tells a story of facing uncertain futures, collisions of beliefs and reality, and the pursuit of identity. Set your brains in motion folks, this one's a thinker.
When: September 19 – November 11, (Tuesday to Saturday, 10am – 6pm)
Where: Blindspot Gallery, 15/F, Po Chai Industrial Building, 28 Wong Chuk Hang Road, Wong Chuk Hang
How much: Free admission
Click here for more information
---
Read more! Take a Peek inside Audrey Hepburn's Wardrobe, or explore our Art and Culture section.