Looking to kick the junk food and eat clean? Lucky, Hong Kong is blessed with a plethora of restaurants catering to our every need, whether we've vegetarian, vegan, or on a strict low-carb diet. From casual eateries to more sophisticated locales, we share our ten favourite healthy eating spots around the city. Bon appétit!
---
---
1. Grassroots Pantry 

The bright, Scandinavian minimalism of Grassroots Pantry gives this venue a clean-eating atmosphere in which to enjoy breakfast, lunch, dinner — and everything in-between. From Thai and Indian inspired curries to vegetable stir-fries and kelp noodle salads, this healthy eating hub boasts a truly delectable menu, so deciding which dish to try from the jam-packed selection might be your biggest problem. If you have a sweet tooth, you'll be pleased to know they offer a selection of gluten-free and vegan desserts which come guilt free too.
Grassroots Pantry, 108 Hollywood Road, Sheung Wan, (+852) 2873 3353
---
2. MANA! Fast Slow Food
Vegetarian, vegan, gluten-free, organic – you name it, MANA! ticks all the boxes. This environmentally friendly oasis of deliciously healthy living is a go-to for clean eaters who aren't willing to scrimp on flavour. From Signature Flatbreads and Raw Bowls full of wholesome ingredients, to heartier mains such as the Babylon! Burger or Yams & Dips, the tasty menu allows you to feast on organic plant-based treats without any guilt. There are some pretty appealing drinks on offer too, including the Earth Juice and Babylon Shake which are ideal for a much-needed detox.

MANA! Fast Slow Food, 92 Wellington Street, Central, (+852) 2851 1611
MANA! Cafe, 8 Tai On Terrace, Poho, Sheung Wan, (+852) 2347 8555
---
3. Maison Libanaise
Good Lebanese food is hard to find in Hong Kong, but the Black Sheep boys have struck gold with this three-storey gem off the escalator in SoHo. Serving up a selection of healthy Middle-Eastern dips, mezzes, salads, grilled fish, and meat skewers, the restaurants is a popular spot at lunch and dinner time, where health-conscious Hong Kongers line up for their wraps and salad bowls which are packed with only the freshest ingredients. The Pan-fried Haloumi and Za'atar Fried Chicken are winners on the hot mezze front while the Lahém Mishwé chargrilled prime beef striploin skewers and Sole Fillet make for a delicious dinner.

Maison Libanaise, 10 Shelley Street, SoHo, (+852) 2111 2284

---
4. Locofama
Nestled in the health-conscious neighbourhood of Sai Ying Pun, Locofama is an organic restaurant which has options for every diner, serving up vegan, dairy-free, nut-free, pescetarian dishes, and gluten-free dishes. They also offer a range of carb-free dishes to cater for the paleo diet, but these definitely don't scrimp on flavour. Working closely with local farmers, this community-spirited hangout sources 'clean' ingredients (aka chemical free crops) and serves up mouth-watering, organic dishes as a result. This charming little eatery is relaxed and casual, making it one of the best options for dining with friends and having a good old catch up.
Locofama, 11 Fuk Sau Lane, Sai Ying Pun, (+852) 2547 7668
Open everyday except for Tuesdays.
---
5. Le Pain Quotidien
With plenty of vegan and vegetarian options, a beautiful Parisian-style terrace, and prime location at the entrance of Wan Chai's charming Lee Tung Avenue, rustic Belgian restaurant Le Pain Quotidien is a great spot for people watching by day or night. The crunchy, juicy Quinoa Detox Salad is the ideal lunchtime pick-me-up, while the hot Chilli Con Carne (pictured) makes for a delicious dinner. We can't get enough of their feisty Beet Booster smoothie too, and admittedly we have caved into the temptation of their Chocolate Eclair, but it was only once. Ok, twice.
Le Pain Quotidien, Shop G41, The Avenue, Lee Tung Avenue, Wan Chai, (+852) 2520 1801
Shop 008, LG1, Pacific Place, 88 Queensway, Admiralty, (+852) 2808 1837
Shop 1089C, 1/F, Elements, 1 Austin Road West, Tsim Sha Tsui, (+852) 2521 1377

---
6. Jamie's Deli

If you're a fan of the British Naked Chef and his passion for healthy "pucker tucker", then it's well worth checking out his new deli in Harbour City. Open for breakfast and lunch only, this casual grab-and-go venue boasts an overwhelming selection of prepared salads, sandwiches, hot entrees, and pizza that are as nutritious as they are delicious and conveniently served in takeaway tubs and boxes. You can choose a hot item and load it up with two veg for $88 or three for $98, which is surprisingly reasonable given the generous portion sizes. The Gennaro's Meatballs and Lemon and Herb Salmon are the 'hottest' items on the menu, while the Kale Caesar and Mixed Grains with Caramelised Onions and Feta make for refreshing and flavoursome sides. There's also a modest beverage counter serving – thankfully no Coke or other branded sugar-laden sodas – but rather a selection of fresh fruit juices and smoothies, of which the Green Smoothie is an absolute delight.
Jamie's Deli, Shop 412, 4/F, Ocean Centre, Harbour City, Tsim Sha Tsui, Kowloon, (+852) 3758 3333
---
7. DiVino Patio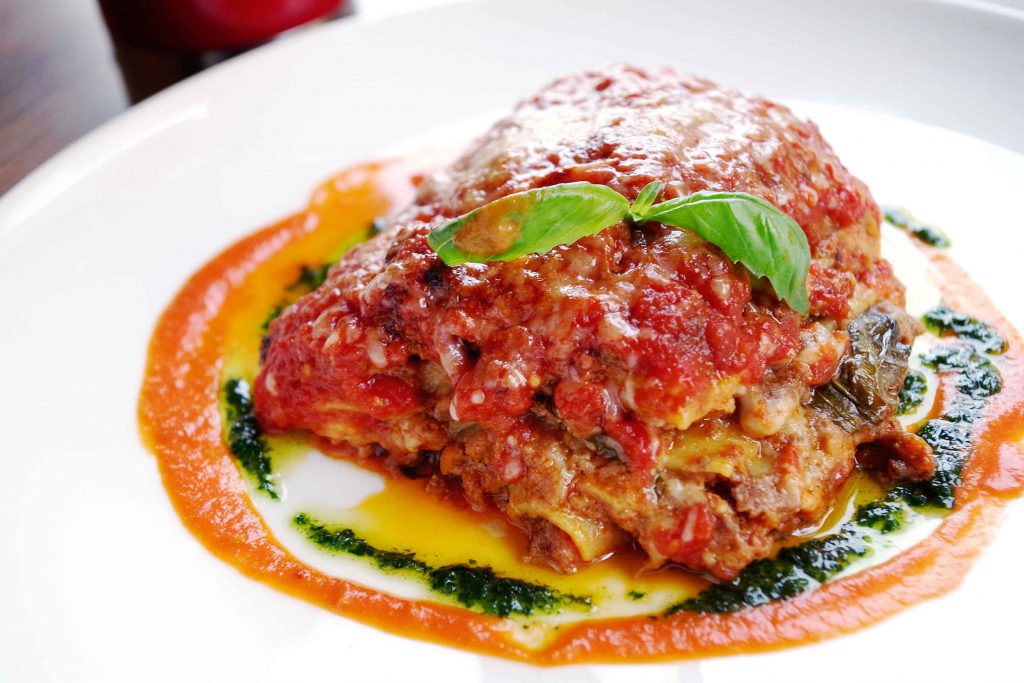 Inspired by a shift in their customers' diets and health-conscious attitudes, DiVino Patio now offers more organic meats and vegetables, as well as sugar-free and gluten-free options. Signature dishes include slow-cooked cuttlefish with Italian black rice, tomato salsa, and Bottarga di muggine roe, and the gorgeous pan seared swordfish steak with wild rocket, light pesto sauce, gauffrette potatoes, and sun-blushed tomatoes. The restaurant has also joined the Green Monday movement to promote healthy and environmentally friendly living in Hong Kong by encouraging meat-free-diets on Mondays. Goodies include gluten-free pizzas and pastas, in addition to a selection of vegetarian treats. Delizioso!
DiVino Patio Ristorante Bar Pizzeria, Shop 11, 1/F, BRIM28, Causeway Bay Centre, 28 Harbour Road, Wan Chai, (+852) 2877 3552
---
8. Green Common

Originally a health food store, Green Common has now expanded into six delis scattered across Hong Kong, meaning you're never far away from its impressive menu of plant-based dishes and the famous vegan Beyond Burger, which recently won investment from vegetarian celebrity Leonardo DiCaprio. Offering everything from multi-coloured Rainbowl Quinoa and Kale-Licious salads to Beyond Spaghetti Bolognese with Vegan Cheese and Beyond Chicken Yaki Udon, Green Common is a great option for guilt-free dining and is refreshingly innovative. We get it now, Leo.
Green Common, (locations vary)
---
9. OVOCAFÉ

When self-confessed "coffee geek" Felix Wong joined forces with local creative lifestyle brand OVO, a fresh and modern take on healthy eating was born. Serving the most delicious vegetarian comfort food for breakfast, lunch, and dinner, OVOCAFÉ is on a mission to have a positive influence on people's eating habits, dishing up meals within an elegant floral interior scented with roasted coffee beans. From Superbowl Salad and Black Truffle Soup to Tom Yummy Noodles and Linguine with sun-dried tomato and okra, there's a dish to satisfy any palate. They have a killer All-Day Breakfast too!
OVOCAFÉ, G/F, OVOMARKET, 1 Wan Chai Road, Wan Chai, (+852) 2527 6011
Shop 1, Nan Fung place, 173 Des Voeux Road, Central, (+852) 2527 6077
---
10. Veggie SF
Who says vegetarian is boring? Aside from the diverse range of vegetarian fusion dishes on the menu, quirky 1950s San Fransisco themed cafe Veggie SF is decked out in genuine antiques from the era, transporting you back to a time when food was simple, fresh, and delicious. The restaurant owners also understand that whilst your stomach needs a cleanse, so does your mind, so you will find inspirational readings which grant you with "Love, wisdom, and healing" to enjoy with your Veggie Lasagne or Signature Organic Beetroot Burger. Bless!
Veggie SF, 10/F, 11 Stanley Street, Central, (+852) 3902 3902
Open everyday except for Sundays.
---
Read more! Explore the rest of our Food & Drink section, and explore more healthy eating options in Hong Kong.